While most New Yorkers are busy trying to make a living and not a life, Diane and Jim Shanley are enjoying the fun life in sunny Cuenca, Ecuador.
There was a lot to draw the couple to this city. Cuenca, the "pearl" of Ecuador nestled high in the Andes Mountains at 8,314 feet, boasts spring-like temperatures in the 50s to high 70s all year long. It's the cultural capital of Ecuador with free concerts, an international film festival, and plentiful gourmet restaurants. It's also a UNESCO World Heritage site with stunning colonial architecture, which attracts tourists from around the world.
It's an exciting place to live and Jim and Diane are taking full advantage of it.
But life wasn't always so fun for this New York couple. Diane was in management consulting, working with Wall Street banks, and Jim was a trainer for Apple. They were doing well…but after 16 years of the corporate life, suddenly it wasn't all that exciting and glamorous anymore. One day Diane looked at Jim and asked, "Are you having fun?"
The answer was a definite no…so Diane said, "Let's blow this pop stand."
Diane explains, "The way I feel is, life should be fun, or we need to make a change." And that's exactly what they did.
They began to research their options. After an Internet search, they came across an article that described places to retire abroad and instantly they both got excited about Cuenca. "I mean, what's not to like," says Diane. "It's a beautiful historic city with a great climate, strong family values, low crime, great health care and a low cost of living."
Jim and Diane made an exploratory trip almost two years ago and it confirmed their desire to move here. "Cuenca was a dream come true," Jim says.
So, they returned to New York and, on the very same day, went into their jobs and retired. They've never looked back.
In 2012, the couple arrived in Cuenca and immediately immersed themselves in the culture and the lifestyle. "This is our big adventure—learning to speak Spanish, hiking in the Andes Mountains, biking along mountain streams, and feeling the sun on our faces," says Diane.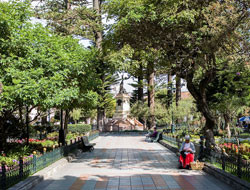 Jim and Diane both agree that the best thing about their move is "being able to afford not working, which means doing what we want to do all day—every day."
That includes volunteering at an orphanage for disabled people in the Yunguilla Valley—approximately two hours south of Cuenca—where they recruit teams, help raise money to feed them, and enjoy making crafts, reading stories, singing, and celebrating their birthdays.
"In the process, we feel like we're giving back to Ecuador," Diane says. "It's a satisfying feeling to come here and not just take advantage of the beauty of the culture and the surroundings, but to contribute."
After two years here, the Shanleys feel very much at home here—so much so that they can't imagine being anywhere else.
"Our original plan was to make Ecuador our first stop in a decade-long world tour, to travel to Spain, Italy, France, and the Far East. But we're having an awfully good time here. It's hard to even think of leaving."
Get Your Free Ecuador Report Here:
Learn more about Ecuador and other countries in our daily postcard e-letter.
Simply enter your email address below and we'll send you a FREE REPORT – Ecuador: Live Like Royalty on Your Social Security.
This special guide covers real estate, retirement and more in Ecuador and is yours free when you sign up for our postcards below.
Get Your Free Report Here