Born in snowy but beautiful New Hampshire, as a child I spent many cold and unpleasant winters in northern New England. Like most other kids from the area, I spent a lot of time stuck indoors, watching TV during those long winters…
Hardly surprising that, by the age of 18, the palm trees of Hollywood started looking good to me. But in reality, it wasn't the place for me; the Pacific Ocean in Southern California and neighboring Baja was still a tad too cool for my tastes.
Eventually the tropics beckoned me further south. After exploring the magnificent mountains of Colombia, and both coasts, I was hooked on Central and South America. So, as a young 1960s hippie, I started to split my time between summers up north and spending long winters anywhere south of Mexico.
One year, while preparing for my annual migration down the Pan-American highway on the Pacific coast, a friend called me in distress from a place called Belize. Where again? "Used to be British Honduras," he told me. "Now they call it Belize." A storm had passed through and he had left his sailboat tied to a tiny island. It had been torn loose by the wind and run aground in the shallow sand behind the world's second largest reef.
So I headed to Belize to help my friend out. The "island" turned out to be Caye Caulker.
The laidback atmosphere on this charming little island immediately brought me back to my childhood in rural New Hampshire. Small children frolicked in the quiet, unpaved streets. Dogs ran loose. Everyone knew everyone. People greeted each other with smiles and banter.
Although I left the island behind that summer, and although I made many more trips to warmer climes, Caye Caulker was firmly stuck in my mind. In the years that followed that trip, I made South Florida my U.S. base of operations and stayed there from the 90s into the noughties. But in 2005—following the change in the USA after the 9/11 tragedy—I decided it was time to opt out.
Having seen much of the tropical Americas and then having done my homework, I decided on Belize for a few specific reasons:
• Permanent residence is relatively easy to get in Belize. Just spend a calendar year in the country and apply.
• The tiny island of Caye Caulker—sister island to the better known Ambergis Caye—is perched 20 miles off Belize City (and its international airport).
• The temperature rarely drops below the 70s, thanks to the surrounding warm Caribbean.
• Photography and fly fishing, my two passions, are world class in Belize. And the reef, with all its splendor, is only one mile offshore.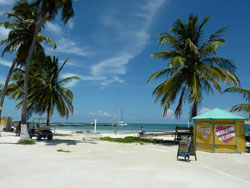 It's been nine years since I made the move to Belize and life is good. I was fortunate to meet a wonderful Belizean gal—born in Honduras—and her three beautiful children, all of whom I adore.
She happens to be skilled at cooking my favorite cuisine, Middle-Eastern—which has led us to open a Middle Eastern café on Caye Caulker called Aladdin's on the populated north tip of the island, across from the caye's best beach. We've had some success with it—after the first six months our tiny café was hovering around #2 or #3 out of 65 on Tripadvisor's Caye Caulker list—but the best part is the people I now meet.
I always wanted to circle the entire globe, a feat too deep for my pockets…but thanks to the café, we get to meet great people with fascinating stories of adventures far and wide. They fill in the many gaps in my travels and keep me up to date with what's going on in the world.
These conversations all take place daily as we gaze at the azure sea 60 feet across the dirt street. We're happy living on Caye Caulker. Though the café will never make us wealthy, I'm living proof that you don't have to have lots of money to feel truly rich on this tiny island.
Get Your Free Belize Report Here:
Learn more about Belize and other countries in our daily postcard e-letter.
Simply enter your email address below and we'll send you a FREE report – Belize: The Top English-Speaking Retirement Haven in the Caribbean.
This special guide covers real estate, retirement and more in Belize and is yours free when you sign up for our postcards below.
Get Your Free Report Here