My wife and I recently rented a car for a week to leave the familiar sights and sounds of our oceanfront home in Salinas, and explore a little of the interior of Ecuador. We planned to use the city of Loja in the southern Andes as a base, but took our time getting there, stopping in a few places along the way.
This journey took us mostly through parts of the country where the expats are few and far between, so we had to make do with our fractured Spanglish (we are getting better, but it's a process) and rely on the kindness of strangers.
And Ecuador seems to be populated by a lot of kind strangers. Throughout our entire trip, everyone we met or interacted with was unfailingly polite and happy to talk to us or assist us. This included hoteliers, traffic police, gas station attendants, wait staff, and even random people on the streets.
Perhaps the best example happened on the second day of our adventures. We planned on spending the night in a small village called Piñas on our way to Loja. It is a beautiful town, sitting just under the cloud forest. The area is known for growing orchids and for the variety of birds to be found there.
We arrived and parked near the central square. We discovered the village was also unique in that it was built on the side of the mountain. The town seemed to move up the slope in parallel layers, with some impressively steep roads connecting them. We spent about an hour walking around the town, and stopped in a few of the local shops. Everyone we met was happy to talk to us, and perfectly willing to speak slowly and simply to make it easier for us to understand. They seemed interested in hearing that we lived in Ecuador on the coast, and were very pleased that we were so taken with their town.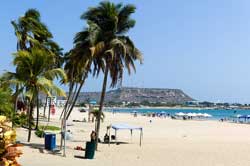 It was late in the afternoon, so we walked back to the car to drive to the Hosteria Florecer, where we were spending the night. If we could find it. We spent some time driving around trying to follow the directions of our GPS, hoping to see a sign, but the slanted topography of the town and some truly heroically steep roads soon convinced us we were going to need some help.
So I called the Hosteria. The son of the owner spoke some English, and understood our problem immediately. He sent a taxi to come get us and we followed him back to the Hosteria.
After settling in, Rita confided to me that she was not going up and down the mountain slopes again for dinner. When I enquired if the Hosteria had a dinner menu, the owner told me they didn't, but that they'd call a local restaurant and have them bring dinner to us.
A few minutes later, the owner's wife stopped by to explain that no one was answering the phone at the restaurant, so it was probably closed since it was a Monday (it is common here for restaurants to make Monday or Tuesday as their "off day"). But she said that she would be happy to cook something for us herself.
An hour later, we sat down at a table on the outdoor covered porch, and listened to the birds singing as we enjoyed the mountain view and some fabulous food. She served us a plate with a huge slab of thinly sliced grilled pork, some rice, and a small salad, with some fresh juice.
The next morning, the whole family came out to see us off, shaking hands, kissing us, and telling us how happy they were that we stayed with them, and to please come back again. As a final gesture of service above and beyond, the son offered to ride with us back into town, so he could show us an easier way down the mountain road.
It was a wonderful experience, somehow made more special because we were all trying to communicate in another language…my wife and I in Spanish, the father and son practicing some English.
But this wasn't a unique experience, by any means. Just a great example of how Ecuadorians are always happy to share their lives and provide help and service to strangers.
Get Your Free Ecuador Report Here:
Learn more about Ecuador and other countries in our daily postcard e-letter.
Simply enter your email address below and we'll send you a FREE REPORT – Ecuador: Live Like Royalty on Your Social Security.
This special guide covers real estate, retirement and more in Ecuador and is yours free when you sign up for our postcards below.

Get Your Free Report Here