Every year, more than a million visitors travel to Ecuador for a taste of what this small South American country offers. The Galapagos Islands are undoubtedly Ecuador's biggest attraction, but those who choose to explore the mainland itself are in for a cultural treat. This equatorial country is soaked in tradition—some of which originated in the times of the Incas, or even earlier.
I've lived in Ecuador for three years and the longer I'm here, the more I learn and experience. And because the locals are so friendly and welcoming, I'm often included in their traditions—if you spend more than a few days in one place here, you will be too. Here are just a few of the local customs you'll find when you visit Ecuador for yourself.
Traditional Clothing of the Andes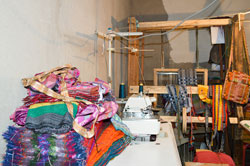 There are still many indigenous groups which populate the country, though the Ecuadorian highlands are where you'll find the largest concentrations. In the Andes, many of the indigenous peoples still favor wearing their customary clothing over the increasingly popular Western clothing.
In the northern mountains, in and around Otavalo, women are usually adorned in white blouses with intricately embroidered designs and loose-hanging sleeves. Their skirts are long black wraps that are held in place with a colorful woven belt. Men opt for brilliant white pants that end just above the ankle and they often wear dark wool ponchos and brimmed hats made of black felt. Both genders wear thin-soled sandals that cover the toes and heel.
The styles change as you head south towards the colonial city of Cuenca. Here you'll find the indigenous women wearing knee-length skirts of color and simpler blouses along with white hats.
And of course, different styles of clothing are worn for different events. One of the more popular festivals in the highlands is that of Inti Raymi (more on this later). For this celebration the men and boys wear chaps made of goatskin, alpaca or llama hides. On their heads sit wide-brimmed black hats with the top being a four-sided pyramid.
Even those who do not wear the traditional clothing every day will use it for special events such as weddings.
Ecuador's Festivals
Ecuadorians love to party and any excuse for a celebration is welcome with open arms. For that reason you'll find a party several times every month in any given town. There are far too many festivals to name here, but I'll touch on two of the most popular.
Each June sees the arrival of Inti Raymi, a multi-day festival in honor of the Incan sun god, Inti. The small town of Cotacachi holds one of the largest Inti Raymi festivals in Ecuador as the surrounding villagers come to town for the event.
Preparations begin in the individual villages where cleansing ceremonies take place and the people dance throughout their communities. Several days later the in-town dancing begins with children, men, and women all dancing on separate days.
The villagers march into town blowing conch shells, whistling, and chanting. When the reach the town square, each village occupies one corner and dances in circles until it is their turn to move to the next corner. Legend has it that they must stomp as hard as they can while dancing so the earth will hear them and give up a good harvest.
Because the country is predominantly Catholic there are many religious festivals that take place as well. Holy week, leading up to Easter, draws a lot of attention by locals and visitors alike and is known here as Semana Santa. This is the only time you'll be able to eat fanesca, a traditional soup served up just for the Easter season. In this soup you'll find 12 different types of beans and grains—one for each apostle.
Good Friday is filled with religious processions throughout the entire country. You'll see groups carrying large crucifixes and large images of Jesus and the Virgin Mary. Other participants play music or carry bright flags.
Where to go for Traditional Ecuadorian Artwork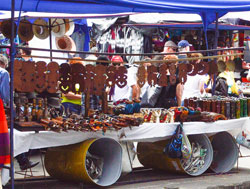 Being a country heavily influenced by Spaniards, Ecuador has many small towns that specialize in artisan products. For example, Chordeleg is where you'll find fine handcrafted silver jewelry. In Montecristi you can watch the weavers of Panama hats (which actually come from Ecuador), and San Antonio de Ibarra is a town full of wood carvers.
Some of the more famous pieces of traditional Ecuadorian artwork come out of Otavalo. This town is known for its weavers and you'll find textiles of all types here. Some of the most popular are the tapestries depicting country settings or a group of indigenous women working with a backdrop of mountains. Plenty of other designs can be found as well from M.C. Escher patterns to local wildlife.
Tigua art is a relatively recent form of painting that has quickly taken hold as an integral part of Ecuadorian culture. Developed in the Quilotoa region these colorful paintings on sheephide often depict rural life and important events. The distinguishing feature is that each picture contains at least one condor and the snow-capped volcano of Cotapaxi.
The good news for all visitors to tiny Ecuador is that no matter what time of year or what area of the country you tour, you'll be sure to experience some of the local traditions. Who knows, you might even take a little piece of Ecuadorian culture home with you.
Get Your Free Roving Real Estate Investor Report Now

Sign up for the FREE Roving Real Estate Investor e-letter and get a valuable report (free for a limited time) on The Exact Location of Where to Make the Most Real Estate Profits This Year (Plus 4 More Places to Build Your Fortune in Latin America and Europe).
Related Articles
Being a Senior in Ecuador Offers More Than Just Financial Benefits
Buy in Quito, Ecuador from $46,000; or Rent for $400