Thai handicrafts, jewelry, handmade paper, ceramics, a plethora of textiles and handbags galore…you can find it all and more at Bangkok's Weekend Market, known as Chatuchak or "JJ" for short. No trip to the Thai capital is complete without a visit to this massive 35-acre market located north of the city, where you can get your shopping fix as well as a big dose of Thai culture. Just don't forget to bargain!
To avoid the crowds and the heat, get an early start—most stalls open by 9 a.m. Although called the "Weekend Market" the market is open all week. It's just at its busiest at the weekends.
A mid-week visit to Chatuchak is ideal for those who want a taste of the market with less of the crowds. Many shops in the plaza are open seven days a week, as are some of the stalls in the market proper.
If you're looking for handmade items and souvenirs, head straight to sections 24 and 25, at the heart of the market. There you'll find a dizzying array of wood carvings, Buddha statues, beads, silver, mango-wood vases, and sarongs. You'll also find quilts, tote bags, and scarves made by Thailand's northern hill tribes.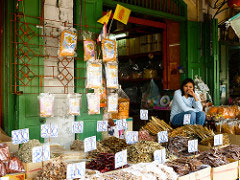 Chatuchak is known as much for its cuisine as for its wares. Whether you sample local fare from traditional food stalls or Thai fusion in the quaint cafés tucked into the market's alleyways, be sure to stop for a snack or a meal during your visit. In section 26, order up a fruit shake or chai yen—Thai iced tea—at the popular Viva Bar before continuing on to browse antiques, Thai musical instruments, and framed art prints in the surrounding stalls. Beautiful silk pillow covers are also on offer from $8.
For some relief from the heat, head to Chatuchak Plaza, flanking Kamphaengphet 2 Road. There you'll find air-conditioned shops featuring custom-made furniture, bamboo housewares, and items such as candles, hand-woven baskets, leather products, monk bowls, and brass temple bells. Don't miss the tiny art galleries here, where you can buy original paintings for under $40.
A map of the market and surrounding areas is essential, such as the colorful option from expat Nancy Chandler. Chatuchak is accessible by public transport; take the BTs/skytrain to Mo chit station or the MRT/subway to Chatuchak Park.
Get Your Free Southeast Asia Report Here:
Learn more about Thailand and other countries in our daily postcard e-letter.
Simply enter your email address below to sign up for IL's free daily postcards and we'll also send you a Free Asia Report – The Best Islands, Beaches and Cities –
Southeast Asia's Top 6 Retirement & Vacation Destinations
Get Your Free Report Here