In the summertime, socialites, celebrities, and tourists like to drop anchor in Portofino, Italy, to enjoy the picturesque coast of the Italian Riviera.
One summer night, several years ago, I dropped half a month's salary to stay at a posh resort, overlooking the harbor there…but ultimately got reimbursed for it.
At home, I had a job working for a museum that didn't pay well.
But I also had a photography hobby that I was well known for.
Growing up, I had taken scenic fine art photographs with my father and shot local places of interest "with the eyes of a tourist", as he called our local photographic expeditions in Philadelphia. I've sold images for prices ranging from $100 to $4,000 depending on size and framing.
A friend worked for an international villa rental company and offered to pay for my one night of luxury in Portofino, if I brought home pictures they could use to promote their business.
I only had a simple film camera my Dad had given me but I jumped at the opportunity.
When I landed at the airport in Nice, France, a friend picked me up in a rented, rusty, rattling camper. With grinding gears and squealing brakes, we sputtered, choked, and coasted through Villefranche-sur-Mer , Monaco, and Menton…shimmied along the coast road to the Gardens at Eze…and limped across the border into Italy…without first gear.
Once we built up speed on the Autostrada, the camper kept up with the traffic flow, until I spotted a farmer riding a tractor, pitched at a 90-degree angle to the stepped landscape.
Instantly, I recognized the Cinque Terre, and we pulled over on the edge of a cliff to take pictures. From there, I photographed the farmer clinging to his vineyards, above me, and shot straight down below me on hikers the size of ants, scurrying along a path under boulders teetering above the cerulean Ligurian Sea.
Arriving later in Portofino, our engine was spitting as we stalled in the driveway of the Hotel Splendido, surrounded by gleaming Maseratis, Ferraris, and Lamborghinis.
Valet parking attendants angrily waived us on toward the rear entrance. They pointed to the kitchen door because they thought we were fishmongers, making a delivery for the restaurant.
They looked shocked that they had to park our van as we were escorted to the best suite overlooking the harbor that the hotel had to offer.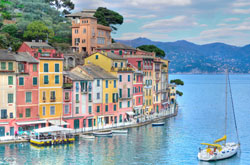 From there, I photographed cruise ships, private yachts, and colorful fishing boats below our shuttered terrace…
The tropical gardens, with exotic plants blooming along the path to the pool, reminded me of landscapes Bonnard painted on the Riviera more than a century earlier. I shot the gardens with tiled roof villas nestled into the hillsides as a backdrop, just like in his paintings.
My favorite shot from Portofino was of a swimmer in the pool perched over the cobalt harbor, under a periwinkle cloudless sky.
A month later, when I returned home, I had a new photographic assignment—an all-expenses-paid, two-week trip to shoot artists painting at a villa in Tuscany…with additional nights shooting at hotels in Florence, Rome, and Venice—for a travel agency.
Today, I use a digital camera and no longer work long hours for the museum. Instead, I sell my travel photography as fine art and for commercial use to local and national businesses.
Free Report:
Sign up for IL's Fund Your Life Overseas e-letter today and we'll also send you a FREE report about ways to earn money abroad. Simply enter your email in the box below and we'll send you this free report: Fund Your New Life Overseas With These 6 Portable Careers.
Get Your Free Report Here