If you're planning a trip to Ecuador, my advice is simple: Bring the biggest suitcase you can find…two if your airline will allow it. Get on the Andean Craft Trail in the Sierra region along the Avenue of the Volcanoes that cuts north to south through Ecuador. It is full of artisan treasures that you won't be able to resist.
Cotacachi, the village where I live, has a main street lined with leather shops selling jackets, boots, and shoes as well as beautiful handbags and luggage. You can even have things custom-made in a few days. And everything is so much cheaper than you would pay for it in a high-end store—either in the U.S. or in Ecuador. You'll adore Cotacachi.
Otavalo is Ecuador's famous textile market where you'll find wool and alpaca blankets, scarves, hats, mittens, sweaters and much more. Anything made of yarn, thread, and/or fabric of any kind can be found in the Otavalo market.
Saturday is market day, when all the vendors come to town and spill their wares out into the streets. You'll also find pottery, jewelry, musical instruments, artwork, leather goods…and so on.
You can even take a tour to the craft villages around Otavalo—particularly Peguche, La Calera, and Gonzalez Suarez. There's value to be had at the Otavalo market but you'll get real bargains buying directly in the villages.
If you love guitars—or you love someone who does—head for the village of San Barolomé, about 20 miles east of the colonial city of Cuenca. The guitar shops are easy to spot and most are run by the Uyaguari family, a name now synonymous with Ecuadorian guitars. Handcrafted, they typically sell for $80 to $800.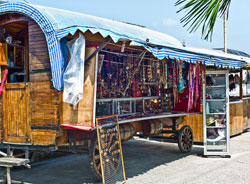 On the country's western Pacific Coast you'll find items made of tagua, a seed from a type of palm tree. Tagua resembles elephant ivory and the dried nut is carved into all types of jewelry and figurines…even tiny nativity sets.
Stop and smell the roses…wake up and smell the coffee!
I can buy two dozen long-stemmed roses at my local market for $2.50…so fresh they last for weeks. Imagine what that would cost you back home.
And my favorite Ecuadorian coffee is Intag, grown in the eponymous northern Ecuadorian valley. I also like Loja, from the south. You'll undoubtedly find a local coffee to suit your taste.
And once you try the Ecuadorian chocolate…you many never go home.