There aren't many places that can hold a candle to the romance of Italian life.
Each time I go back to Italy, there's somewhere new to fall in love with. But my most recent visit rekindled an old love—the region of Puglia, in the country's deep south. I first came to Puglia in the early 1980s, before anybody outside of Italy, bar a lucky few, had even heard of it.
With much lower costs than northern and central Italy, prices in Puglia will astound you. I found bars with coffee for 50 cents…pizzerias where you can sit down and tuck into a full-size pizza for $5. And if you thought that a fabulous fish dinner with wine for $20 was the stuff of imagination, think again.
Located in the heel of Italy, Puglia is part of the languid Mezzogiorno—the lands of the midday sun. The colors here are from a child's paint box: ochre earth, white houses, purple bougainvillea, turquoise sea, silvery-green olive trees. Bright red peppers get hung out to dry on balconies, and emerald-green lizards bask in the sunshine, even in winter. This latest trip of mine was in December, and it was blue skies every day.
One Puglian find was a gleaming white hill town. It has been inhabited for centuries and from its lofty ramparts there are views over the olive groves to the Adriatic. In my view, it offers the best of all worlds. Big city Brindisi is only a 30-minute train journey, but it has the traditional feel of a town where everyone knows their neighbors. And golden beaches are within five minutes' drive.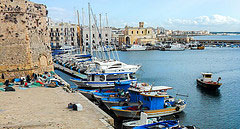 You thought Italy was expensive? Just outside this town, a 1,500-square-foot home with an acre of land planted with olive trees will set you back just $108,000.
Puglia has two seas—the Adriatic and the Ionian. On its Ionian coast, there's an unspoiled fishing town where you'll still see fishermen mending nets and unloading their catch under the walls of a medieval fortress. As well as beaches on the doorstep, it has a centro storico (historic center) packed with churches and medieval palaces. In the heart of town, you can buy restored houses for around $120,000.
Not that you have to buy. In Lecce—one of Puglia's arty university cities, you can rent for $450 to $500 per month. There's a thriving cafe society here, and thanks to its feast of baroque architecture, it's known as the Florence of the South.
Get Your Free Italy Report Here:
Learn more about Italy and other countries in our daily postcard e-letter.
Simply enter your email address below and we'll send you a FREE report – Italy: Europe's Most Seductive Country.
This special guide covers real estate, retirement and more in Italy and is yours free when you sign up for our postcards below.
Get Your Free Report Here