I have discovered my favorite way to view a property for sale. First, you get an hour-long massage costing just $45. Then you eat your fill of fresh-off-the-boat tuna for just $8. And finally, you take a five-minute walk through the streets of Pedasi, Panama and take a look at this house on the left.
For sale for $80,000, it's a two-bedroom, 743-square-foot home currently renting for $600 a month unfurnished. The total lot size is 3,735 square feet, including a fenced garden that has banana and citrus trees. Your friendly neighbors are a mixture of expats and Panamanians. Everyone knows each other on this cul-de-sac and, as with the rest of the town, it's an easy place to relax.
From here you can take a short walk to Smiley's Bar for pulled pork sandwiches, college football and cold beer. Elsewhere in town you'll find Italian and French restaurants, and local fondas serving delicious traditional cuisine for $3 or less. And more are being added all the time. I paid two visits to Pedasi a month apart and even in that time the town's amenities grew with the opening of a fancy new deli-cum-café.
Then there are the beaches. A five-minute drive from town—or a pleasant cycle—you'll find miles of undisturbed sand bordering the Pacific Ocean. You'll often have these beaches to yourself. And if you fancy a desert-island experience you can hop in a panga at Playa Arenal for the 20-minute boat ride to Isla Iguana, a nature reserve of coral white-sand beaches and amazing snorkeling. (The boat costs $60 so bring friends to keep it cheap.)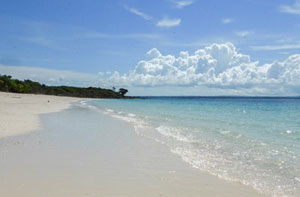 Tourism to the region is increasing; there are new guesthouses, B&Bs, hostels and a thrice-weekly direct flight from Panama City's Albrook airport that takes folks here in 45 minutes.
There's plenty to entertain both vacationers and expats here. The fishing here is second-to-none. A bad day is a boat full of bonita up to 12 pounds. A good day is tuna fish up to 150 pounds. And, as the province of Los Santos, where you'll find Pedasi, is the heartland of the country's Spanish heritage, it's no exaggeration to say you'll find Panama's best festivals here. They say there are more than 700 a year. You'll see traditional hat weavers selling their wares, and the makers of the polleras—folkloric dresses—do a thriving business.
All of that adds up to make Pedasi one of Panama's most promising new destinations with an expat population of around 300 to 400… The town is growing and most mornings that I was there I met prospective expats scouting the area. All these folks need a place to try out life here—which is why short-term, furnished rentals are in high demand. If these prospective expats can find a rental like the property I showed you earlier, it will cost them anything from $700 a month if furnished.
The property I looked at is a renovated Panamanian home with air conditioning, solid wood doors, a five-burner gas stove, new refrigerator, and a stone driveway. The roof has been completely replaced and insulated and the ceiling is finished in local hardwood with ceiling fans throughout. All of the floors are newly poured, polished concrete, stained and sealed.
This place could pay for itself. Rent it furnished and you're looking at a gross annual yield of 10.5% of the $80,000 purchase price. Or use it as a part-time home and rent it when you're not there…or live there year-round. The choice is yours.
Free Panama Report:
Learn more about Panama and other countries in our daily postcard e-letter. Simply enter your email address below and we'll send you a FREE REPORT — Panama: First World Convenience at Third World Prices. 
This special guide covers insider advice on real estate, retirement and more in Panama. It's yours free when you sign up for our IL postcards below.
Get Your Free Report Here