The first time I visited the small, colonial town of Las Tablas, I was there for one reason only: to party it up Panamanian style. I'd heard that the yearly Carnival celebration here rivaled Louisiana's Mardi Gras, and I wanted to see for myself.
The festivities did not disappoint. Everything was loud and raucous and colorful…and wonderfully so. Gorgeous Carnival queens danced on floats that had been crafted into big intricate displays. People were dancing in the streets and offering me drinks. Craziest of all, big fire hoses were being used to douse revelers with cool water…so at high noon when the sun shone hot and strong, the party didn't stop.
Over the years I returned to Las Tablas (though not for Carnival) and found it to be a very different place. By 9 p.m. most evenings, the town was quiet. During the day, the main plaza was a place where locals would sit for a spell. Men in straw hats, ladies in knee-length skirts…and teens in nicely pressed jeans, too.
The atmosphere in Las Tablas is special. Panama's traditions are alive. Visit it and you'll see the care taken to keep those traditions alive in the young girls and boys who still learn all the tipico dances or how to play the small Spanish guitar known as the mejorana. To see all of these traditions at once, you only need to visit one of the many folklore events staged here that showcase these art forms as well as the region's food and culture.
I went back for a visit recently, and all of the best things about Las Tablas remained. I made my usual rounds. I went to the little church (one of my favorite colonial buildings), to admire the gold altar.
I took photos in the plain, clean plaza and bought crumbly milk sweets wrapped in colorful bits of tissue paper.
Then, as dinnertime was approaching, I decided to swing by an expat restaurant and sports bar.
What I found was more than good pizza and wings. I found a mix of expats and locals and a vibrant atmosphere. As the evening wore on, everyone ended up talking to everyone. I connected with quite a few expats, who in turn connected me with others.
People were happy to meet with me, show me their homes, and even invited me to dinner. I met a new arrival who'd already made plenty of local and expat friends and, through his new network, found a rental home just steps from the town plaza. Another couple had started a lovely B&B called Villa Pelicano on Uverito Beach, just 15 minutes outside of Las Tablas.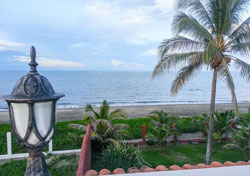 Author and blogger JK Mikals turned me on to a local restaurant where a big lunch of meat, rice, and salad was just $2. We chatted about her life—and what a rich life it is. The 72-year old is thoroughly enjoying her retirement in Panama. She has a blog called Panamadaze and is working on a sci-fi novel. She has lived in a traditional clay house, joined a water aerobics group dubbed the mermatrons (short for "mermaid matrons"), and bought a motor scooter. And I can tell you, she cut quite a figure driving away from me on her Vespa-like bike.
Over the course of my visit, it became clear to me that what used to be a motley handful of expats had grown into a community. They're still frontier-minded types…adventurous and not afraid to figure things out as they go. But they have created—perhaps without even realizing it—a strong, connected support system.
Not only are they welcoming…they're also generous with their time and advice. And that means that new arrivals need not go it alone.
So who would fit in in a place like this? "Las Tablas is the heart of cultural life in Panama…the real Panama," JK Mikals explained to me. "And the people who are drawn to it are very real—not snooty at all."
Get Your Free Roving Real Estate Investor Report Now

Sign up for the FREE Roving Real Estate Investor e-letter and get a valuable report (free for a limited time) on The Exact Location of Where to Make the Most Real Estate Profits This Year (Plus 4 More Places to Build Your Fortune in Latin America and Europe).
Related Articles
Panama Citys Best Neighborhood
Idyllic Small-Town Living With Great-Value Real Estate in Pedasí, Panama