Six years ago, my husband, Jose Luis, and I wondered what the future would hold and where we could live affordably once we reached 60. We had set up and run restaurants from Miami to New Hampshire and from St. Petersburg to Las Vegas and we were ready for a break.
When we found Playa del Carmen on Mexico's Caribbean, it surpassed all our dreams…beaches that stretched for miles, a perfect climate year-round, and the opportunity to invest and run a business.
So we decided to move there…and open one more restaurant.
This unique town, which we have grown to love so much, has huge diversity from its Maya roots to modern, five-star hotels, offering amenities often seen in major cities.
And yet it keeps its small town quality. Where else can you find a two-mile long cobblestone walking street with hundreds of shops, one block from the beach? The place is abuzz with locals, visitors, and expats from around the globe. Its international expat community makes it a true melting pot.
Besides running our restaurant—where my husband is chef and I make the desserts—I have made time for new projects since I moved overseas.
I write articles for each edition of The Playa Times, our English language bi-monthly newspaper. That brings in extra spending money.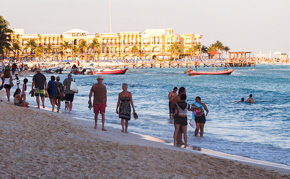 And I dusted off the manuscript for a book I started writing eight years ago. With only 100 pages to go, my focus is on finishing this novel. It's good for my soul.
We live 15 minutes south of Playa in the community of Paamul. Our place is about 50 feet from the ocean. Here, a two-bedroom palapa might set you back $65,000. Want to live in the heart of the action, four blocks from the beach? Then a one-bedroom, one-bathroom, fully furnished condo goes for $99,000.
We're only 45 minutes south of Cancun International Airport, with non-stop flights that will take you to all corners of the world—and get you home to see the grandkids at a moment's notice.
There are hospitals that work hand-in-hand with many North American health insurance companies, or you can sign up for the Seguro Popular, provided free of charge, once you receive your temporary resident visa. Even better are the doctors associated with local pharmacies and clinics that will give a simple medical diagnosis for a minimal donation as low as $3.
Around one mile from the tourist area is Playa's ejidal (old town) where our dollar will not just stretch but actually give us back some change. Here, the roadside stands offer their savory tacos at 50 cents apiece…a Valencia orange sets you back 10 cents…a 2lb honey pineapple is only 75 cents…and the baker charges just eight cents for his freshly-made bolillo roll—the Mexican equivalent of a mini-baguette.
Affordable opportunities galore, with a little sunshine thrown in…is it any wonder we decided to open a restaurant here in Playa. We recently celebrated its one-year anniversary with balloons, banners, confetti, and rum.
It will be our last. Because when you have found paradise, why would you leave?
Get Your Free Fund Your Life Overseas Report Here:
Sign up for IL's Fund Your Life Overseas e-letter today and we'll also send you a FREE report about ways to earn money abroad. Simply enter your email in the box below and we'll send you this free report: Fund Your New Life Overseas With These 6 Portable Careers.
Get Your Free Report Here