Sitting at the far southern tip of the Baja California peninsula, Los Cabos, Mexico is one of the country's top beach destinations.
With top-notch boating, world-class sport fishing (especially for billfish), championship golf courses, excellent restaurants, and warm weather year-round to enjoy it all, it's no wonder it's so popular. And because of the desert climate, it gets 350 or so days of sun each year.
It's a well-developed area, with plenty of First World comforts and amenities—there's even a Costco. But Los Cabos has a perception problem when it comes to folk looking at making a move abroad.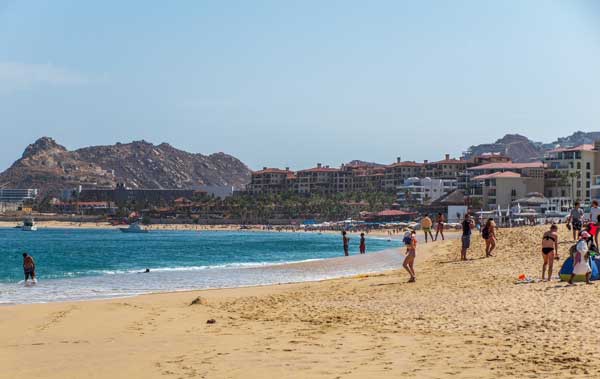 Perhaps influenced by the high prices they see in tourist areas when they visit, many North Americans see Los Cabos as too expensive.
But while there is plenty of luxury here, this area can still be affordable for expats. And that includes good prices for a well-appointed condo by the beach. There are plenty of options under $200,000.
You might not be on the beach or have much of an ocean view at the lowest price points—although it is possible. But in any case, you will be able to walk to water, as well as shops and restaurants. Plus, large community pools come as standard here. And, if you're willing to pay a bit more, you could have the view and the sand just outside your doorstep.
You might buy and move in full time. Or you can use it for vacations—because it's lock-and-leave, you can rest assured the contents will be safe. Or rent your condo out: short term to tourists (1.8 million visited in 2016) or longer term to the many snowbirds who flock here, especially from Canada, in the winter months. If you're in prime position for rentals—close to the beach and/or entertainment districts—you could see a significant return on investment.
One important thing to note, Los Cabos includes the towns of Cabo San Lucas and San Jose del Cabo, as well as the "corridor" of gated housing communities, condos, and hotels that lie on either of the well-maintained highway that connects the two. It's about a 30-minute drive from town to town.
A two-bedroom condo in the heart of Cabo San Lucas—Cabo San Lucas is known for its large marina and a very lively nightlife—is listed at $144,500. You can walk to everything. There's also a two-bedroom condo right on the marina, which is the heart of the action in this town—too busy for some, fun for others. It's available for $150,000.
Close to San Jose del Cabo, which has a walkable downtown filled with cafes, shops, and art galleries, is a two-bedroom condo in a community on the beach for $199,500—it comes fully furnished. Also in San Jose is a one-bedroom condo with luxury finishes and a panoramic view of the Sea of Cortez, which is priced at $190,000. There's also a one-bedroom condo, a short walk to town and the beach, which you can get for $107,900—and it has an ocean view from the terrace.
Get Your Free Your Overseas Dream Home Report Now

Sign up for the FREE Your Overseas Dream Home e-letter and get a valuable report (free for a limited time) on the The Global Real Estate Boom of 2021: 15 Places Where You Can Profit.