Year after year Costa Rica, the land of Pura Vida (pure life), still proves to be an attractive destination where expats typically are able to find a high quality of living for less than they would in Canada or the U.S., for example.
Costa Rica has been a popular destination for North American expats for decades. However with that rising popularity has come inflation, leading to today where Costa Rica, in comparison with some of its nearby Central and South American neighbors, is known for higher real estate prices.
But while this may be true, you can find a great deal in Costa Rica, as long as you know where to look. Here are three of Costa Rica's most popular expat havens, where you can still buy for less than $100,000:
Jaco
If you're looking for beach living, with access to modern conveniences, Jaco, Costa Rica is certainly a contender for you. Just about an hour and a half from Costa Rica's capital, San Jose, (where you'll find city conveniences including shopping, an international airport, and healthcare) Jaco is well known for its vibrant nightlife, great restaurants, and consistent surf. And when it comes to real estate, Jaco is one of the only spots in the country offering titled beachfront property.
Jaco's beach stretches about two-and-a-half miles along the Central Pacific coast, and the region is just on the border of the tropical moist and the tropical dry forest allowing locals to enjoy fun in the sun on the beach as well as abundant wildlife and jungle adventure.
In this bustling beach town, you will find a variety of condominiums and high rises along the main drag, just across the street from the beach. One condo community is currently offering one- and two-bedroom condos ranging in price from $65,000 to $89,000. As a resident, you'll have access to the large community pool and are just steps across the street from the beach.
With HOA fees of a mere $113 per month, you'll have on-site security, access to parking, and fully maintained community areas including the pool and barbecue area and freshly manicured lawns and gardens.
If a single family home is more your style, I found a two-bedroom, one-bathroom home with just over 1,000 square feet of living space within walking distance of town and the beach for just $94,500. Donning a terracotta tile roof and cement construction, after adding your own personal touches, this could be your little Central American oasis and just the beginning of a new beach lifestyle.
San Ramon
The city of San Ramon is nicknamed "the city of presidents and poets," known for the many writers, artists, and political leaders—including the president who did away with the Costa Rican army—who have roots here. It's situated in the heart of one of Costa Rica's most popular regions for expats, known as the Central Valley.
A major draw to the area includes the comfortable climate. Consistent all year round, people love never having to turn on their air conditioning nor their heat as the "room" temperature is always comfortable. For those sticking to a relatively strict budget, the benefit of very low utility bills is a big one in this area. With a healthy amount of rain, the local landscape is lush and green all year and flora and fauna abound. The surrounding mountains also offer a sense of peace and serenity.
If you've always dreamed of sweeping mountain views, you can buy 1.73 acres of property overlooking the pastureland of the Central Valley, with rich natural landscapes throughout the grounds and a stunning array of local wildlife in a quiet, private neighborhood. I found a one-bedroom, one-bathroom home on the property—fully furnished and updated, move-in ready—yet the property is already equipped with 2,000 square feet to build on. If you decide one day to build a larger, tropical dream home, the existing house could be used in the future to generate rental income as the surrounding region is becoming more and more popular for expats and tourists alike. The price tag? An attractive $99,000.
If you're in need of a bit more living space right off the bat, just five minutes from the center of San Ramon, you'll find a three-bedroom, one-bathroom home with covered parking for one vehicle on the market for $79,000. In the midst of beautiful Costa Rican coffee farms, this home exudes a modern yet rustic tranquility with large picture windows allowing for plenty of natural light and Mexican-style tile work throughout. You will also enjoy your own fruit trees of banana, avocado, and lemon on the property.
Arenal
Lake living has become a major draw for expats in Costa Rica in many of the communities surrounding the country's largest volcano, Volcan Arenal, and the country's largest landlocked lake, Lake Arenal. With much of the region protected from development, the Arenal area is a nature lover's dream. No traffic, little-to-no pollution and endless possibilities for outdoor activity; from perfect gardening conditions and ample bird watching, to enjoying natural hot springs, hiking, mountain biking, or world-class windsurfing on the lake.
I came across a 1,000-square-foot renovated and modernized home on a double lot in the heart of the small lake community of Nuevo Arenal on the market for $85,000. With three bedrooms, or the option to use one as an in-home office, and one bathroom, the house is a perfect space for a couple looking to entertain guests or a small family. Across the street from a wildlife corridor, monkeys and a variety of tropical birds can be observed right from the front porch and the large backyard has been pristinely landscaped and also features a patio perfect for relaxing with nature.
Within walking distance to town, you have access to your day-to-day needs including the bank, pharmacy, restaurants, and a grocery store.
On the opposite shore of Lake Arenal, you'll find the small community of Nuevo Tronadora where you can buy a countryside two-bedroom, two-bathroom home with just over 1,000 square feet of living space for $89,000. Remodeled in 2010, the home is move in ready and is surrounded by garden, greenbelt, and wooded views.
Dependent upon your vision for a Pura Vida retirement, you have a variety of landscapes, climates and lifestyles to choose from, all available for less than $100,000.
Get Your Free Real Estate Report Now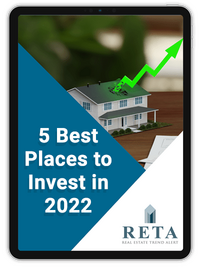 Sign up for our free daily Postcard e-letter and get a valuable free report on the The 5 Best Places to Buy Real Estate In 2022.
Related Articles
We Pay Just $500 Property Taxes a Year for Our Condo in Costa Rica
Rent First, Buy Later (Maybe) in Costa Rica