Our anniversary comes the day after the biggest summer holiday, called Ferragosto, which makes it difficult to find anywhere to celebrate that isn't already crowded. With that and the summer heat, we knew we couldn't stay in the city.
An email popped up in my inbox with discounts on train tickets for the fast train to Rome, Naples, and Venice. It took a little over three hours to get from Florence to Naples on the train and staying by the sea in a half-emptied city with incredible food sounded good to us, so we found a rooftop apartment to stay in and headed south.
Though Pompeii is still famous for many that travel to Italy, and the Amalfi Coast is one of the most sought-after places to visit for its stunning colorful seaside villages and majestic cliffs, the city of Naples remains mostly overlooked today. After seven years of living in Italy, it took the promise of discount train tickets for me to finally choose Naples for a mini getaway.
At the train station there were no barriers to cross, no security checks like in the other main stations in Italy. It's always been this way. In 1841, Arthur John Strutt said the same about entering Naples: "The most wonderful occurrence we met with on our journey was that we walked straight into the city without being asked at the gate for our passports." Even at the front gates, Naples is lawless and always has been, and probably always will be.
Rules are more like suggestions in this bustling city. People flew by on scooters without helmets with children piled on the back and dogs standing up on the handlebars. Traffic laws seemed made up on the fly, and people stepped out into traffic without a care for crosswalks.
We had a recommendation from a Napolitano friend for a restaurant right outside the train station. "Really?" I questioned. The area around the train station in Florence, Rome, and Milan was always the most crowded, and we all knew it, but he told us to trust him. As we braced for the rush, the couple seated next to us leaned over: "Everything on this menu is incredible—but get the appetizer plate." We did, and that first bite of fried pasta made me fall in love.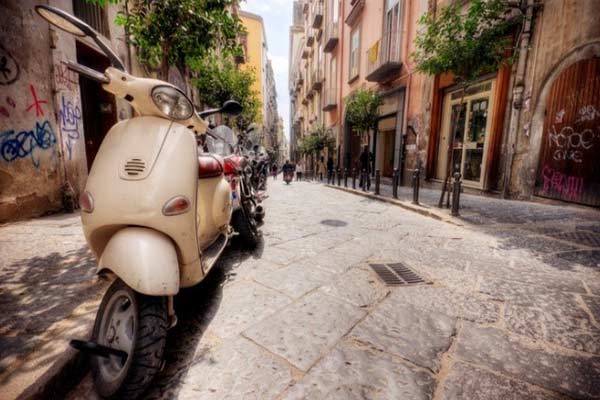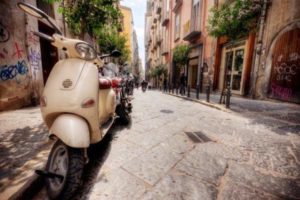 It set the tone for the rest of our visit. The food in Naples is pure and made with passion from recipes that date back centuries and ingredients grown in the rich volcanic soil of Mt. Vesuvius. The mozzarellas are decadent, the tomatoes are perfection. And the pizza—oh, the pizza—I thought it was hype, but there is simply nothing like it. From another shop we chose the fried fish that came fresh from the sea that morning and was placed piping-hot in paper cones that we could take on a stroll through the narrow streets. Later, we found ourselves sitting at the edge of a marina, with a view of the sea and a plate of the most heavenly seafood risotto that was as beautiful as it was buonissimo.
The sea breeze was everything I had ever dreamed of while sweltering in Florence. From somewhere in the city I could hear a woman singing as she hung her laundry out to dry, children asking for popsicles, a dog barking, seagulls crying overhead, and church bells—so many church bells. This city has its own brand of beauty. Unlike Venice or Florence, it's still a living, breathing city that's just trying to function every day.
The streets in the historic center are narrow and crowded. The buildings huddle together in the sunset, casting the streets in growing shadow. Neon lights decorating religious shrines throw splashes of color onto the walls and balconies. Other alleys are almost pitch black, but when we walked down them, they'd come alive. People sat out in their open doorways and continued to chatter to their neighbors as we passed.
If Florence is a masterpiece, Naples is the painter's palette. It's the same colors, the same passion, but a different energy. It's chaotic without apology, and if those that visit are prepared for the imperfections as so many have been throughout the centuries, they will fall in love with a city that is pure, passionate, and, to many Napolitanas, perfetto.
Get Your Free Real Estate Report Now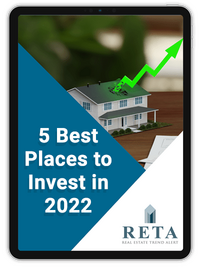 Sign up for our free daily Postcard e-letter and get a valuable free report on the The 5 Best Places to Buy Real Estate In 2022.
Related Articles
Ravenna: An Off-The-Radar Cultural Paradise in Italy
Expert Tips on Restoring a Historic Home
You Don't Need Money to Buy Overseas
Upcoming Conference

Pura Vida! Fast Track Your Retirement Dreams in Costa Rica
See if Costa Rica is right for you at the International Living Fast Track Costa Rica Conference. Enjoy the views and meet the experts who will show you how you can live the good life on $1,200-$2,700 a month or even less.