Franny Hogg and her husband Robert Lochow found their dream home just a few months after coming to Cuenca, Ecuador in 2012…the only problem was…it belonged to someone else.
"Our friend Dano was showing the complete renovation process of his house in Cuenca on his blog and we read every new post," says Franny. The house was exactly what they wanted, but it wasn't for sale. "I thought maybe we could recreate our dream house one day to be like Dano's home," she adds.
So, tired of hotel living and wanting to get permanently settled in Cuenca, the couple decided to begin their search for a new home.
Franny and Robert's decision to move to Cuenca, from Beacon, New York, came after 18 months of research and following an exploratory trip, where they found the city checked off most things on their list. "We chose Cuenca because of the spring-like weather, the use of the U.S. dollar, we knew some Spanish, and the low cost of living. It was a place we could travel from and see other places," says Robert. "Plus, we wanted to be able to bring our cats," adds Franny.
With a container storing a few of their keepsake furnishings and with cats in tow, the couple started their house hunting by enlisting a local real estate agent to take them around town. "We were in the car and I heard the agent talking to someone on the phone. I heard him chatting to someone who he called "Dano." They were talking about a house he was selling. I could not believe when we pulled up to our dream house and it was now for sale. We bought it for $168,000, installed book shelves by the fireplace in our living room, and moved in," says Franny, who notes this was the house they were meant to have.
The two-story yellow and teal house is in the Remigio Crespo/Primero de May area one block from the Yanuncay River, in an upscale neighborhood, within a 20-minute walk to downtown. The garden entrance houses lots of plants and her pet guinea pig and Lionhead rabbit, who help "mow" the small yard. The entrance hall showcases a beautiful wood spiral staircase, but the home's centerpiece is the living room with a fireplace lined with bookshelves which gives Robert a quiet place to read from his collection. The first floor has a large dining room which extends to the airy kitchen equipped with high-end appliances. The back of the house has two sun porches lined with plants and colorful Ecuadorian art.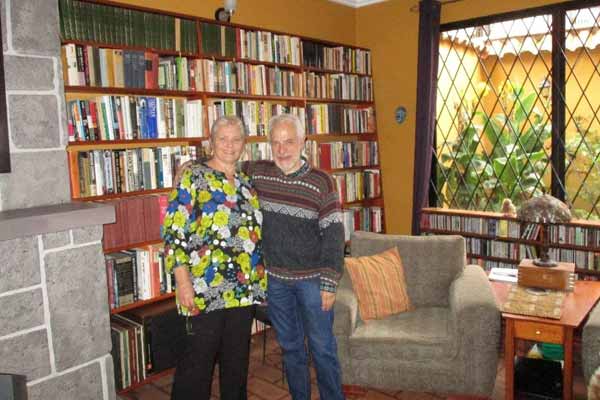 Because the couple had read Dano's blog, they knew everything about the house's renovation including plumbing updates, materials used for new construction, and all the upgrades, so they knew they were getting a quality house.
Because they paid cash, they were able to secure the purchase of the house in days. The house is approximately 3,000 square feet, including the garage, which they use as a craft room. They don't need the garage because owning a car isn't necessary with public bus transportation 35 cents a ride, and $3 taxi rides to just about anywhere in town.
Cuenca's urban center has a population of approximately 700,000 with a booming expat community that reaches 7,000. The UNESCO heritage site is known for its 16th and 17th century Spanish-colonial and French-Republican architecture. It's a place where you can grab a latté at one of the many outdoor cafés in El Centro, or shop in the hundreds of chic stores and restaurants that line the cobblestone streets downtown. Parque de Calderon is the Parisian-designed town square of El Centro, and is flanked by the Cathedral of the Immaculate Conception known for its three baby-blue mosaic domes. The square is also home to the internationally recognized flower market, and San Francisco's indigenous market which sells Alpaca sweaters, hand-embroidery clothes, and linens. Enclosed by four rivers in the Andes mountains, Cuenca has miles of river trail walks where locals stroll with their dogs, and children play soccer.
Cuenca provided a fresh start for the couple. "I always say moving to Cuenca is like you are standing in the doorway on the day you finish high school or college and you can reinvent yourself," she says. "I wanted to get involved in volunteering and writing." Cuenca is known as the cultural center of Ecuador and Franny found herself in a hotbed of creativity. She founded the Cuenca Writers Collective and was a founding organizer of the Cuenca International Writers' Conference. She hosts The Spoken Word, a monthly performance of readings by writers, and moderates a weekly writers' critique group. Her love of children drove her to become a volunteer teacher at a rural Ecuadorian school and she began fundraising for several charitable foundations. She also authored What's Cookin', Cuenca? a gringo guide to buying and preparing food in Ecuador.
After years of managing class-action lawsuits, Robert just wanted to read. "We were able to bring our 6,000-book collection, and now that's what he gets to do. Read all day," adds Franny.
Franny and Robert love their new life in Cuenca. "I realized how both of us are affected by our surroundings. This is a place I feel comfortable living. That I can express my creative side, and be involved in the community. The city is perfect for us," adds Franny.
Get Your Free Your Overseas Dream Home Report Now

Sign up for the FREE Your Overseas Dream Home e-letter and get a valuable report (free for a limited time) on the The Global Real Estate Boom of 2021: 15 Places Where You Can Profit.
Related Articles
Retirement in Ecuador Means Living Well
The Truth About The Cost of Living in Ecuador
Fun and Interesting Facts about Ecuador