Ahh, Belize… just saying the word makes me smile.
Palm trees swaying in the wind, azure sea, endless sky, parrots, fresh pineapple…and no shoes.
I had become intrigued with this small central American country after reading articles touting it as a retirement destination. I liked the fact that English was the official language, that it was affordable, warm, and not too far away. So, when I found myself needing to detox from working life and a horrific divorce, Belize was my goal. I needed to heal my soul by the sea.
Luckily for me, a friend with the same dream headed there first. I visited after she had acclimatized. Both single women, we were excited for the adventures ahead in a complete change of life. We weren't looking for resorts or to replicate our lives back home–we wanted to experience an entirely different culture, an entirely different world, and people we would never meet otherwise.
For such a small country, Belize's land diversity is compelling, including jungle, mountains, waterfalls, islands, and the sandy peninsula of Placencia in the far south. Each district has something to offer, from rugged natural beauty to the bustle of Belize City, blue seas and sandy beaches.
My friend lived in the jungle of Cayo District. Her rented house was on a dirt road outside of St. Ignacio town, where everything was so green, and the greenery so dense and lush–the flowers were huge and incredibly vibrant. Her property had banana trees and green parrots flying by! We would sit on the deck and watch the mist rising off the mountains in the morning. It was incredible.
At night, you could hear the eerie howler monkeys in the trees. Luckily for me, she was a wonderful host and introduced me to two of the islands–but when we spent a weekend on Caye Caulker, I knew I had found the place for me.
Caye Caulker is a small island not far from the coral reef and Belize City, a haven for divers and snorkellers. Only about five miles long and less than a mile wide, with sand-packed streets for bicycles and golf carts, to me it was one endless sandy beach.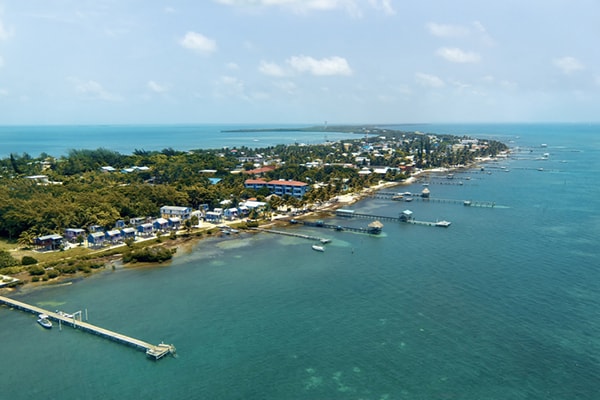 I chose to walk everywhere on the island, and I loved it. An apartment right in town meant that everything was close enough, but if I chose to explore further, I could rent a bicycle. It's a quaint, quiet place with bars and restaurants that close early because the island rises with the sun. The pastel colors of the buildings blend with the beautiful sea and blue sky to create a calming, exquisite palette. Smiling locals are never in a hurry. I learned to slow down and enjoy every day…walking to the fruit stand for freshly squeezed pineapple juice, to the sports bar for a cold Belikin beer, to the Split to lie on the dock and watch the manta rays soar out of the water, and rooftop yoga three times a week. These became my days.
And when I started to meet people and enjoy the company of the many Canadians and Americans on the island, I felt right at home. We would gather on the west side of the island to watch the stunning daily spectacle of the sun dropping into the sea. You just can't imagine a more beautiful natural show.
I learned that I could live simply, without all the trappings of life in Canada. A roof over my head, a locked door, a coffee maker in my tiny kitchen, clean water, and a bed–who needed more? The island hosts small grocery stores, pharmacies, eateries, and drink establishments, where sea breezes and cool Caribbean waters mitigate the hot sun, you can eat freshly caught fish, dance to live music, and meet nice people…
Oh yes, Belize, you are a gem.
Get Your Free Real Estate Report Now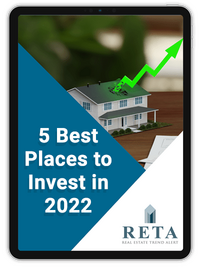 Sign up for our free daily Postcard e-letter and get a valuable free report on the The 5 Best Places to Buy Real Estate In 2022.
Related Articles
Everything you Need to Know About Living in Belize
Upcoming Conferences
Live Better, Spend Less, Retire Sooner
IL's Retire Overseas Bootcamp
October 21-23, 2022 in Atlanta, GA

In safe, warm, welcoming communities abroad, as little as $1,700 a month can bankroll a good life... this fall, our experts will show you where—and how.
Early Bird DISCOUNT—Save $100 When You Register by Sep. 29
Details Here IL's Retire Overseas Bootcamp
---
Registration Now Open for the Best of Europe Private Screening

In the Right Spots in Europe, You Can Retire in Style—in an Historic, Sun-Drenched Locale—for as Little as $2,300 a Month or Less—Especially Now With the Dollar and Euro at Parity for the First Time in Two Decades.
And We'll Show You How, October 1-2, During the Special All-Online Best of Europe Private Screening.
---
The Income Revolution Forum
What if You Had the Freedom to Enjoy the Good Life Anywhere in the World You Wanted to Be...and Get Paid While You're There?
We'll show you how—with hands-on guidance—you could beat inflation...secure your retirement...ditch your commute...and turn a skill you already have into a portable side income of $300, $600, even $3,000 or more a month.