My partner Ian and I are what you might call "nomadic expats." Our transient lifestyle allows us to peep inside beautiful homes and lose ourselves in fascinating cultures all over the world. We stay long enough to fall in love, but not so long that we get bored. There's some structure to our lives too—we are full-time international housesitters with part-time roaming incomes. We teach online and produce a free online housesitting publication.
Panama is special for us, so we returned recently to sit for friends at their off-grid property, accessible only by boat, on the archipelago of Bocas del Toro. This is home to a small (mainly retired) expat community, with a diverse mix of nationalities. Not just gringos, but adventurous types from all over the world.
Although remote and surrounded by dense jungle, our house-sit was well-equipped and comfortable, with uninterrupted views across the vast bay. Dolphins could be spotted all day playing in the calm, protected waters. This was living at its most sublime.
Through a thick wall of vines and jungle plants lived a family of indigenous Indians who regularly visited to charge their phones. Off-grid here means that water is collected from the sky, electricity and hot water are generated by sunlight, and shopping involves a 40-minute boat ride into Bocas Town (weather permitting). Still, a well-managed system and four huge water tanks meant we had flushing toilets and a washing machine—pure luxury.
You can go days seeing nothing but the occasional slow moving sloth, so good communications are crucial. VHF radio is the lifeline of the community, as internet can't be relied on.
There's plenty to get involved in and the community is supportive, inclusive, and fun to be a part of, even for a short visit. Pot-luck lunches and parties bind this fraternity, providing much-needed social interaction in an otherwise isolated environment. There are many small jungle restaurants dotted about the islands, where expats and tourists congregate on a weekly basis for afternoons of chat, drinks, and dancing in the tropical sun.
With water all around, it's impossible to survive long by day without a boat. But as night falls, pangas and their passengers criss-cross the bays to avoid arriving home after dark.
Residents frequently rally together to arrange shopping trips to Bocas Town, saving on expensive boat fuel. Bocas is the tourist arrival point, with its regular water taxis to the mainland and a small airport. It is vibrant and colourful, with waterside bars, restaurants, and a selection of Chinese supermarkets. Our weekly treat was to visit the well-stocked international deli, full of all sorts of imported delights.
There's much to experience here. Beach front cycle rides, visits to chocolate farms, jungle trekking, horse riding, snorkeling in secret lagoons and lazing on stunning beaches.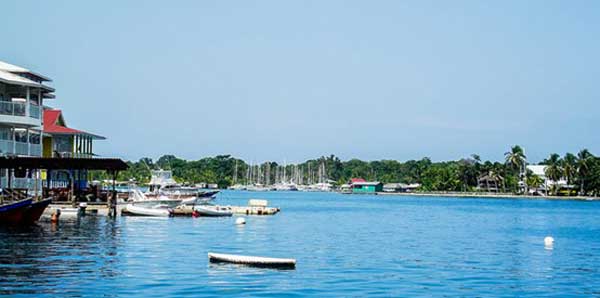 Panama is home to a number of expat communities that thrive on both the Atlantic and Caribbean coasts, and inland among the beautiful coffee plantations of Boquete. A recent enforcement of immigration laws means that non-residents have to leave every five months for at least one month. Because of this there are now many short-term sits popping up all over Panama.
Bocas in particular is in need of experienced housesitters, comfortable living in tropical jungle environments, with boat handling and off-grid living skills. With these abilities you'll find a very special year-round location for house-sitting, tucked safely outside the hurricane zone.
But, despite this growing need, finding housesits is challenging, as they are mainly advertised by referral or word-of-mouth. I suggest you get started by joining popular Panama expat and housesitting groups on Facebook, where you can make your services known. If you network well and interact socially once in Panama, you'll find no end to the opportunities.
Get Your Free Fund Your Life Overseas Report Here:
Sign up for IL's Fund Your Life Overseas e-letter today and we'll also send you a FREE report about ways to earn money abroad. Simply enter your email in the box below and we'll send you this free report: Fund Your New Life Overseas With These 6 Portable Careers.
Get Your Free Report Here