After years of grueling commutes and exhausting work-hours, I'm happy to have a new word in my vocabulary that encapsulates my new life in Panama…tranquilo.
From Spanish, tranquilo roughly translates to "be calm," and in the beautiful town of Boquete…it's hard not to be. Boquete is a haven for expats, with magnificent scenery, an affordable cost of living, and a climate that's never too hot or never too cold. When asked by friends in the U.S. to describe it, only one word comes to mind…
Other expats I meet here have a similar story to mine. Nancy taught both high school and university-level Spanish throughout the U.S. before she decided to move. Her living costs were accelerating unmanageably and the stress was taking its toll.
As she spoke Spanish fluently, she started looking into Latin America. She wanted to find a country that could fulfill all her needs: the right weather, a safe political climate, and plenty of opportunity. Panama came out top of her list.
After that she spent two weeks searching for the town, but while driving down into the valley of Boquete…her decision had been made. Marveling at the verdant mountain slopes and lush flora, she knew in her heart, "This is it."
Nancy retuned to the States, sold all her possessions, and moved to Boquete, where she now teaches Spanish to expats several days a week, leaving plenty of time to enjoy her home and the many activities in the town. When I ask her what she likes best about living here, she say, "I get to do what I'm good at and enjoy a stress-free environment. What's not to like?"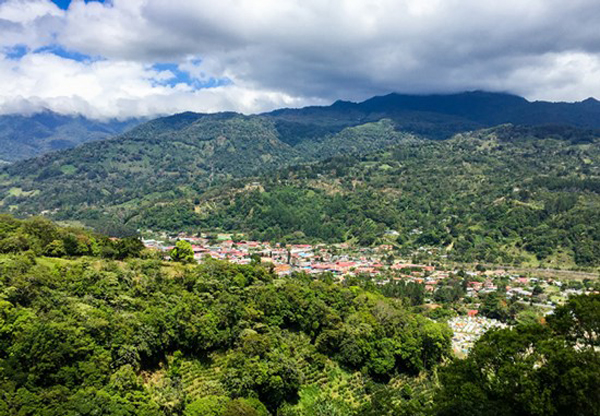 Similarly, when Stone, a painter from Toronto moved to Boquete, it was because of a need to kick-start a new lifestyle. Vowing "never to see snow up close and personal again," he started with a brief sojourn in Miami, before settling in Key West, Florida to live "a laidback and leisurely life."
However, it didn't turn out as planned, and he floundered. The vibe and lifestyle weren't right for him there and his creativity lay dormant. Deciding he needed a fresh start in a new environment, he sold everything, packed what was left into three suitcases and moved to Boquete.
Now, feeling rejuvenated by the tranquilo life in Boquete, and with the encouragement of close friends, Stone's creativity has blossomed into life and into the new painting style for which he had been searching. He uses this new, innovative style to paint portraits, including many of local friends who grab up his canvases as soon as the paint is dry.
Coleen, another expat from Canada escaping the brutal cold, settled in Boquete after doing extensive research on the demographics of the town. The clientele she was looking for were Europeans, Americans, and affluent Panamanians, with an interest in the gluten-free diet. As Coleen explains, "Boquete grabbed her. It was a gut thing." And she knew it was a town where she could find success.
She started out on a small scale, selling goodies, that she made in her apartment kitchen, at the Boquete Tuesday market. But she soon developed a following from as far away as Panama City and realized she needed to expand. After finding the perfect location on the outskirts of Boquete, she outfitted the space with the extensive equipment she needed to handle the variety of dishes she offered.
Her day now starts at 3:30 a.m. when she starts baking the bread for which she is (rightfully) so famous. And she projects that she will soon be able to offer 250 varieties of baked goods. When I asked her if she had been intimidated by the prospect of setting up her business, she smiled and replied, "Don't look at the forest but the individual tree ahead of you and keep moving on."

Need a Way to Fund a New, Better Life?

Join our Fund Your Life Daily e-letter today, and you'll hear from us five times a week, telling you about ways to earn income that lets you live anywhere, travel anytime… and give you the funds to make your dreams of a better life real. We'll also send you your FREE report Fund A New, Better Life With These 6 Portable Careers.
Related Articles
The Quickest Way to Make Money Online
5 Reasons to Become a Travel Blogger