As you consider your new home overseas, you'll no doubt be asking yourself a number of questions about exactly where you might want to live. Once you've narrowed it down to Panama, you still have a number of choices to address. Do you want to live in the mountains or near the beach? Do you prefer to live in a town or big city? How about a gated community or a favorite expat destination? Do you like having neighbors close-by or more privacy? There's a lot to think about.
Me? I'm definitely a country gal, not a city gal. That's why the first time I drove through Chiriqui Province in western Panama, I knew it was the place for me. This area is known as the country's "bread basket" and for good reason—most of the produce we eat is grown here.
But even here in Chiriqui you have plenty of choices about where you might want to live. Many expats and retirees choose the highland towns of Boquete and Volcan, while those of us who don't mind the heat choose David and its surroundings. There are a few waterfront communities on the Pacific coast of Chiriqui, too, if you like the sand and surf.
For those who want to live in the countryside and enjoy a peaceful, quiet, rural lifestyle, there's a large region in Chiriquí worth exploring…what I've dubbed the "Midlands." This area stretches from the north side of David and Concepcion (which sit on the Pan-American Highway) to the south side of Alto Boquete and Volcan. It's mostly undeveloped farmland, cattle ranches, horse pastures, dairy farms, and open fields. Little towns and villages dot the roadsides, where local elementary schools and basic grocery stores serve the communities. Think of small-town life back in the 1950s and 1960s—a throwback to a simpler time.
One advantage to this less developed, less well-known area is that you can find some very good property values. For example, there's currently a listing in the town of Bugaba that includes two homes on over four acres for $260,000. The main two-story house has three bedrooms and two bathrooms and the smaller rancho has one and one—perfect for a guest house or rental. The property is beautifully landscaped, fully furnished, and even includes a horse.
If you've got a green thumb and want a gardening home, there's a sweet deal on offer in El Frances, about half-way between Boquete and David. It's a two-bedroom, two-bathroom home not far from the highway, listed for $199,000. The lush, tropical jungle setting includes fruit trees and flowering plants, and the home features a Jacuzzi tub, gazebo and a large patio.
What many people like about this region are the climate and the location. The terrain rises gradually from just above sea level to the highest settlements at about 6,000 feet, and the temperature cools as the elevation increases. The well-paved roads slowly wind up the slope of the Baru Volcano, offering breathtaking vistas all along the way. Much of this area is cooler than the lowland city of David, yet warmer than the sometimes-chilly highlands—a near-perfect Goldilocks sweet spot.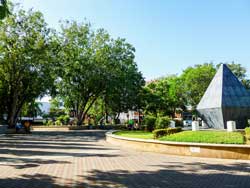 And the location may be near-perfect, too, with easy access to the main highway and a short drive to the larger towns. Some of the available properties may be a bit remote or on a gravel road, so you'll want to have a vehicle. Once you get to the main road you can be in David, Volcan, Concepcion, or Boquete in about half-an-hour. You'll have all the tranquil solitude of your country home, with all the amenities, services, and conveniences of town nearby.
Would you like a hilltop home with spectacular mountain views? I found one in the community of Buena Vista near Cuesta de Piedra with a huge covered terrace and open views all around. It has two bedrooms and two bathrooms on 2.7 acres with plenty of fruit and shade trees—a delightful retreat listed for $254,000.
If you don't mind doing some remodeling work you can find some good deals in this area. There's a nice but basic home on offer in the town of Sortova for just $88,000. It's in good condition and needs upgrading to make it more comfortable. The real value is the land—1.6 acres on a flat hilltop overlooking both the mountains and the distant ocean, with lots of fruit trees and flowers, and a good water well. With a little effort it could be a stunning place.
Maybe you prefer to buy land and start from scratch, and there are good values on land to be found here as well. There's a current listing for 3.5 acres on a hilltop above Sortova, with a year-round stream, for $35,000. Or, if you'd like to do some farming yourself, you can buy 21 acres of fertile pasture land and hardwood trees bordered by a river in Cochea Abajo for $99,000. There's tremendous potential for investment, development, farming, or creating your dream country home on these and other properties.
In case you have a larger budget you might just find your charming country estate. I found a great value one in Potrerillos Arriba with an asking price of $375,000. For that sum you get a custom-built, fully furnished three-bedroom, two-bathroom home on 4.7 acres with nice landscaping…plus two one-bedroom, one-bathroom casitas, a large swimming pool, hot tub, and patio, and amazing views. The good life awaits you.
The Midlands region of Chiriqui Province covers a lot of territory, and you just might find the country home that's right for you in this scenic, rural area.
Get Your Free Roving Real Estate Investor Report Now

Sign up for the FREE Roving Real Estate Investor e-letter and get a valuable report (free for a limited time) on The Exact Location of Where to Make the Most Real Estate Profits This Year (Plus 4 More Places to Build Your Fortune in Latin America and Europe).
Related Articles
Find Your Dream Home in Ecuador's Highlands for $85,000
Ecuador Real Estate and Property