Retiring to Lake Arenal in Costa Rica almost four years ago was one of the best decisions my wife Beaty and I ever made.
We lived in the little East Texas town of Crockett and the kids were all graduated from college. After practicing dentistry for 38 years, I was hitting the point where I was ready to get out. Beaty had already retired from her physician's assistant job.
So we went to Costa Rica, and when we drove up the mountain, got out of the car, and saw the most fantastic view of Lake Arenal and Arenal volcano, we knew we had found our place.
We love the weather. You do not need an air conditioner or heater. Most of the days the high is in the 70s F, occasionally it will hit 90 F in the afternoon but it cools off by bedtime.
We chose to make our new home in a development close to the lake. We have been so happy here. It is a great community. We all do things together and there are a lot of expats in the area. We can go to the clubhouse for breakfast or lunch and we also have a workout room, massage and facial salon, a bar, and swimming pool.
Beaty and I like to go out for walks and we have a beautiful nature trail down one side of the development that runs along the side of a creek. You get to see all sorts of wildlife, birds, and plants. It's really fun watching the howler monkeys and there is always something to photograph.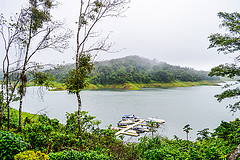 I like photography. I often wake up early, make a cup of that great Costa Rican coffee, go out on the porch, and take pictures of some of our outrageously beautiful sunrises over Arenal Volcano. We have a gardener but I do some of the yard work.
We have good fishing on Lake Arenal and we are just a couple of hours from the Pacific coast, where we go fishing quite often. One of the outstanding restaurants in the area will take our freshly caught fish and prepare us a wonderful dinner.
I have no trouble staying busy. I still have a few irons in the fire since I manage the family timber farm and ranch land. I am also trustee for a couple of trusts and on the board of directors of a small corporation. The first couple of hours of each day are usually spent on the computer taking care of business.
There are a lot of activities to take part in and you can be just about as busy as you want to be. Around Lake Arenal there is zip lining, white-water rafting, nature trails, horseback riding, kayak trips, hot springs, waterfalls, wind and kite surfing, and many other ways to entertain yourself. And all of this is very close to us.
And believe it or not, with all this Beaty and I are still living a good bit cheaper here than we would in Texas. Our home has three bedrooms, two bathrooms, a large living area, and 700 square feet of covered outdoor living area on a 1.25-acre lot with a fantastic view. I think any comparable property in the U.S. would be anywhere between 30% and a 100% more expensive.
We go out for some very fancy meals that are about half the cost or less of something similar in the U.S. Property tax is about 25% of what we were paying in the U.S. Insurance is less.
One of the biggest savings for us has been in healthcare. Beaty broke a front tooth and the cost of removing the root and doing an implant was less than $900 and the final crown will be $300. As a dentist I can testify the implant was done with completely up-to-date technology…by a dentist we like very much.
About a year and a half ago I had to have two cardiac stents placed. The cost was 25% to 30% of what it would have cost in the U.S. Those who use the public healthcare system here do not pay anything other than their low monthly fee.
All in all, we are living a life we would never be able to in the U.S. We have made some of the best friends we have ever had, both expats and locals.
Get Your Free Fund Your Life Overseas Report Here:
Sign up for IL's Fund Your Life Overseas e-letter today and we'll also send you a FREE report about ways to earn money abroad. Simply enter your email in the box below and we'll send you this free report: Fund Your New Life Overseas With These 6 Portable Careers.
Get Your Free Report Here