When visiting Costa Rica during a scouting trip, your goal is to figure out which region suits you and your lifestyle best. Even though it's a small country, about the size of West Virginia, there are many different climates and lifestyles in each area. You might also be trying to determine if the country as a whole is the best fit at all.
So you owe it to yourself to get the most out of your journey by gathering as much useful information about your possible new home country. Here are some tips to make for an educational—and fun—scouting trip to Costa Rica.
Plan to Explore
You may have narrowed down your search before arriving in Costa Rica. But it's always a good idea to include a location you don't know much about or aren't seriously considering on your itinerary. Why? Because you never know until you visit in person whether a spot is truly right or wrong for you.
A great example is an expat couple I know who currently live in the Central Valley town of San Ramon. They live in the hills above town, with a gorgeous view of the surrounding mountains and rolling hills. They volunteer, teaching English and art to local school children. And they enjoy the cultural activities like jazz concerts and art shows that come through town regularly. They're having a great time. But they spent their first eight months in Costa Rica unhappy because they started in a house in a sleepy beach town. They soon tired of the heat, humidity, and lack of cultural activities.
Eat Like a Local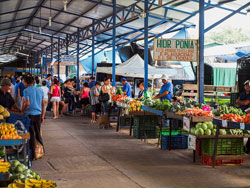 When you're on vacation, running up a big tab at the tourist-oriented restaurants or paying for overpriced imported goods at the grocery store isn't a big deal. But when you're looking seriously at a community you might make your home one day, it pays to do as the locals do and find more inexpensive options for your meals. After all, paying high tourist prices all the time won't be sustainable if you plan to lower your cost of living when you move.
For dining out that means frequenting sodas, which are small local restaurants that serve simple dishes like ceviche, the casado (rice, beans, salad, plantains, and your choice of beef, chicken, or fish), fresh seafood, chicken and rice, and more. A heaping plate will run you $4 to $5; throw in another $1 for a fresh fruit smoothie.
Groceries are best found at the feria, or weekly farmers' market, which is usually open on Friday, Saturday, or Sunday, or the Mercado Central, the indoor farmers' market open daily. In both you will find fresh fruits and vegetables, dairy products, herbs, bread, eggs, seafood, chicken…basically, anything you can't find in a box. A couple can spend about $20 and fill the fridge for the week.
Visit in the Rainy Season
As with most tropical countries, temperatures in Costa Rica do not vary much throughout the year. And there are only two seasons: dry and rainy. In rainy season, roughly May to November, it can rain quite a bit, especially in certain regions like the southern Pacific coast. On the flipside, it rarely rains at all during the dry season.
For this reason, it's a good idea to check out Costa Rica during the rainy season at least at some point. You'll find out if daily rain showers fit with your temperament. It usually rains for a couple of hours during the afternoon, although all-day storms can occur, especially during the height of the season in September and October.
Many expats actually prefer the rainy season as it brings out deep greens in the vegetation. And usually there is always time in the first part of the day to run errands and get outdoor chores done.
Avoid Resorts and Big Hotels
Although it may be tempting to stay at an all-inclusive resort or big beachfront hotel during your scouting trip, it should be avoided. It's fun to sip on tropical drinks by the pool. But you won't be getting an authentic experience. And you'll be sealed off from the "real world.
You have three better options that will help you get to know the community you're interested in living in and experience daily life firsthand. First, you could find a vacation rental home or condo. By living in a neighborhood, you'll interact with other residents, shop for groceries, test your Spanish, eat in local restaurants… You'll get a taste of what it's really like to live there. Sites like vrbo.com are ideal for finding high quality rentals.
Renting a room in a home is another way to go. You'll not only live in a real neighborhood, but you'll also be in someone else's home, whether it's a local or expat. Your "landlords" will be great resources and contacts as you explore your surroundings. Check out Airbnb.com.
Finally, you can find accommodations at a B&B or guest house. The owners, whether Tico or gringo, will be a source of information about the local area and can offer tips and advice on a personal level about living in a certain area. They'll also have plenty of contacts, whether you decide to look for real estate or want to contact expats in the area.
Visa Rules to Keep in Mind
When you're visiting Costa Rica for a scouting trip, there's no need to make prior arrangements for a visa. You will receive a tourist visa good for 90 days in the country when you get off the plane and go through immigration. If three months isn't enough, you simply go back home and come back later or you could travel (fly, drive, or bus) to another country in the region. Either way, once you leave and re-enter Costa Rica, you get another 90-day tourist visa. It's a good short-term solution, although if you plan to live in Costa Rica, it's best to explore your options for residence.
There are a few things to keep in mind with your tourist visa. You cannot travel into Costa Rica with a one-way ticket. You must show proof of travel outside of the country within 90 days of your arrival—a plane ticket works best. If you plan to stick around and do a "border run" to neighboring Nicaragua or Panama, you must also show proof of this onward travel. A refundable airline ticket is handy for this, as you can change the date as needed. At land borders, a bus ticket out of Costa Rica is sufficient.
Get Your Free Ecuador Report Here:
Learn more about Ecuador and other countries in our daily postcard e-letter.
Simply enter your email address below and we'll send you a FREE REPORT – Ecuador: Live Like Royalty on Your Social Security.
This special guide covers real estate, retirement and more in Ecuador and is yours free when you sign up for our postcards below.
Get Your Free Report Here