A few years back, I was working a full-time, regular 9-to-5 teaching job. My bosses were inflexible, I was stressed, and I couldn't stand the work. When you're a teacher, you can't just take time off to travel. I'm also not a morning person, and waking up at 6 a.m. every day was tough. I was following the rules…and I don't like following rules.
Writing was always my passion, but I had no idea how I would go about actually earning a living writing. Writers don't earn livings, everyone knows that. Right?
Wrong.
I've made $500 in less than an hour…while writing by the Mediterranean in Barcelona, Spain.
In the last year, I've been to Greece, Italy, France, Turkey, Portugal, and Sweden, all while working on my own schedule and my own terms.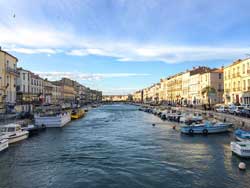 You see, I set myself up as a freelance copywriter, and my life became vivid and bright again. Dare I say…even enjoyable.
In my first month, I made $1,150—that's a month's salary in Spain, where I live. I was making the same amount of money at my boring 40-hour-per-week gig. So, I had no problem paying for anything, from my $550-per-month rent to Spain's typical, two-course, $15 lunches. With such a low cost of living in Spain, I found myself living comfortably. I effortlessly matched my former salary working just a handful of hours per day.
Those early mornings became a distant memory. Even better, I could be anywhere in the world without having to take time off from work. I was traveling and making a profit doing something I always loved.
I was dumbstruck. Was I actually making a living writing? Was I actually enjoying work? It was unbelievable. And I was only just beginning.
I built a network and clients started to give me more commissions and pay much more for them. Many of them passed my name on to other clients, and I quickly built a bigger network. Now, I work on a variety of copywriting projects, including website copy for businesses…ghostwriting…e-books…and blog posts. My earnings have become unlimited.
Got a computer and an internet connection? That's all you need.
Working as a teacher, getting just a few days off for vacation would have been a triumph, and the cost of flying back to the United States wouldn't have made sense for such little time.
As a copywriter, I'm now planning on a two-month trip back home to spend some real time with my family, while keeping up with clients from my laptop. For me, this flexibility and quality of life is simply unparalleled.

Need a Way to Fund a New, Better Life?

Join our Fund Your Life Daily e-letter today, and you'll hear from us five times a week, telling you about ways to earn income that lets you live anywhere, travel anytime… and give you the funds to make your dreams of a better life real. We'll also send you your FREE report Fund A New, Better Life With These 6 Portable Careers.
5 Tips For Safe and Fun Solo Travel
The Quickest Way to Make Money Online