While on our way to a serious shopping day at the infamous Grand Bazaar in Istanbul, Turkey, a large, ceramic, intricately-painted fish in the window of a gallery caught my eye. I drew my two travel companions inside for a quick look.
And thus we entered into one of those unexpected experiences you have in the import-export craft business. It's a world full of interaction and surprise. You enjoy the hunt for the right products, haggling to get the right price, and the income from selling back in the U.S., online…or wherever you offload your goods.
Product and price are the main considerations when you get involved with this business. You develop an eye for what will sell and an ability to get it for a good price.
At the end of the day your profit margin is what counts. I have used import-export to fund my travels to Latin America and Africa throughout my working life. Now that I'm retired, I'm getting into it more deeply. This was my first trip to Turkey, and I was looking forward to purchasing a wealth of good quality crafts and antique items.
Making Connections
Very quickly the owner of the gallery in Istanbul, Savas Oz, understood we were more than just curious tourists. We gave him our business cards while showing interest in unusual pieces. My companions—long-time importers on their sixth visit to Istanbul—carry with them pictures of previous purchases so they can demonstrate the kinds of things they are interested in seeing.
This is an excellent tactic, especially when language is an issue. It's also important to make a good connection with craft sellers by falling in with their traditions. Trade is carried out more slowly in other countries than it might be in the U.S. Savas served us tea in little glasses along with sugar cubes and a tiny spoon.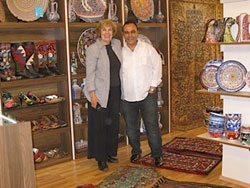 "Do you know why a spoon is served with the cup?" he asked. "The tinkle of it on the glass while stirring the tea indicates you want to have a conversation, a visit."
Through email and Skype, we have what will hopefully be a long-term business relationship with Savas for future purchases.
Two hours later, with our selections of brides' vests elaborately covered with metal pieces, seashells, and tassels…wedding hats similarly decorated…several older textile pieces…and a camel saddle bag, we were ready to negotiate price.
Shipping Home
After dropping the retail prices significantly, Savas offered to ship the purchases, at no charge, by his favored line, TNT shipping. He can send 20kg (around 44 pounds) to the U.S. for $350 by ground transport or $500 express. He also offered to include in the shipment any purchases we made from other sellers at the Grand Bazaar. (The package arrived within two weeks in excellent condition, delivered from the port to my home by FedEx, having zipped through customs.)
My companions and I had also traveled with an empty duffel bag each to carry any lighter purchases home. We flew Turkish Airlines, Comfort Class, which allowed us two bags each plus a carry-on and one personal item. Everything was packed to the baggage weight limit, and a helpful baggage handler carted bags through the airport. He was tipped well for making our entry so easy!
My advice is always to buy small amounts the first time to test the import waters. If you have a favorite country to visit, you can find treasures there. But you can also begin without even leaving the United States by visiting the International Folk Art Market in Santa Fe, New Mexico to get a feel for the international craft market.
Craft Profits
Istanbul is a center for incredible textiles from nomadic tribes that come out of the countries like Afghanistan, Pakistan, Uzbekistan and others, once part of the Persian Empires.
We left Savas, to head for the Grand Bazaar, where I bought tent decorations…long valances with fabrics woven and embroidered and tassels hanging down…decorative hangings…yarn…and beads. They will sell to designers for several hundred dollars each.
There were other good items too.
• Afghan squares cost as little as $13, and young girls' dress fronts of embroidered fabric and intricate rows of tiny beads cost $20. I will sell them as clothing or pillow decorations or wall hangings for $75.
• An antique, woven, one-of-a kind handbag covered with decorations will sell for several hundred dollars in the U.S.
• Boys' intricately beaded bowl-shaped hats, with geometric designs cost $30 in Turkey and can at least be doubled in price back home.
• Fabrics of intricate hand embroidery and little mirrors—ideal to make a jacket, vest, or table covering cost around $25 and will sell for four times that price.
The shop owners were quite knowledgeable, and my companions had dealt with several of them during past visits. Prices were negotiable since we have businesses— again, we offered our business cards. For several of the shops, final prices depended on whether they had already sold something that day.
As with past travels I planned to carry home many of the purchases. But the Afghan squares— heavy for my suitcase—went back to Savas to be included in the package he would ship.
Some of these tribal textiles are quite different than the new woven textiles, beaded jewelry, baskets, and copper I've been successfully selling thus far from countries such as Guatemala, Peru, Mexico, and Tanzania. These textiles are one-of-a-kind. Their prices will be significantly higher—four or five times their cost—and will be purchased by people who know and appreciate their value.
Get Your Free Fund Your Life Overseas Report:
Sign up for IL's Fund Your Life Overseas e-letter today and we'll also send you a FREE report about ways to earn money abroad. Simply enter your email in the box below and we'll send you this free report: Fund Your New Life Overseas With These 6 Portable Careers.
Get Your Free Report Here