When I first began researching Ecuador as a possible place to live four years ago, I found that the  country offered a lot to attract would-be-residents, especially retirees. There is the moderate climate promoted by Ecuador's tourism board as "Eternal Spring." There's the low cost of living that allows many retirees to live comfortably off their social security income. Ecuador is also close to the U.S. (4.5 hour flight to Miami) and the country uses the U.S. dollar.
Every one of these factors led to my belief that Ecuador could be the right place for me and apparently I'm not the only one to think so—many other North Americans have expatriated here. But during my time in the country I've found that there are several other great reasons to retire in Ecuador.
Find Your Passion in Ecuador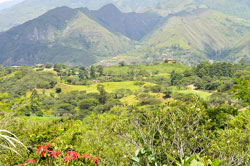 Life in many Western cultures has become so busy and complicated that few people have any true leisure time these days. Even for those who are no longer working 40-hour weeks, the hustle and bustle of daily life often leaves little time for pursuing new interests.
Here in Ecuador the pace of life is far more relaxed and there are fewer demands on your time, which in turn gives you the chance to explore new activities. Take my friend Janette who discovered that she held an unknown talent for painting. Prior to coming to Ecuador last year she had never picked up a brush, but now not only has she found an enjoyable hobby, but she also brings in a good income from her paintings.
Since moving to Ecuador, I've found a joy in helping others. My life here brings me in contact with people and entities that could use a bit of help. Recently I was able to help raise funds for a local school where many of the children did not have sufficient supplies. I've also raised money and contributed some of my own towards a family with five school-age children and a father who is disabled, which means they are living on a meager income. Not only is this something I love to do, but the rewards of seeing my efforts make a difference in other lives are immeasurable.
Learn to Speak Spanish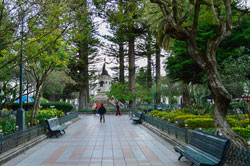 If you're like most adults, you've been meaning to pick up a second language. One of these days. When you have the time. Well, not only will life in Ecuador likely mean more expendable time, but it also means that you'll be surrounded by native Spanish speakers. While you'll probably want to take lessons or study on your own, there is no better way to practice a new language than by speaking with those who are already fluent.
If you need an incentive to learn Spanish, consider this: Recent studies show that being bilingual could help prevent Alzheimer's disease. Bilingualism also helps to strengthen your brain, just as regular exercise keeps your body strong. Those who speak more than one language have been shown to have better multi-tasking and attention-focusing skills than those who speak just one tongue.
Continue Your Education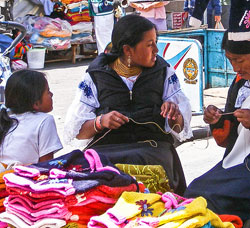 Speaking of learning, there's no reason to stop at picking up a new language. Ecuador offers plenty of chances to further your education and there are no dry textbooks required. Everywhere you turn in this little nation you'll find learning opportunities around every corner. Whether it's the age-old tapestry techniques used by the master weavers of Otavalo, chocolate-making tips in Mindo, or blowgun lessons in the Amazon, you'll find plenty to keep your brain sharp. As an added bonus, there are no quizzes and you'll be having so much fun you'll forget that you're actually learning something!
Volunteer in Your Community
With all of the free time you're likely to have, you'll find plenty of opportunities to give something back in Ecuador. As I mentioned earlier I've found great rewards in helping to orchestrate fundraising for those less fortunate, but there's no need to be so ambitious. Plenty of retirees have found organizations that will allow them to give of their time as little or as much as they want.
There are soup kitchens that need servers, orphanages that need part-time care takers, and schools that need English teachers. Of course there is a vast variety of centers and charities that are looking for help and if you have a specialized skill, all the better. Many of these institutions even allow for drop-in volunteers with no need to commit long-term.
As a retiree you won't be volunteering to make your resume look better, but it sure will make you feel better about yourself. And even better, you won't be the only one to benefit from this particular use of your time.
Get Your Free Ecuador Report Here:
Learn more about Ecuador and other countries in our daily postcard e-letter.
Simply enter your email address below and we'll send you a FREE REPORT – Ecuador: Live Like Royalty on Your Social Security.
This special guide covers real estate, retirement and more in Ecuador and is yours free when you sign up for our postcards below.
Get Your Free Report Here