Narrowing down the best beaches in Mexico is no easy task. With nearly 6,000 miles of coastline, Mexico is home to many gorgeous beaches. But if you ask Mexicophiles which are the best beaches in Mexico, opinions will differ. Beauty, ambience, affordability, and wave quality are all taken into consideration when deciding which beaches in Mexico can be called the best. It all depends what you're looking for… Here are four very personal choices, in no particular order, and why they make the grade.
Most beautiful beach: Maroma Beach, Riviera Maya
Mexico's  Caribbean coast from Cancún down to the Belize border boasts long stretches of white-sand beach and clear, neon-turquoise waters. But even on this coast, Maroma stands out. But even on this coast, Maroma stands out. About 20 miles south of Cancún, Maroma offers powdery white beaches and a tranquil setting that is the polar opposite of Cancún's bustle. There is no evidence of spring break here. Instead you'll find warm azure waters and rich tropical foliage.  Maroma often appears on lists of the world's most beautiful beaches…and for a romantic getaway, this one is hard to beat.
Best bargain beach(es): Yucatán Gulf coast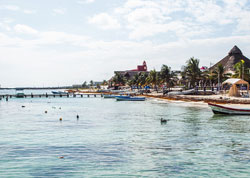 This 50-mile stretch of coast runs north to northeast of Mérida, in Mexico's Yucatán Peninsula. Also known as the Flamingo Coast, this area is dotted with small fishing villages. Meridanos have had beach homes on this coast for generations, and in recent years foreigners have also discovered it. You can still occasionally find beach homes for sale here for less than $100,000, and beach lots remain fairly plentiful.
There aren't fancy amenities on this coast—if you want trendy discos and pretty-people action, this isn't the place for you. But if you like tranquility, a laid-back style and beach property at affordable prices, then this is the place to go.
Best surfing beach: Zicatela Beach, Puerto Escondido, Oaxaca
This small beach town on Oaxaca's Pacific coast has several beautiful beaches. But Zicatela is the most famous surfing beach, home of the wave known as The Mexico Pipeline. In fact, Puerto Escondido is one of the top 10 surfing destinations in the world; international surfing competitions are held here in August and November.
If you're not a champion surfer, no worries. There are also some charming coves in the area where you can swim placidly.
Best beach for après-beach ambience: Playa del Carmen, Riviera Maya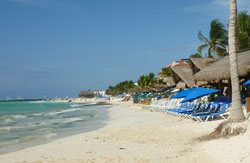 Mexico has several international beach resorts, including Los Cabos, Cancún and Puerto Vallarta, which offer upscale shopping, fine dining, and a staggering array of things to do. Because they're such established resorts, they even offer many activities that have nothing to do with the beach. And that's why—though they deservedly make many "best" lists—I'm disqualifying them from this one. Instead, my vote for one of the best beaches in Mexico goes to Playa del Carmen, where it's still all about the beach.
Once a fishing village and now a destination in its own right, Playa del Carmen has a beautiful white-sand beach. And the area offers just about every beach activity available. Sun yourself, swim, snorkel, parasail, or whatever takes your fancy.
Then when the sun goes down, change into evening-casual and hit the street…Fifth Avenue, that is. This pedestrian-only avenue is the heart of Playa's evening action. Stop for a cool drink at a trendy bar; have dinner at one of the many (and varied) restaurants; or just wander in and out of the shops and stalls, which range from chic to funky. For a beach town with bohemian-chic vibe, Playa is tops.
From the best surf spots to some of the most beautiful beaches in the world, Mexico really does have a beach to suit all needs. With so many stunning beaches and beach towns in Mexico, there are plenty of "bests" to choose from. It just depends what you're looking for.
Get Your Free Mexico Report Here:
Learn more about Mexico and other countries in our daily postcard e-letter. Simply enter your email address below and we'll send you a free special report – Why Millions of Americans Are Moving to Mexico.
This special guide covers real estate, retirement and more in Mexico and is yours free when you sign up for our postcards below.

Get Your Free Report Here