I think when asked, most of us would say we like to travel. I mean, who doesn't like the adventure and intrigue of seeing new places, experiencing different cultures or simply getting away from our daily lives for a bit of rest and relaxation?
Traveling is great, and it's even better when you can make some money doing it. Most of us drag a camera along on our trips, taking those snapshots for posterity and bragging rights when we return home. But what if those same photos could actually help pay for your trip?
Once you get home, selling your trip photos online is a fun way to do just that but it's also a fun way to make some money before you travel, too.
Take this shot of my niece and nephew for instance: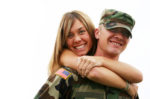 It has earned over $1,700, which has more then paid for my entire trip to see them, and then some; all from this one shot.
Or this photo, taken in my San Francisco hotel room: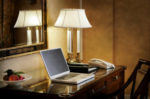 It's been downloaded (bought) over 600 times, bringing in more than enough for a flight to Paris or some other great destination.
You see, taking pictures while you travel can be both fun and lucrative too.
Like this shot of the Eiffel tower: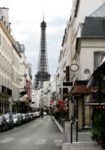 Nothing too spectacular…but it's sold over 250 times.
Or this one from Charleston, South Carolina:
It's brought in over $900. Again, more than enough for a flight somewhere fantastic (where there are more photos to be taken I might add.)
Here are four tips I recommend to get you started:
1) First and foremost, you need a decent camera. Most online agencies have basic minimum standards for quality and while you don't have to have the latest and greatest device with all the bells and whistles—you should have a camera with a proven track record.
(You generally can't go wrong with Canon or Nikon for instance.) DSLR's have better quality then point and shoots; however if you're going the point and shoot route you may want to consider that "latest greatest" version. Shoot with the best quality, largest size options available for your camera. Quality is not something you want to scrimp on here, so bring along plenty of memory cards (memory is cheap nowadays) to get you through your trip. And don't forget extra batteries and/or chargers.
2) Take better then average shots. I encourage people all the time to study composition as I believe this is one of the most critical aspects of photography that begins to set your shots apart from the pack and makes them more salable when you return home.
By all means take your memory snapshots—this is your vacation after all—but then also think about how a shot might be used by a designer; look at photos you see in magazines and advertisements and consider how you can mimic this type of composition. Show your surroundings, from the scenic view off your balcony to the nitty gritty details of the spa stones at the spa.
3) Take lots and lots of pictures. When you get home you can weed out the best shots; the more you take the more possible good shots you have to work with. Keep in mind that not every shot is a winner or salable and that's alright, that's why you want to take a lot while you're there. Try, of course, to make each shot interesting. Looking at your subject from a variety of angles might give you a new idea or a fresh perspective … taking several shots will help ensure you get the right one.
4) Once you have had your glorious trip, taken all those photos and returned home, you will have to weed through your photos looking for the best ones. This might be one of the more daunting tasks of this whole process, but it's also fun since you get to see and revisit all that you have experienced. It's best to use a software program (like Adobe Lightroom) that can help make this less of a chore.
There are a few key things to look for when sorting out your best shots. First, look for the one with the best overall appeal. Then look for good, sharp focus and nice lighting. (Be forewarned: pop-up flash is not nice lighting). Once you have narrowed it down to the best shots you will want to do a little post-processing work (again with a software program like Lightroom) to make the photo the finished product that you will present for sale online.
There is a bit more involved to getting your photos from point a to b where they can start to pay for your travels, but having your trip and being paid for it too is not all that complicated and it really is a lot of fun.
Editor's Note: If you like the idea of working or making money overseas, you may be interested in a free e-mail newsletter we recently launched. It's called Fund Your Life Overseas. You can get a free subscription here.