My four-year anniversary of living in Ecuador is rapidly closing in and it's caused me to do a bit of reflecting on my time here. There was so much that attracted my family and I to the country in the first place…and in these last four years that list of positives has only grown. On a gorgeous sun-filled day like today I only have to look out my windows to be reminded of why life here is wonderful. I've got four volcanoes showing their stuff right now, one of which is laced with snow this morning and another sports a permanent snowcap.
I grew up in Alaska and when we saw that white stuff appear on the upper reaches of the mountains we referred to it as "termination dust." It meant that summer was on the way out and we'd soon see the termination of warm weather which of course put most residents in a foul mood.
But winter is not something I need to worry about anymore now that I'm here in Ecuador. Those little bits of visible snow actually make me smile…especially since I know it will never reach me in the lower elevations.
Obviously the weather and beauty help make for a nice life in Ecuador, but one of the things I love most are the people. The Ecuadorians are in general kind, generous, and friendly and have made us feel right at home. But the expats are a lot of fun to know too. After all it takes a special person to make this kind of a move and right away we all have something in common.
I've been lucky enough to meet expats from all over the Andes, some who live on the coast, and even a few in the Oriente. And even though many are retired and living on pensions or Social Security, there are quite a few who are making their own way in the business world here in Ecuador. Some folks own businesses to support themselves and their families while a few are just looking for a way to keep busy.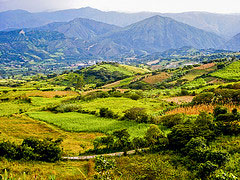 During my time here I, along with my husband, opened and ran a restaurant for a year before selling it and moving on. I am now a freelance writer while my husband teaches Spanish to expats. I've met folks who use their skills to teach art classes, practice massage therapy, and play paid musical gigs. Some make artisan soaps or candles. And a few provide much-needed translation services and pet sitting.
Some of my favorite local expat businesses involve food and/or beer. I never could stomach a dark stout beer until a local microbrewery served me up a glass of their best.
Now it's my go-to drink and goes splendidly with pizza. And every Tuesday I pick up my order of plantain bread and seed-infused sourdough from an expat baker. I also indulge in homemade ice cream, spicy sausages, and miniature pies all prepared by different folks in the expat community.
With all of these great little expat businesses, I can find many of the things I might otherwise miss from back home. But there are still many opportunities and niches that could be filled by entrepreneurial folks.
As for myself, life doesn't get much better than working and living in a beautiful setting surrounded by great people.
Get Your Free Ecuador Report Here:
Learn more about Ecuador and other countries in our daily postcard e-letter.
Simply enter your email address below and we'll send you a FREE REPORT – Ecuador: Live Like Royalty on Your Social Security.
This special guide covers real estate, retirement and more in Ecuador and is yours free when you sign up for our postcards below.
Get Your Free Report Here