When my wife and I decided to retire in our mid-50s, the cost of living was a big factor in choosing our perfect destination. We didn't have buckets of cash stashed away—just our meagre savings and proceeds from the sale of our home and other assets. That meant our "new life" overseas had to come in well below what it would have cost us to stay at home.
We coined the term "new life" because we did not want to replicate what we had before—we wanted new…new opportunities…new discoveries…new adventures…
I've always had a passion for photography and said to myself, "one day I'll learn." But working full time that "one day" just never seemed to come. Photography requires dedication, discipline, and continuous practice to improve. Now, happily retired in Thailand's royal resort town, Hua Hin, I'm finally free to pursue my long-held passion.
We chose Hua Hin partly due to its location; just a three-hour drive from Bangkok's two international airports, we knew friends and family would find it easy to visit us. Combine that with the inviting four-mile-long beach and strong expat community and we knew we were onto a winner.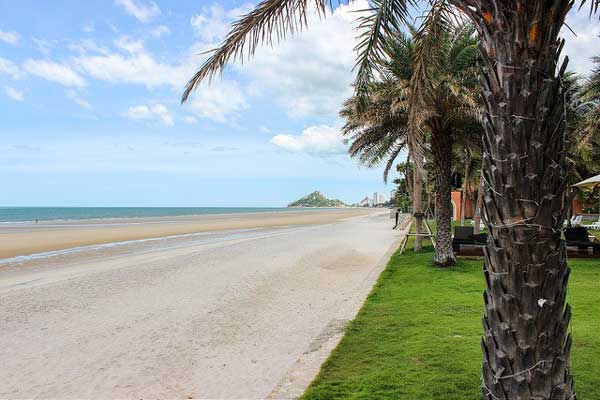 In fact, we were so happy with our decision that we bought a two-bedroom, two-bathroom house, complete with a pool and surrounded by a small tropical garden. All in, it cost us just under $112,000.
Hua Hin has been home for over a year now and we've certainly been able to prove to ourselves that a very comfortable, varied, and fun life can be had for less than a third of what we spent back home. Our monthly budget now comes in at around $2,000. Included in that is $20 for our mobile phones, internet for $30, and vehicle running costs are around $70. We also spend about $60 on outings in the local area plus around $320 on entertainment and dining out.
Thailand is such a fascinating place and we are loving learning about the culture, cuisine, and history. Vivien has immersed herself in learning the language and my Thai cooking skills are developing well. A tasty breakfast of tropical fruits like papaya, mango, sweet pineapple, and bananas—all fresh from our local food market—really is the best start to the day. Around $12 will give us enough fruit and veggies to last the whole week.
Cooking is another of my passions and when I posed the idea of a Cookbook Club to some of our new expat friends they jumped at it. Our club was off and running almost immediately. Every month sees all 10 "cooks" and their partners sitting down to a feast from a selected chef's cookbook. We challenge ourselves by cooking a brand new recipe and it all comes together in a very fun and social environment with tasty food galore.
Travel is another great love for us and Thailand offers such incredible opportunities for exploration. Spectacular off-the-beaten-track beach locations, ancient cities to rival Cambodia's Angkor Wat, and national parks of unique beauty and habitat, populated with rare and exotic species of plants and animals. Every chance we get, we're off exploring—who wants to sit at home when there's so much to see and do…much of it in our own backyard?
Coming back from a recent road trip to the northern Thai city of Chiang Mai, Vivien said, "Remember when we worked and a vacation came to an end, we would start thinking about work; the amount of stuff that had to be dealt with on our return. Stress levels automatically kicked in just thinking about it. But now, we're permanently on vacation, we have none of those stresses."
And she's right. A permanent, stress-free vacation. Who doesn't want that?
Get Your Free Thailand Report Here:
Learn more about Thailand and other countries in our daily postcard e-letter.
Simply enter your email address below to sign up for IL's free daily postcards and we'll also send you a Free Thailand Report – Thailand: Live Like Royalty in the Land of Smiles.
Get Your Free Report Here