We're sitting on our upstairs deck, overlooking San Jose, Costa Rica, and I turn and say to my wife, "This is the best cup of coffee I've ever had."
Since moving here from Colorado last year, we've developed a typical morning routine. We grind organic coffee beans together with a couple of organic cacao beans. Then we steep the blended grounds in our French press.
Our chocolate-infused java brew pairs well with the cool Central Valley morning temperatures. Drinking our custom creation is a great excuse to enjoy each other's company.
We've reason to be more relaxed: We've more than halved our expenses. Each month, we spend just shy of $2,000. The rent on our four-bedroom house is the main contributor to our monthly savings. At only $825 per month, it cut our housing expenses by 60%. Having no heating or A/C means an electric bill that has yet to exceed $60. These savings buy us a lot of organic coffee at less than $7 per pound.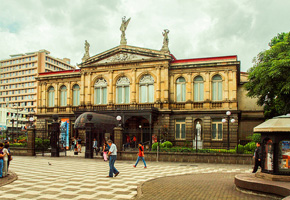 We live in a small town called San Rafael. A large Catholic cathedral marks the city's center. The town sits right in the middle of many small coffee farms. There are several great restaurants, grocery stores, and an open-air fruit and vegetable market.
Our home sits about 25 minutes north of the capital of San Jose in the district of Heredia. With highs of only 75 degrees during the day, the climate is cool and comfortable.
Weather was a big determining factor for contemplating our move to Costa Rica. We wanted our boys to be able to go outside to play every single day, a stark contrast to Colorado where we found ourselves snowed in for much of the winter. Here, we hardly notice the change of seasons.
Pura Vida—a slower, simpler life
Our kids are much more active than they were in Colorado. We spend quality time together, too. Each week, we have a family movie night. Several of our grocery stores have DVD rental kiosks like the Red Box in the States. For less than $1, we can rent the latest feature films that come out. For first-run movies, we head over to the Lincoln Plaza movie theater. On Wednesdays we can see a feature film for $3 per person. We reserve our seats in advance through their easy-to-use website. Movies are in English and sub-titled in Spanish. Each time we see one, we pick up new vocabulary.
We're never short of something fun to do. Expats in Costa Rica love to meet up and people don't seem to be as busy as they were in the States. Almost weekly, we have dinner or game nights with our fellow foreigners. During our time together, no one is checking their mobile phone. Rather, we're enjoying each other's company over tea or a nice meal. In this past year, we've met people from all over the world who have come to Costa Rica for a better life. We share a commonality that creates an almost instant bond with one another.
Moving here has opened our eyes to the complexity of life in the States. Costa Rica is simpler and slower. The locals say "pura vida" a lot which translates to "pure life"—it refers to the attitude that living life is more important than any worldly success. It's a philosophy that the simple things in life bring you great joy.
It's an attitude we're happy to adopt. We're finding our pura vida every day by spending quality time with the ones we love.

Related Articles
Life is Good at $2000 a Month in Costa Rica
Caribbean or Pacific: Choose Your Paradise in Costa Rica
Renting in Costa Rica From $400 a Month