If you love growing your own…pickling and preserving…smoking and curing… crafting gourmet recipes…or any manner of artisan food production, Latin America is ripe with opportunity. You can make a living selling your creations via farmers markets, food trucks, or small-scale distribution.
Take Dom and Angela Najab, who left Toronto, Canada, in 2011 and arrived in Costa Rica's Central Valley.
"Both of us are foodies," explains Dom. "We have a passion for international fare, and in Toronto we were exposed to a lot of different styles. When we came to Costa Rica, there was a lack of that and we found that many expats had the same feeling."
The couple had been visiting Costa Rica for 12 or 13 years as tourists before they moved there.
"We fell in love with the country," says Angela. "Then we decided to change our lives and get out of the rat race. We knew we were going to do something with food when we moved."
Toronto is a very multicultural city, with cuisine from around the world. But it was in Costa Rica—where the opportunities are greater thanks to its largely untapped market—that they were able to start their dream venture: a food truck and catering business.
It's called Vamos Gourmet, and Dom and Angela now serve up an eclectic fusion menu of Asian, North American, Latin American, Caribbean, and European informed dishes.
They cater to large groups in the Central Valley, the interior region of the country surrounding the capital, San José, and will travel several hours to Pacific beach areas like Manuel Antonio, which is popular with tourists and expats.
In neighboring Panama, Frank and Claudia Retsch are taking advantage of a similar market niche. Frank and his wife, Claudia, have a charcuterie in the town of Boquete in the western highlands. Their business is named Embutido Casero, Spanish for homemade sausage, which is their main product.
Originally from Germany, Frank and Claudia moved to Boquete four years ago. They traveled extensively throughout Europe, South America, South Africa, and the Caribbean before settling in Panama. They rent a home outside town, where Frank has built a meat-processing plant and smokehouse.
"We chose to live in Panama because of the nice weather," Frank says. "It's cool in the highlands, but not cold like Germany. The quality of life is better here also, with clean air and healthy food."
Frank and Claudia operate their business from their mobile food truck, affectionately known as Emma. The large white truck, emblazoned with their colorful logo, is becoming well-known in Boquete and nearby towns and gaining popularity among locals and expats.
With the help of a local attorney, Frank and his wife Claudia obtained a Small Business Investor's Visa. Frank did the paperwork himself to get the licenses they require to operate the food truck.
"It took about two years to get all the licenses," he says. "Maybe it would be faster with an attorney, but I speak Spanish and had the time, so I did it myself.
"We have a regular schedule of stops with the food truck now, and you can check our website to see our product list or place an order," says Frank. "Sausages are a favorite food here in Panama, and they eat a lot of pork, so it's a part of their diet. And our customers like the German-style foods."
Fitting a Truck
Dom started out working as a personal chef for parties in Atenas, the small farming village popular with expats where they live, when he first arrived in Costa Rica.
Word of mouth brought more and more gigs. That was when he and Angela decided they needed a food truck that could hold the necessary stoves, ovens, refrigeration, commercial smoker, and other equipment to take on larger events. The truck and raw materials used in the construction were purchased in Costa Rica. But the cooking equipment, purchased after careful research by Dom, was imported from the U.S.
Dom came up with the design using architectural drawing programs, which he had to teach himself. He estimates he went through more than 20 drawings before getting the final design. He also networked with other truck owners and builders and restaurants for advice on set up and food truck modifications. The building was done by Don, friends and family, and local workers.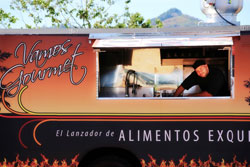 "I hired two very talented welders to do things like build a fireproof generator box, movable propane tank rack, and install all of the interior stainless walls and ceiling," he recalls. "My brother-in-law flew in to do the diamond plate flooring. My father-in-law did all of the graphic design. My best friend flew in to wrap the graphics on the truck.
"I then spent premium dollar on the installation of everything that needed to be safe, hiring some local big name companies to install the gas system, plumbing, electrical, and generator. I did all of the 'grunt work' myself such as sanding, painting, insulation, roof repairs, equipment installation…etc.," says Dom.
While it was a challenge to secure the proper health and municipal permits from local authorities—food trucks are a new concept in Costa Rica—the Najabs persevered and got the proper permissions.
Frank and Claudia started selling their homemade products a year ago at local markets around Chiriquí Province, where Boquete is located. A number of local restaurants buy some of their sausages and meatloaf, and the couple sell to them at wholesale pricing. A few months ago they finished work on the food truck, and now the business is completely mobile.
"Emma (the food truck) is fully equipped with everything we need," says Frank. "We have rotisserie cookers, a flat-top grill, stove top burners, deep fryer, ovens, and a warming box. Most of what we sell is prepared at home and packaged in air-tight, sealed storage bags. We have lots of refrigerated storage for these items and for salads and cold drinks."
Frank imported most of the stainless steel machinery from Europe or the U.S. to outfit the truck. To get started with a food truck business requires an initial investment of $50,000 to $100,000, Frank advises. "That's a wide range, but it all depends on what kind of vehicle you want, how big the truck is, and what equipment you need. And you need to have a very good generator to run everything when the truck is parked."
Farmers' Markets
Food trucks are not the only way to get homemade goodies into the hands of others. A less expensive option is taking a stall at a farmers' market. A number of expats are taking advantage of this way to sell their wares.
Diana Duhaime makes her own Thaistyle peanut sauces and gourmet figs to sell at farmers' markets (known as ferias) in her new home, Costa Rica. After landing there from Maine, she was looking for a way to supplement her income from work as an experienced massage and neuromuscular therapist, aromatherapist, and energy healer. She leaned on her background in food service to make it.
"When I got here, a little voice said, 'Make the peanut sauce,'" recounts Diana. "People liked it instantly. It was really fun. I have to nudge Costa Ricans to try it. They usually say it'll be too spicy. But when I do get them to try it, they say, 'Si, es riquísimo' (It's delicious)." Her sauce comes in spicy and extraspicy versions, while the figs come in four varieties: dried and then coated in toasted almond and coconut and chili salt, coated in cacao and cinnamon, marinated in red wine and mandarin juice, and marinated in olive oil.
"It's a balance of sweet and savory, but the sweet ones are the biggest sellers," says Diana. She discovered the market for figs by accident. She had people sample the peanut sauce using slices of figs she had picked up at a local shop. And when customers started asking to buy figs from her as well, she decided to expand her offerings.
She sells mainly in Tamarindo, a beach town on the northern Pacific coast where she lives, and other markets in the region.
On Saturday mornings she goes to the market in Tamarindo. But she's also traveled to Brasilito, which is a half-hour north and Playas del Coco, which is another half-hour beyond that on the coast. And to Quepos, a port town on the central Pacific about five hours away and Tinamaste, a mountain town about 25 minutes inland of the southern Pacific coast.
This last market is her favorite, as it is totally organic. And many of the vendors are passionate organic farmers who take great pride in the food they sell. She likes the region, Pérez Zeledón, so much that she has rented a small home for $100 a month and visits twice a month.
"The fun part is the incredible people I meet," says Diana. "The ferias are key to opening minds and a way to bring the Ticos and gringos together. All this food is broadening people's horizons. We have Argentinian, Peruvian, and now South African, and, of course, Costa Rican. The market isn't just for gringos. Costa Ricans can bring their ceviche, empanadas, or even hand-painted signs for sale. It's a great way for all the vendors to make some money doing what they know how to do."
Small Farm
Shawn Geer was instrumental in getting a defacto farmers' market off the ground in Cotacachi, Ecuador.
It started when a local expat allowed Shawn to sell his meat products every Thursday from her front yard near one of the town's main plazas. Eventually a couple with an organic farm began selling their veggie surplus there, too, and today you'll also find vendors with pies, pesto sauces, and several other homemade products.
Each week Shawn and his wife, Lindsay Numedahl, send out an email to their customers with a list of what they will have available that week. Orders are returned by email and Shawn shows up on Thursday morning with coolers full of the packaged orders. Customers stop by, pay him, and return home with all manner of artisan meat products.
"The chicken cilantro sausage has become our single most popular product," Shawn says. But their other 15 meat products are also very popular and sell out every week. Today their offerings include chorizo sausage, bratwurst, prosciutto, and even a few non-meat choices like fresh honey and chipotle sauce.
The key was to find products that could be produced locally yet weren't available on a large-scale. Comfort food from back home keeps the expat community returning time and again.
Shawn, a native of Nebraska, moved to Ecuador in 2008 and spotted an opening that suited his particular beliefs and philosophy.
"I was ready to do something that I really liked," he says. "I had studied up on permaculture for several years before this. And then I took a permaculture class with a guy in Tumbaco about the Andean region and the different practices here."
Armed with his new knowledge, Shawn was ready to give farming a go. While meat is plentiful in Ecuador, he realized that many foods popular among North Americans were not available here—like sausages and smoked meats. The light bulb went off, and he set to work building a business.
Now he owns a couple of acres near the popular expat town of Cotacachi. Current prices for farmland near Cotacachi run from $25,000 to $30,000 an acre. But prices drop considerably the further you move out from the town.
After the purchase of the land, Shawn's set up costs were low.
"All I needed was a knife, a smoker, and a refrigerator," he says.
Shawn started slow in late 2011 and grew his business over time. He met Lindsay when she came to Ecuador in May of 2012. Their first products were whole raw freerange chickens and whole smoked chickens that came from his own land.
"Then people started asking for ground chicken so we started doing that and selling the other chicken parts separately. A local restaurant buys all of our wings and most of the chicken they use comes from our farm, too," explains Shawn.
Three years into their farming and meat-production enterprise, Shawn and Lindsay have given their business a name—L&S Artisan Meats—and built a website. They have also expanded their sales to include other chicken items and pork products made from pigs raised on the farm.
Sourcing Ingredients
While Shawn and Lindsay produce their own raw materials, other food producers need to source their ingredients.
Diana's figs come from a farm near Cartago, a large town to the east of Costa Rica's capital, San José. It's a mountainous region known as the Central Valley, which has a temperate, spring-like climate yearround.
"Figs like the cool and a little damp—but not too much wet weather," says Diana.
It took some research and detective work to find the farm (she won't reveal the secret location even now)—figs aren't commonly eaten or grown in Costa Rica. And when they are, they are coated in sugar.
Once she found the farm though, she had her supplier. They send her batches of 300 to 500 figs at a time. In her small home kitchen she prepares them for sale, along with the peanut sauce, which is made up of several ingredients, including pure fresh-ground peanuts, sesame oil, and ginger. She also recently came up with a new creation that was an instant hit: Thai peanut butter cups with organic chocolate.
For Frank and Claudia in Panama, preparing healthy food with the best ingredients is most important.
"All our meat products are made with pork, and a nearby farmer raises the hogs for us. They are fed on fresh organic vegetables and always treated humanely," Frank explains. "We maintain the highest German standards for production and processing of all our meats and other foods. I think that to be successful with a food truck it's important to specialize in one product line.
"We offer a variety of sausages and wursts, a full line of pork cuts, prepared meats such as meatloaf and cold cuts, and German specialties such as currywurst and weiner schnitzel.
"People are surprised to see curry on our menu, but currywurst is very popular in Germany. Every cook has their recipe for the sauce, and they keep it a closely guarded secret," says Frank.
To go along with their meat offerings they serve homemade side dishes including potato salad, sauerkraut, and red cabbage slaw, as well as fresh-baked rolls for sandwiches.
Dom and Angela of Vamos Gourmet bring gourmet dishes normally not found in Costa Rica to a hungry audience of not just expats but also curious locals. Some favorites are Reuben sandwiches, Korean-style grilled beef, barbeque baby back ribs, jerk chicken, beef bourguignon, and Thai coconut basil shrimp and chicken.
They use their food truck as a mobile kitchen for prep and cooking when they cater events. They also set up weekly just off Highway 27—one of the main thoroughfares in the region— a gas station parking lot near Atenas to serve travelers and commuters passing by.
Success and Expansion
For Diana, the figs and peanut sauce aren't a huge money-maker—and she has other sources of income—but she can see room for expansion.
"I'm on the cusp of putting the peanut sauce in glass jars and selling it on store shelves. There is a market for it," says Diana, who explained she's had inquiries from upscale food shops around Costa Rica.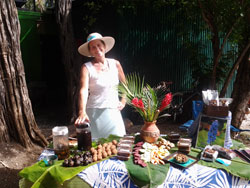 She has also on occasion sold coffee and cacao nibs (the raw material for chocolate) supplied by a friend in the southern part of Costa Rica with an organic farm.
Her costs are low as she works from her homebase in Tamarindo where she lives rent-free (as a caretaker for a large home) in a small hillside casita overlooking the ocean.
Dom and Angela's expansion of their catering business to a food truck has allowed them to take on more clients. They continue to get referrals. And they're attracting even more customers thanks to actively using Facebook and other social media. They've also been featured and endorsed by local online media outlets catering to expats.
They're busy but love the work, and they make a comfortable living.
"We really go after the Tico market, but they're not as used to the international fusion style," says Dom. "We definitely have both expat and Tico customers. It's over 30% Costa Rican and the rest expats."
They've catered to groups of up to 300, though they are outfitted to serve up to 1,000 guests. One recent gig was a wedding with 80 people. Dom writes the menu and is in the kitchen during events, overseeing a staff of three to 10. Angela, who has a background in project management, organizes the events and sets the schedule.
Their home in Atenas, a small village set among coffee plantations, sugarcane fields, and forested mountains and valleys, is ideal. First, it has a very small town, family-friendly feel, as many places in Costa Rica do. And, as a bonus, it has a good ratio of locals to expats, says Dom.
With all their success so far, Dom and Angela are looking to the future. "We definitely want to expand. It's so exciting. If we get as busy as we think we can, we will need another truck…and then another truck," says Angela.
Frank and Claudia's food truck business is also off to a good start. "Now that Emma is on the road people are getting to know us and the high-quality foods that we prepare, I think we have the potential to do very well in the future," says Frank.
Shawn and Lindsay are doing well with their meat products, but there is always room to grow.
"At some point we need to expand our operation," he says. "We still haven't hit our peak production amount yet so we still don't know what the local market will bear for weekly sales. But eventually we'd like to sell to Quito and other areas of the country."
Shawn says the key is to have a unique product that's affordable.
"I'm not trying to create the highest end, very expensive products. I want something that people will eat all the time, not just on holidays," he adds.
Lifestyle
Sometimes it's not about making a fortune or continued market growth. A business abroad allows you to simply enjoy the place you now call home.
During her time in Costa Rica, Diana has taken plenty of time to explore the country's natural beauty. She has secured certification as a scuba rescue diver and is going for a designation as a scuba instructor. She's also a certified lifeguard. And when visiting rain forests in the country, she enjoys hiking in the wilderness.
"There are beautiful birds, flowers, and blue morpho butterflies," says Diana. "When you're walking down a trail and you have that bright-blue butterfly following you…it's little moments like that that feed your soul."
It's a far cry from Maine, where she came from. "I couldn't live in Maine anymore.
I couldn't deal with the cold," says Diana Duhaime, who has also lived in Montana, New Hampshire, and other states. "I'm tropical, barefoot, a diver." The fun part is the incredible people I meet. All this food is broadening people's horizons. It's a great way for all the vendors to make some money doing what they know how to do.
Five Things to Consider Before Buying a Food Truck
The food truck concept is rapidly gaining popularity in the U.S. and can be a wonderful option for food service in other countries as well. Here are a few things to think about before diving in.
Draw up your menu: Will you prepare food to order or have pre-packaged food that is prepared in advance? Outfitting a truck for food preparation on the fly can be more expensive than if you're simply storing ready-to-go items, but it can also give you more versatility with your menu.
Choose your equipment: Will you want an oven? A deep-fryer? Perhaps you'll need a panini press or a butcher block counter space. If you plan ahead of time, you won't have the frustrations of working in a poorly designed space.
Do your research: Check out the licensing and permits you'll need in advance. Each country will have different requirements for commercial food preparation. In addition, you may need permission to park in public areas. Don't risk being closed down because you were ignorant of the laws.
Think about marketing: If you're operating in an area where people are unfamiliar with food trucks you may need to educate them. Don't expect to roll up to a beach parking lot, open your window, and have throngs of customers immediately. How can you build your business? Exposure is good, so return again and again even if the initial response is small. Hand out samples. Try to let folks know where you'll be ahead of time with printed schedules. Social media is also a key marketing channel. Build a fanbase online. Overall, use your imagination and don't get discouraged.
Don't cut corners: Not only will you have a kitchen to care for, but you'll also have a vehicle that will require regular maintenance. A little extra money spent upfront can save time, money, and heartache down the road. Make sure you have a reliable, well-cared-for truck that will last you for years to come.
Get Help From Volunteer Workers For Your Business
Food preparation and distribution can be time-consuming, and, as the business grows, it could become necessary to find a few extra pairs of hands. The obvious answer is to hire an employee or two. But some small-business owners have found a creative and viable alternative to hiring employees (and eliminating the bureaucratic issues that can go with that) by using volunteer workers.
Shawn Geer has been using volunteers for years to keep up with his growing business. He advertises for volunteers through websites like www.workaway.info. He allows travelers free room and board in exchange for helping with the farm. It gives Shawn a chance to interact with people from around the world and have help with his business. (It was also the volunteer program that introduced him to his wife…when Lindsay showed to work on the farm.)
Today the couple consistently play host to visitors from around the globe who help feed animals, construct outbuildings, prepare and package the food products, and help around the house.

Need a Way to Fund a New, Better Life?

Join our Savvy Retiree Daily e-letter today and you'll hear from us daily, telling you about ways you can gain the freedom to live where you want, travel when you like and create a life you love. We'll also send you a FREE Report Fund A New, Better Life With These 6 Portable Careers...
Related Articles
The Quickest Way to Make Money Online
5 Reasons to Become a Travel Blogger