With 763 miles of coastline on the Pacific and Caribbean, Costa Rica is blessed with its share of beautiful beaches…not to mention pristine waters. And inland lakes and rivers provide more outstanding scenery.
But these waterways are more than just pretty to look at. They're the playgrounds of watersports enthusiasts of many different disciplines. Below are five of the top watersports to enjoy in Costa Rica.
1. Surfing
The granddaddy of watersports in Costa Rica is surfing. Going back to the 1970s, surfers journeyed to peaceful Costa Rica, traveling often rough roads up and down the coast in search of the perfect wave, pitching tents when they found the right breaks. These days the infrastructure is much better throughout the country, including in even once-remote beach towns.
There are good roads and high-quality hotels, as well as top-notch and affordable restaurants. Surf trips these days aren't about roughing it at all. You can enjoy consistently good surf any time of year and have plenty of fun at the end of the day at beach resorts with plenty of amenities. Of course, if you want to get off the beaten path and go to places where it's only you and the waves, you can still do that, too.
Some stand-out surf spots include the Pacific coast towns of Tamarindo and Playa Grande in the northwest corner of the country; Jaco and Playa Esterillos on the central Pacific; Dominical on the southern Pacific; and Pavones way down south by the border with Panama.
There are waves for all levels, from beginners to pro. And surf schools can be found all over the country if you're interested in taking up the sport.
2. Windsurfing/Kiteboarding
About three hours northwest of San José, Costa Rica's capital, is 33-square-mile Lake Arenal. And while it has become a haven for increasing numbers of expats in recent years, it is mostly undeveloped along its shoreline and little-trafficked by boats.
The far west of the lake has become a destination for windsurfers and kiteboarders from around the world. Outfitters with rental boards and sails, as well as expert instruction—even for beginners—can be found on the lakeshore. The best and most consistent winds, averaging around 35 knots, are from November to April, and that's when most enthusiasts head to Arenal.
Despite the high quality of the conditions, you won't find the crowds of other popular wind-sport spots around the world. And in Arenal you can stay at one of the many low-cost hotels and eco-lodges that line the shore.
A few other spots on the Pacific coast are also known for kiteboarding, including the Bahia Salinas, which is on the north side of the Papagayo Peninsula and is known as the 8th windiest spot in the world. The season here runs November through May. A good home-base for a trip here would be the beach resort town of Playas del Coco, which is a popular town with long-term expats, as well as tourists, and offers a wide range of accommodations and eateries.
3. Sport Fishing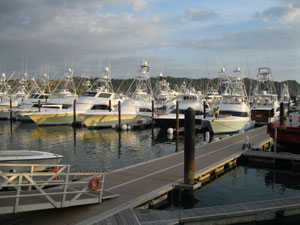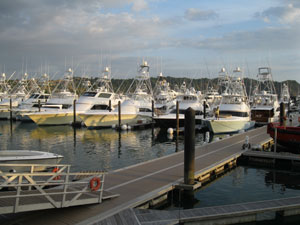 Some of the first travelers to Costa Rica were fisherman drawn by the "big game" offshore on both the Pacific and Caribbean coasts. And these days this activity is still going strong with record-setting catches of marlin, swordfish, sailfish, roosterfish tarpon, tuna, mahi mahi, and other species. Most of the fishing in Costa Rica is catch and release, especially for the marlin and other billfish. Although when you catch a tuna or red snapper, you're free to bring it ashore and either cook it at your hotel or rental home or have it prepared at a local restaurant for a small fee.
Over on the Caribbean coast, most anglers head to the northeastern part of the country to a vast wetland and jungle area crisscrossed with estuaries and rivers. It's covered by a large national park and the only settlements are along a thin strip of coast. The main one, Tortuguero, is the site of the fishing outfitters in the region, as well as most of the hotels and lodges.
The name of the game here is tarpon, an elusive and strong fish that requires patience and skill to hook. They can be found in the rivers, as well as just off shore. The guapote, or rainbow bass, is also a popular catch here.
You'll also find the guapote in Lake Arenal, along with a non-dangerous relative of the piranha called the macacha.
Sport fishing charters in Costa Rica range from high-tech boats with all the bells and whistles and licensed captains outfitted for multi-day trips, to simple open boats called pangas run by local fishermen who will take you out for a half-day at a much lower rate. If you're looking for a Hemingway-style battle with a marlin, you go on the big boats with experienced crew.
4. Snorkeling/Scuba Diving
Not generally known as a big snorkeling or scuba destination, Costa Rica nonetheless has a lot to recommend it in that department. Hands-down the best snorkeling spots are on the southern Caribbean coast around the towns of Cahuita, Puerto Viejo de Talamanca, and Manzanillo.
Here reefs are just off shore, in some spots just 20 feet from the sand. That means you can suit up on the beach and be viewing dozens of species of tropical fish, turtles, rays, and more within minutes. The reefs extend far offshore in some areas, allowing for hours of exploration if you have the stamina. Visibility is awesome when the water is calm—you can usually see clear to the bottom. Bring your own equipment or rent a set from local bars and hotels, as well as one of the gear rental shops.
For scuba diving you can base yourself in the northern Pacific coast beach towns of Tamarindo or Playas del Coco. From there boats will take you to offshore reefs known for an abundance of marine life.
But the best scuba spot in the country, and named one of the top 10 in the world, is Cocos Island. About 340 miles off the Pacific coast, the island is uninhabited except for a ranger station (it's a national park) and no one is allowed to go ashore without permission. Scuba divers travel there on live-aboard vessels and generally stay a week anchored off shore. The pay off is viewings of many large species, including the largest schools of hammerhead sharks in the world. There are also whales, rays, dolphins, sea lions, and, of course, smaller fish in hundreds of hues.
5. Whitewater Rafting
With its mountainous terrain and abundance of rivers, Costa Rica is a major whitewater rafting hotspot. And you get the added bonus of rafting through lush rain forest full of wildlife like toucans, monkeys, sloths, and more. There are rafting runs for all levels, from beginners to the more experienced. And runs can last from a half-day to a full-day of fun.
Some popular rivers include Penas Blancas, which is a more easy-going trip offering plenty of opportunities to check out the scenery; the Toro, which is fast and exciting thanks to class III and class IV rapids; and the Balsa, which is midway between the other two in terms of rapids and easy stretches.
But the top river in Costa Rica is the Pacuare. This is a full-day run that takes you through remote areas and some beautiful virgin rain forests before plunging you through class III to class IV rapids. It's been named one of the world's best river trips by National Geographic.
Most of these river trips are best accessed in the Arenal region, with tour companies maintaining offices in the tourist center of La Fortuna.
Related Articles on Costa Rica
Nosara, Costa Rica: Everything You Need to Know 
Tamarindo, Costa Rica: Retirement and Cost of Living Information