Kate Barron isn't one to sit still. So far, she has lived in Italy, Thailand, and Africa. Now, her home is in Mérida, the sultry and beautiful capital city of Mexico's Yucatán state, about three hours west of Cancún.
And she's found opportunities to earn throughout her travels.
In Thailand she studied yoga, which she now teaches for a living, and in Italy, she taught communication skills to executives of multinational corporations and UN agencies.
In Africa she managed a small upscale boutique hotel on the Indian Ocean in the Kenyan village of Diani close to Mombasa. She ran the spa and gave yoga classes. And she opened and stocked the on-site boutique with high-end, locally sourced, artisan products. This led to the development of a co-op with the local artisans.
"I helped them sell their wares to the other high-end hotels in the area," she says.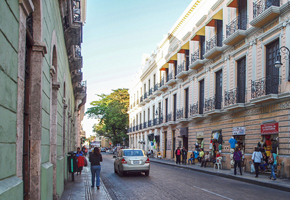 So when she moved to Mérida in 2009 and was looking for a way to earn some money, she leaned on past experience. She began by offering yoga classes and retreats and now averages 30 to 80 students a week, depending on seasonal fluctuations.
A couple of times a year, her yoga retreats take her to Playa del Carmen on Mexico's Caribbean Coast and to Isla Mujeres, an idyllic island not far from Cancún. The sparkling white sands and the brilliant turquoise beckon yogis from around the world and make for a stunning setting to practice yoga.
But what Kate is most excited about is a new women's cooperative she has founded to help local Maya women support themselves and their families.
Using local upcycled fabrics, leather, and recycling items such as burlap bags, the women craft unique tote bags, purses, yoga mats, clothing items, and more.
Kate's role is marketing. The group has participated in arts and crafts fairs and has a Facebook store, called Nomada.
"I mainly market at a local level through my yoga studio and many of our items are snapped up by local yogi expats," Kate says. "I have also done small artisan fairs in Playa del Carmen and Isla Mujeres, and I have placed products in local boutiques. I'd like to get the product abroad to an international audience and that's what I'm currently working on."
Her goals, she says, are to get the Facebook store active and to eventually build a website where people can place orders directly.
"I've been able to make some good 'pocket money' from this," Kate says, "and potentially, if I can get the product out of Mexico to the U.S., Canada, and Europe, I do see it as being a viable way to earn even more.
"But right now, I rate success as helping a small village of Maya women with almost no prospects of earning a living. My dream is being able to hire them full-time and give them job security and a steady income."
Get Your Free Fund Your Life Overseas Report Here:
Sign up for IL's Fund Your Life Overseas e-letter today and we'll also send you a FREE report about ways to earn money abroad. Simply enter your email in the box below and we'll send you this free report: Fund Your New Life Overseas With These 6 Portable Careers.
Get Your Free Report Here