I'm one of those people who thinks we should all love what we do. To be honest, I have loved photography and photographs for most of my life. It's been in my blood since high school. But I worried that turning it into a job would mean letting others dictate who, what, when, and how I would have to take pictures, and that I would wind up not enjoying it. To me, that idea seemed to take the fun, joy, passion, romance, and creativity away. So I resisted for a long time.
However, when I finally decided I would make a serious go of photography I discovered another hurdle…I'm shy. And, well, perhaps a little intimidated when it comes to marketing and selling.
That's why selling my photos to online stock photo agencies works so well for me. I don't have to worry about directly marketing or negotiating terms and prices with clients or photo buyers directly. The agency takes care of all that.
I don't really see my work as quintessential stock. My photos are usually more artistic than generic commercial. But the great thing is that I can still be as creative as I want, and I still make my living through stock photo sales.
Sure I would make more sales if I shot only those things that sell best in these agencies (lots of business-themed images…subjects on a white background, etc.). But it's really important to me to enjoy and have fun with what I'm doing. So I continue to shoot the kind of photography I choose, and that works.
I can basically shoot anything I want, any way I want and when I want, because I am my own boss… I don't have client deadlines or demands to attend to. With stock, I just upload my work. And, if it suits the buyer's need and they buy it, great…I make a sale. If it doesn't, that's okay, too. The buyer moves on to the next photo and I'm none the wiser, which means that I can just be happy with my sales and not worry about the ones that got away.
Being a stock photographer affords me the opportunity to see the world and take pictures of the places and people I meet all under the umbrella of my photography business.
For instance this shot of Ecuador above.
I spent eight days in Cotacachi, based at Hotel Tierra del Sol. They were relaxed but busy days. Besides enjoying the peaceful community of Cotacachi, I was able to visit the waterfall and weavers of Peguche, the Quichua community in Chilcapamba, the master woodworkers in San Antonio Ibbara, the Shaman (or "Yachak" in the local Quechua language) village of Iluman, and the market and artisans of Otavalo.
It had been a wonderful trip. Now it was my last day in the country. Waiting for my late night flight back to the States, I spent the day strolling around the historic center of Quito. I was graced with beautiful weather, as you can see. I always keep my eyes open for unique vantage points, and a suggested "roof top" restaurant for dinner sounded like the perfect spot. Am I ever glad I went there…that's where I got the shot.
It has had steady sales since I uploaded it at the beginning of the year. You might ask "why this shot?' and I can honestly say I have no idea. But of the more than 130 shots I've uploaded from Ecuador this one is my fourth-best seller ever. It sells consistently. That makes me happy that I can travel, see, and experience a place and then return home to make stock sales of the adventure. If that's not a dream job, I don't know what is.
Here are some other examples, two of my favorite shots. This one is from the San Blas Islands of Panama: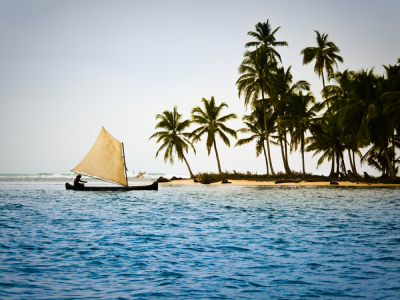 Here's another, shot in Paris, France: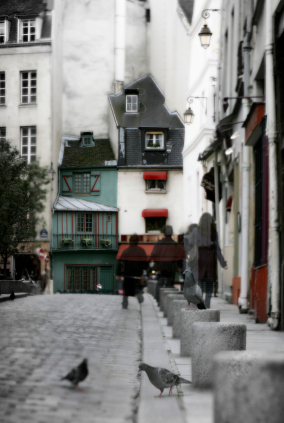 Maybe you like them. Maybe you don't. But that's what I mean about getting to be the type of photographer I want to be. Both of these images were totally unstaged and unscripted. I had the luck of being in the right place at the right time. One has done well in sales for me and the other hasn't. I still really like them both.
I also take a lot of photos of friends and family. It's something I've done for years. Now I can take them beyond the family photo album and use them as stock. Like this shot of my nephew and his six-week-old baby: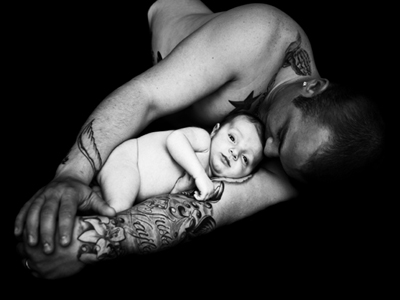 I see this shot every day—it's my computer screen wallpaper. For purely personal reasons I'm sure, it's one of my all-time favorite shots. In fact, so much so I almost didn't upload it for sale as stock. It felt, and still feels, very personal. It's shots like this one, though, that make me feel 100% satisfied at being a photographer. To have captured that moment forever…I wouldn't trade it for anything.
Then there are shots like this big seller: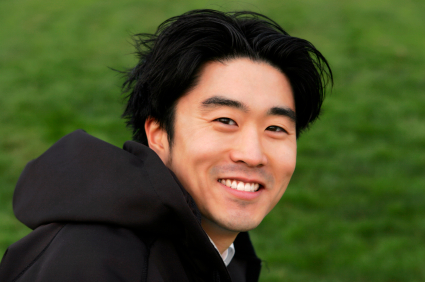 I'd never in a million years have known how to access the type of buyer who was in need of a guy in a sweatshirt, but it's my number one best seller, and clearly it's the type of image that's in very high demand. Recently I was driving down the street near my home here in Portland, Oregon, and I saw his face looking out at me from a bus stop, advertising a local college. I have to say, it's still thrilling to randomly see photos I've taken in use.
Photography is a big part of who I am as a person. It's how I see and relate to the world. It's what I would be doing no matter what. The fact that I get to sell my photos and make a living at it makes it a job, I guess…but pretty much the best job ever. And better yet, I can do this job from anywhere in the world with that has an Internet connection.
Editor's note: The hot-off-the-presses fourth edition of the AWAI's flag-ship Turn Your Pictures into Cash program is your ticket to swapping photos for paychecks. This product regularly sells for $399 but we've slashed $150 from the price as part of our pre-press discount—but time is running out. You only have until September 2nd to get your order in if you want to avail of this massive one-off reduction. Find out more here.