If you like easy-going people…a chilled environment…a warm climate…and an income of up to $5,000 a month, then owning a beach bar might be just the lifestyle career for you.
After all, if your customers are predominantly tourists, they are at their most relaxed and happy when they come into your place. And the profits from serving them can be considerable.
Can you picture yourself there…at the center of activity? The world strolls into you, ready to share a joke. You serve up a cold beer or a round of cocktails and enjoy the encounter. You have a steady stream of business throughout the day and by sunset the place is filling up.
Perhaps you hire a local band to get the atmosphere going for the evening. Maybe you serve food. Maybe not. The choice is yours.
Expats are doing this on beaches all over the world.
Eugene and Lynne Upham gave up stressful jobs in New Jersey to open their bar, The Pickled Parrot, in the blissfully laidback beach town of Placencia in Belize. They love working side-by-side and meeting happy people on vacation. Their business is thriving and their cost of living is low, giving them a very comfortable lifestyle.
And it doesn't have to cost the earth to start up something like this.
John Morgan bought a beachfront lot and then built and equipped the bar for a fraction of what most North Americans pay for their first home. He's located on Little Corn Island off Nicaragua and calls his bar Tranquility…which certainly describes the vibe.
"I have the challenge and fortune of working with a great team of people, making our visitors happy, and living in a stunningly beautiful place," says John. "There are tough days, but you have those no matter where you live or work. Just like the saying 'a bad day of fishing beats a great day at the office,' I'm happier here than I have ever been anywhere else before. I'm home."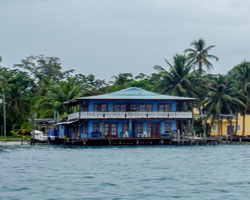 Beach bar owners make a good living in low-cost environments but the real thrill is meeting people and being at the center of social activity. And you get to be your own boss.
After 20 years in the restaurant business, working for other people, Kristie Craven wanted to work for herself. So did her friend Rich Littlefield. Rich found the beautiful, small island of Isla Bastimentos off Panama—even smaller than the neighboring island of Bocas del Toro.
Out there, on the east end of Red Frog beach was a beach bar in need of new ownership. A two-story building with rainforest behind it and beach in front of it, it couldn't have been more perfect for a pair of enterprising expats.
Now they love what they do and where they live. Their customers are often day-trippers to the island. At night, surfers and fishermen who are staying at the island's resorts come in for dinner.
"There are spectacular views where you can see all the way down the beach," says Kristie. "The days are beautiful and when the sun sets, the sky turns purple and pink, it's a sight to see."
The world is still full of beaches that have yet to fulfill their potential. Now might be the time for you to stake your claim on a piece of waterfront and give folks a good reason to hang out there.
Related Articles
The Best Places to Vacation in Panama
Amazing Nicaragua Beachfront Property and Real Estate