The world is in a complete tailspin…
At times like this, it's a good idea to step back from the newsfeed and take a breather.
Here in Cabo, my favorite distraction is a bright yellow-feathered friend I've named George. He visits me in the late morning to share my shade.
A curious character…he takes a keen interest in everything except, thankfully, my coffee.
Woodpeckers are using the shade of the cotton plants to indulge their wildest desires. Jackrabbits and roadrunners go about their business uninterrupted. Tomatoes are growing wild by the side of our road, as are watermelons. I'm guessing the gardeners leave seeds from their lunch and nature takes care of the rest. Well…nature plus all the water that goes on our perfectly manicured gardens.
These are strange and difficult times. But I try to find a new adventure every day. All told, I have 1,850 acres to explore here at the 5-star Quivira resort. (If you're new to our e-letter, I bought here in the Copala building in 2015 along with RETA members when the RETA-only price was $336,156. In September 2019, the last similar condo type like this was listed by the developer for $630,088.)
We have new lockdown measures here in Los Cabos too. They expect a peak in the first week in May.
But the restrictions don't make much of a difference to me. I'm on my terrace writing, taking conference calls in my office, and going on walks within our community.
I've also been incredibly busy working on Project Prosper: How to Save and Grow Your Retirement.
As I announced earlier this week, I'm taking the unprecedented step to prepare RETA members for the buying moment of a lifetime. This project is my ongoing mission to help transform a crisis into opportunity for real estate investors to retire rich, regardless of economic shocks. My goal is to give you all the tools you need to become wealthy through overseas real estate.
Project Prosper is designed to create a life of ease, travel, fun, and adventure for yourself…insulate yourself from the ups and downs of the stock market…while enjoying more financial and personal freedom.
Buying right in a crisis is harder than it looks. And it's getting messy out there. But with the right contacts and the right cool-headed approach you can snap up some of the bargains of a lifetime.
In the latest monthly issue of my Real Estate Trend Alert, I'm showing members exactly how to prepare themselves, so that when they find the opportunity that stacks up for them, they can pull the trigger.
I'll share my top crisis buying strategies…show you how to get 40% or 50% off income-producing properties…I'll reveal the secret to double, triple, or even 5X your money using the miracle of leverage…and I give you the latest intelligence from my contacts across the world on what's going on where they are…Portugal, Panama, Belize…and more.
A flood of deals is coming our way…and we're going to be ready for them.
This is our time.
From Brazil…
I was looking to find a new São Paulo micro condos deal even before the crisis hit…now I have redoubled my efforts. There are good reasons to want another one…
In October 2018, I brought RETA members the opportunity to buy micro-condos in São Paulo, Brazil.
At the time, my prediction was we would see values double in the next four years. And we would be able to show a gross rental yield of 14% to 16%.
A micro-condo is a tiny condo, typically from 100 to 400 square feet. They first appeared in mega-cities like Tokyo, and have become the norm across Asia and in big European cities. Micro condos have been successfully marketed to millennials as luxury urban pads, a solution to the problem of high rents, crazy commutes and traffic jams, growing populations, and scarcity of land. The trend has hit the States and Canada. New York… San Francisco…Toronto… the first micro-condos have even appeared in Houston.
Folks aged 18 to 36 want to live in the city and keep their money for enjoying what city living offers, not see it drained away in high rents. And they don't want to spend hours sitting in traffic commuting to work. Micro condos aren't squalid tenements, they are the sleekest and most stylish urban spaces you can imagine. Design is a crucial element and a big part of the pitch. The clever use of space is one of the selling points. Your living room is the local café or trendy bar…it's attractive for anyone interested in a "make the most of the city" lifestyle.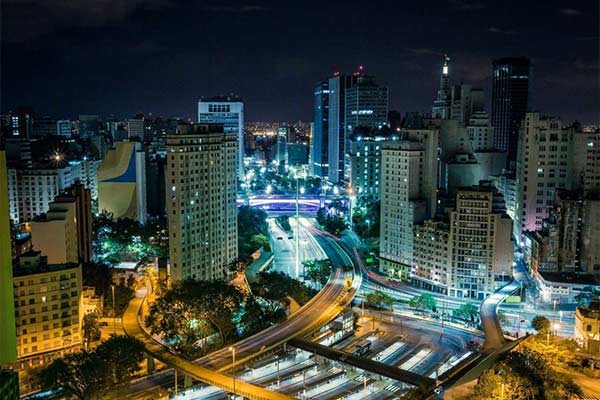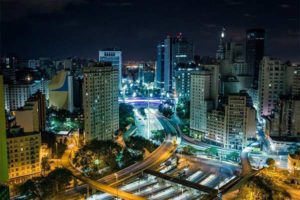 Three converging mega-trends created the opportunity in São Paulo. We played the global micro-condo trend, we were able to buy Brazil cheap, and we got in ahead of one of the most significant re-gentrification events in South America. (If you are a RETA member you'll find my full analysis in your October 2018 monthly issue in the archive.)
This crisis will likely give us second shot at locking-in a great deal. My contact in Brazil tells me there's still very little distress in the market…yet anyway. But I am expecting opportunity as things shake out.
Right now, our dollars stretch further in Brazil. In January, one dollar bought you four reais. (As I write, it buys you 5.53.) This gives us great buying power. What I call my "currency kicker."
I'm not a predictor of these things. I'm just patient and ready to act when it goes in our favor.
And, if you are already invested in Brazil as I am, here's how I feel: I'm delighted. I'm taking this as an opportunity to send over more money. I don't want to make currency predictions, but I have done very well over the years from Brazil's exchange-rate volatility by using moments like this to get money in, then selling when it moves in my favor.
From Portugal…
Over in the Algarve on Portugal's southern coast, my contact reports that the industry has just shut down…nearly all brokers have closed their doors and set up auto replies to their emails saying we'll talk to you when things reopen.
Up in Lisbon, it's a different story. Sales had been stalling anyway as the market over-heated. I called it overpriced and frothy two years ago. It still continued to climb after that, but it's always better to call a peak early.
A connected deal-maker who doesn't want to be named, says the market is on its last legs… certainly the top-end…
As soon as developers start going bankrupt, I'll be talking to the banks about getting RETA access to the best inventory at 50% off.
To be crystal clear…
I am calling a crash in Lisbon. And I'm getting ready to move fast and bring the deals to RETA members.
Panama Set to Become the Richest Country in Latin America by 2021
As I've been saying, this current crisis is going to play out differently in different parts of the world.
In places undergoing big, multi-decade transformations, like Panama, I expect a short, sharp interruption to the long-tern trend, with a swift rebound.
My bullish position isn't unfounded…
Panama's robust economy withstood the 2008 crash. And as a major international hub and a key player in trade, shipping, and finance, it's positioned remarkably well to weather the current crisis too.
Last week, risk rating agency Moody's came to the same conclusion. According to the agency, Panama can expect to see stable and strong growth in the medium term. This is based in part on the significant contribution of Canal trade, which is still very strong (up 7% from October to March on what was projected). Despite the crisis, Moody's maintained a positive rating for the country.
Panama is now on track to become the richest country in Latin America in terms of purchasing power per capita in 2021.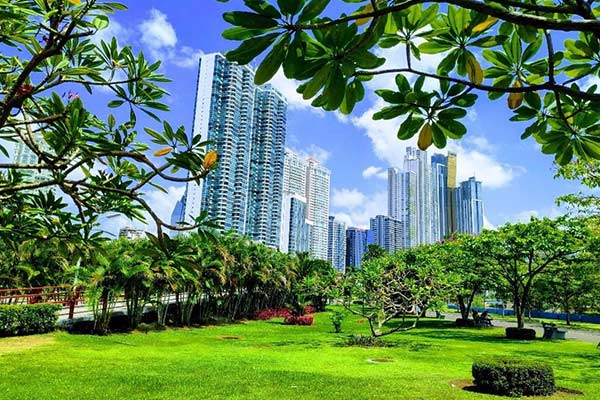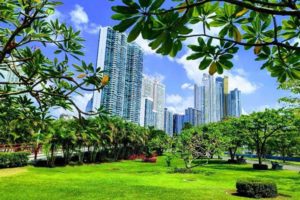 This is great news for RETA members…especially any who got in on our recent Surfside deal in Playa Caracol—the opportunity to own true beachfront condos close to Panama City.
In part because of this crisis, RETA members benefited from a bailout for Panama's hoteliers and developers, which landed us with a RETA-only $65,700 discount—an absolutely unheard-of deal.
By the time these condos are delivered, it will be back to the races in Panama. Real estate prices will continue to converge with other major international hubs and we'll be sitting very pretty.
Within five years I figure on values rising to $350,000 on the Surfside condos we can lock down for just $214,300…a gain of $135,700. And I figure on a gross rental return of 15.7% once the community is well established.
As a haven of safety and stability in a turbulent world, Panama is the ideal destination to play this crisis. We can lock in stunning discounts, while avoiding the level of risk seen elsewhere.
Once again, if you got in on Surfside, congratulations!
Wishing you good real estate investing!
Get Your Free Real Estate Report Now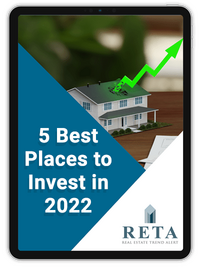 Sign up for our free daily Postcard e-letter and get a valuable free report on the The 5 Best Places to Buy Real Estate In 2022.
Related Articles
The 10 Best Places to Invest in Real Estate
My 4-Step Formula for Finding Profitable Real Estate
The Real Reason I Invest in Real Estate…