Today is your last chance to secure real estate insider status with my best-ever offer on RETA Membership. Join right here.
It's been an incredible journey so far, and as I showed you yesterday, there's a world of great deals to come…
I first conceived of my Real Estate Trend Alert 12 years ago. I was investing in Brazil at the time. Very successfully as it turned out.
I was keen to share what I had learned about real estate opportunities overseas. I also knew how powerful a group of like-minded investors can be.
So, I started Real Estate Trend Alert to bring together folks who understood just how many profitable opportunities we can find when we look beyond our borders.
Over the years, this group has grown, each year becoming stronger. Each year I've traveled and scouted, bringing ever more deals to the table.
The collective buying power of the Real Estate Trend Alert group means I can negotiate incredible off-market deals on behalf of RETA, exclusively for members of RETA, often with hefty discounts. And, by buying at incredibly low prices, we super-charge our potential rental yields…
A few years ago, I began organizing an annual Gathering for RETA members.
This unique annual event is where a group of RETA members and I sit down with my insiders and contacts from all over the world for two days packed with outstanding deals and insights.
The Gathering is not a conference. It's an intimate, closed-door event where members shoot the breeze, discuss the best ways to supercharge our investments…get first choice on some incredible deals…and talk about how to double our money in five years while keeping risk low.
RETA Members can access the full archive of Gathering recordings here. (If you're not yet a RETA member, you can join right here…and access the best value membership available.)
At every Gathering, I keep the numbers attending small to ensure everyone has as much face time with my trusted insiders as possible.
Getting my insiders together in one place isn't easy.
These guys are the movers and shakers of international real estate, with busy diaries and lots of commitments. For some, the RETA Gathering is the only event they're willing to clear their schedules for…
At last year's Gathering, my on-the-ground contact in Portugal let slip about a new deal he'd just found in the up-and-coming Eastern Algarve—second line back from the beach for just €140,000.
My contact from Belize spoke about deals from motivated sellers in the charming beach town of Placencia. The year before he made my jaw drop when he told me that a deal I recommended ended up bagging the buyer $600,000 in less than 12 months…with zero work and zero effort. Last year, he delivered again.
One deal he brought was for a three-condo building with a boat slip onto the water. The seller had just made a huge profit on another deal and he just wanted to sell so he was asking $300,000. With some renovations, you'd be all-in for $450,000 and making a 10% yield. If you decided to sell, you could make a healthy profit. We also discussed the changing face of real estate with a blockchain expert, talked about how to identify and prosper in a crisis market…got real insider tips on playing the burgeoning marijuana industry in Colombia…and more.
But everyone was talking about the sneak-peek deal…
Gathering attendees were given first choice for the incredible Santamar deal we had in Akumal. We paid a RETA-only price of just $174,800 for luxury condos steps from the beach. Those who locked down a condo on the day are already sitting on significant paper gains. Listings from local brokers have price tags more than $100,000 higher than what RETA members paid. One penthouse condo is showing an increase of $125,200 on RETA-only pricing.
Each year we do a sneak-peek at The Gathering of a hot new members-only deal… Each one starting has had huge gains…
Three years ago it was the Singular deal in Playa del Carmen. Attendees could buy little luxury suites with a members-only price from $143,800. The last similar units available listed at $209,500. Singular is now operating as a hotel with guests paying up to $220-a-night to rent a suite…
Another great example is Tao Tulum…there, the gains were also stellar. Members-only prices started from $154,500. My only regret is I didn't buy one of the premium units in Tao…because they went from a members-only price of just $230,556 to $449,000.
The Gathering is not stuffed shirts and PowerPoint presentations. It feels like a friends-and-family reunion. We sit down, chat with my trusted contacts, and get the inside track on markets, strategies, and deals that dish up fat real estate profits.
Members get to network with my insiders over cocktails, and delicious lunches. I can't emphasize enough how huge this is. Some of these insiders, as I mentioned, don't usually attend conferences or events, so the chance to talk one-on-one with them is rare. The chance to pick the brains of all of them in one place, at the same time, rarer still.
And you also get to hang out with fellow members, too. It's great to see members trading tips, sharing ideas, discussing their investment plans—and (of course) making friends.
You can only do that, however, if you're in the room.
RETA Membership ensures that you're always first to receive an invite to each new Gathering. It's hard to predict how things are going to play out in the coming months as the travel industry comes out of lockdown and countries gradually re-open. But I'll know more soon. And with RETA Membership you'll be first to hear…
Connect with Ronan on Instagram or Facebook
Get Your Free Real Estate Report Now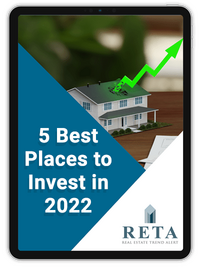 Sign up for our free daily Postcard e-letter and get a valuable free report on the The 5 Best Places to Buy Real Estate In 2022.
Related Articles
The 10 Best Places to Invest in Real Estate
Sneak Peek: Hot Deals Coming Down the Pipeline