There is no question that retiring to the right place can dramatically and automatically cut your overall cost of living. Just think about your own monthly budget without the costs of heating, air conditioning, and vehicle maintenance and insurance. Those costs come right off the top of your budget if you relocate to a place with a year-round temperate climate and a good mass-transit system.
I know, because I live in just such a place. And it's wonderful.
But this shouldn't lead anyone to believe that as soon as they step off the plane in whatever destination they've chosen, their monthly cost of living will instantly be cut in half.
There will be inevitable start-up costs, and they'll vary depending on what kind of move you make. Rental deposits, legal fees for visa work, furniture/electronic/appliance purchases…all need to be thought about beforehand and included in financial planning.
One thing you can save money on—but can't plan for until you get there—is local shopping options.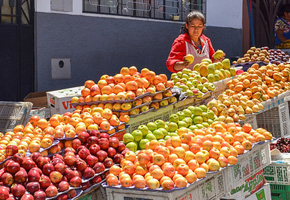 It takes a few weeks, sometimes months, on the ground to get to know the neighborhood stores, markets, restaurants, hardware and appliance stores, etc. But once you do, and if you stay flexible, you'll discover how to live like a local.
You'll get deals at the fruit and vegetable market. You'll find the restaurants that serve the $2.50 lunches. You'll see the apartments and condos around town on offer for the local rental rate. You'll find the appliance dealers who will give you the best cash discounts and drivers and tour operators who offer the lowest fares.
My wife, Suzan, is the great bargain hunter in the family, and she is in bargain hunter's heaven at home in Ecuador.
I also mentioned flexibility, and it comes in handy, because you'll inevitably find things you're used to that aren't readily available in your new community. You'll still be able to get your favorite brand of shampoo or eye drops or dietary supplements or peanut butter, but you may have to pay high import prices for them or have them brought to you by travelers and fellow expats. This can increase your budget and frustration level significantly.
Being flexible involves either learning to live without these once-cherished items or making do with local equivalents. Successful expats are experts at this. They can make themselves happy and comfortable no matter what's available at the local restaurants or markets.
A real love and curiosity about local cuisine and customs is most important…then comes the joy of filling in any unmet needs with skillful use of local products. It's nearly an art form, and the ingenuity of some of our expat friends is truly remarkable when it comes to recreating favorite recipes with local ingredients or finding local versions of health supplements or medications.
Using these methods, and countless other tips available from International Living, will save you money without sacrificing quality of life when you move abroad.
The World's Top 10 Retirement Havens
Free Report: 
Get all the tips and secrets to retiring comfortably overseas in our daily postcard e-letter.
Simply enter your email address below to sign up for our free daily postcards and we'll also send you a FREE report on The World's Top 10 Retirement Havens.

Get Your Free Report Here