From bond trading in New York to running a bar in Belize, Rebecca Coutant made the overseas move. But it was only when she started blogging that she found something she really loved…and now it's her income as well as her passion.
"Five years ago if someone had suggested that I'd be a professional blogger, I would have laughed," says Rebecca. "I wasn't much of a writer or photographer. I just look at it as sharing my experiences with friends. That's always fun. And now I love the freedom of being self-employed."
After abandoning the rat race in New York in 2007, she moved to Ambergris Caye and worked in a bar for the next three years. When the bar's owner moved on, Rebecca found she, too, was ready for a change.
"The very next day I started a personal blog," she says. "Nothing at all fancy. It was something to keep me busy and active while figuring out my next move.
"I knew very little about blog design, but I figured that out. It wasn't until I realized a few months later that I was pretty obsessed with writing each and every day and—bonus—people were actually reading my stuff, that I thought maybe, just maybe, this could turn into my career. The more readers and feedback I got, the more I felt compelled to make it better…to cover broader topics. I also loved that the blog got me doing new things each day."
After 18 months of growing her following and putting together posts every day, Rebecca knew that she wanted to take her blog further. So she found a web designer she could work with. "It was his idea to make the deal a partnership (rather than a flat fee), so we would continue to work together," she says. They called it the San Pedro Scoop.
"My income comes from local advertisers such as hotels, restaurants, and shops that want to sell their products and services to Belizeans and visitors. It helps that I know lots of people in San Pedro. So my business grew organically."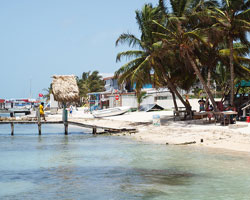 Rebecca's average day includes doing something such as eating out, attending a local event or holiday, or even just a long beach walk. She takes photographs and blogs about whatever she did that day, or night. She also plans her future trips around Belize, and other countries, and she spends some time on advertising. "I probably spend five to 10 days a month traveling," she says.
"If I did something fun or ate at a new restaurant the day before, I like to tell people about it immediately. It gives my website a real-time feel and that's important to me. I generally spend two hours each morning sorting through pictures, uploading, and writing my blog post for the day. Throughout the day, I check in on Facebook and Twitter and post snap shots or news."
Rebecca spends much of her blog revenues on her travels and website improvements. And she notes, "It takes a few months to a few years to build up a following. I hope to be completely self-sufficient by December this year."
It's obvious that this once-upon-a-time bond trader is thrilled with her new calling. "Traveling around town and around the country, eating out, meeting people, trying new hotels and resorts—I love it all. I can't get enough of it. I don't remember a time when it felt like a job. It's an amazing thing when you can make money doing something you absolutely love. It's like a dream come true."
Free Report:
Sign up for IL's Fund Your Life Overseas e-letter today and we'll also send you a FREE report about ways to earn money abroad. Simply enter your email in the box below and we'll send you this free report: Fund Your New Life Overseas With These 6 Portable Careers.
Get Your Free Report Here