It's a quiet day in late June on the beach in Deauville. As I walk along the water's edge, golden sand crunching beneath my toes, it almost feels as if the mile-long beach is all mine.
Tranquility reigns right now, but a change is coming. Near the boardwalk, row after row of multi-colored beach parasols, elegant as Ralph Lauren models, are standing as ready as soldiers. And at a boardwalk café, I notice a worker wheeling out a stack of extra chairs. The town is getting ready. Because in less than a week, hundreds of vacationers will explode upon this peaceful scene, transforming Deauville into one of the most glamorous and dynamic beach resorts outside the Côte d'Azure.
For more than 150 years, well-heeled Parisians have descended upon the golden shores of Deauville each summer, earning it the nickname "the 21st arrondissement" of Paris. And who could blame them? The small town is a mere two-hour train ride from the City of Light, on lower Normandy's lovely Côte Fleurie (Flower Coast). And the natural, open beauty of Deauville's beach effortlessly holds its own against the prettiness of beaches in France's south.
The town was founded in 1858 by the Duke de Morny, half-brother of Emperor Napoleon III. The duke, upon observing the small farming village of Dosville from the neighboring town of Trouville-sur-Mer, became gripped with the idea that the swamp and dunes that lay before it would be a worthy place to build a "kingdom of elegance." And so it was. By 1863, a scant five years later, Dosville was history and the sparkling new town of Deauville housed a casino, a harbor, a racecourse, and magnificent villas.
Today, Deauville remains largely true to de Morny's vision of an elegant kingdom by the sea. The town's two hippodromes and equestrian training center are considered among the best in France, attracting horse enthusiasts from around the world. Deauville also plays host to the prestigious Deauville American Film Festival.
Adding to this air of sophistication is the architecture. Deauville clearly prides itself on maintaining a traditional, regional style, no matter how recently built the structure. Throughout town, you'll find luxurious manor houses, boutiques, restaurants, hotels, and even low-rise beachfront condominiums fashioned in the half-timbered, brown-and-cream, Anglo- Norman style. The overall effect is one of ubiquitous, if sometimes heavy-handed, charm (the neo-Norman-style public restrooms are overkill, if you ask me).
It's a glitzy town, to be sure. But here's one thing about it that often gets lost in the press: High glamor is not the only reason people come here.
For Jennifer Thomas, a Texan living in Paris, Deauville isn't remotely about glamor, but rather an escape to fresh air and a more laid-back life. Jennifer and her husband have owned a modest house in Deauville, a 10-minute walk from the beach, for several years. "Just being there for the weekend makes us feel as if we've been on holiday," says Jennifer.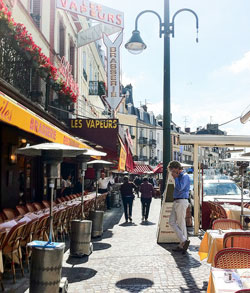 Long walks on the beach are central to their love of Deauville, especially in the off-season when they have virtually the whole beach to themselves. But Jennifer says that local activities in Deauville and the neighboring town of Trouville also hold much appeal. "There are plenty of activities throughout the year that make you feel more part of a community than in Paris," she says.
Like Jennifer, I find myself focused on the less-dazzling elements when I visit Deauville. To me, strolling along the boardwalk, listening to the rush of waves on the beach, is more invigorating than a visit to the casino. And while you can get a $47 lobster pizza at the chic Bar du Soleil on the Deauville boardwalk, I'm willing to bet that it doesn't taste better than the enormous black pot of fresh, steamed mussels in white-wine sauce (with a plate of hand-cut fries) that you'll find in any local restaurant for $16 or less.
The bottom line is that, no matter whether you are drawn to the vibrant life of the French glitterati or love the idea of owning a low-key seaside home in France, Deauville checks both boxes.
Free France Report:
Learn more about France and other countries in our daily postcard e-letter. Simply enter your email address below and we'll send you a FREE REPORT: A Taste of France: All the Ingredients for the Good Life.
This special guide covers real estate, retirement and more in France and is yours free when you sign up for our free daily IL postcards below.
Get Your Free Report Here