Once upon a time there was a girl named Goldilocks who wanted to move abroad. Now Goldilocks was very particular—she wanted everything to be "just right."
One day Goldilocks was reading her International Living magazine and learned about a city in Ecuador called Cuenca. The more she read, the more excited she became. Goldilocks thought, "Wow, this place seems perfect!"
Being very particular, she decided to visit Cuenca to see for herself. As soon as she arrived, she discovered that the weather in this southern highlands city was never too hot or too cold. Goldilocks said, "I'll never have to shovel snow or get sweaty ever again. The climate here is just right!"
As Goldilocks roamed around Cuenca, she was amazed that although the population was over a half million she could ride in a taxi from one side of town to the other in less than 20 minutes. And that the cost for such a trip was only $2.50. She proclaimed, "This city is not too big and not too small. It's just right!"
Goldilocks discovered excellent restaurants everywhere…plus modern malls, shops, art galleries, cinemas, film festivals, and museums—even symphony orchestra performances with free admission. This made her very happy. It's not that she wanted to do everything all the time, but it was great to know so many options were available.
Being a single woman Goldilocks was concerned about safety in a foreign country. After all, her buddies Little Red Riding Hood, Hansel and Gretel, and Snow White had found themselves in harm's way wandering around in unfamiliar places. And she remembered her own frightening encounter with The Three Bears.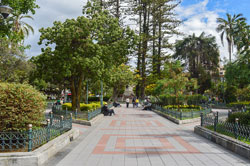 What a surprise to see how kindly she was treated by the local Cuencanos. They patiently listened to her poor Spanish and went out of their way to be helpful. She immediately made friends in the large expat community and even found herself unexpectedly being invited to parties. "How wonderful the people are in Cuenca," she thought.
Then Goldilocks thought disaster struck—she came down with a stomach bug. But a hero rescued her: One of her new acquaintances took her to see his personal physician that same day. The doctor, who spoke perfect English, took his time diagnosing her condition and charged only $30 for her visit. The medication he recommended was also quite inexpensive and she felt better in no time.
Goldilocks found low costs everywhere in Cuenca. The monthly rent for a beautiful, modern, two-bedroom condo was much less than a ho-hum studio apartment back home. She paid under $10 for bags of fresh, locally grown produce so heavy she could barely carry them.
Goldilocks proclaimed, "Cuenca is not too big and not too small. It's not too hot and not too cold. I think this place is just right for me!"
So Goldilocks moved to Cuenca and lived happily ever after.
Get Your Free Ecuador Report Here:
Learn more about Ecuador and other countries in our daily postcard e-letter.
Simply enter your email address below and we'll send you a FREE REPORT – Ecuador: Live Like Royalty on Your Social Security.
This special guide covers real estate, retirement and more in Ecuador and is yours free when you sign up for our postcards below.
Get Your Free Report Here