The face of cities is changing…
While retailers the world over reopen to dwindling footfall, more have pulled their shutters down for good. Brooks Brothers, Ann Taylor, Paper Store, Aldo, Pier 1 Imports, the list goes on.
Meanwhile, office buildings sit vacant. This week, the world's largest commercial real estate investment firm, CBRE, reported that in New York City just 10% of workers have returned to their office spaces since March.
In cities the world over, there's an eerie sense that the urban space has lost its purpose. And perhaps it has. We do our shopping online, we log into work from our kitchen table, we stream new release movies to our TV. Even cocktail bars will deliver mojitos to your door if you put in an order.
As COVID-19 accelerates existing trends, commercial real estate sits on the front line. And there will be winners and losers. Office and (secondary) retail space in the developed world and major cities is set to take a pounding. High street storefronts will become glorified showrooms for online brands. Meanwhile, as e-commerce booms, warehouse and fulfillment center space will be in huge demand.
Cities will evolve more into tourism, entertainment and gathering destinations. The mega-rich will still have homes in London and New York. They will still be global hubs for lots of activity. But for the much of the population they will become places to visit, not live. And until COVID-19 disappears, or there's a vaccine, the visiting of cities won't rebound.
The pandemic has brought existing issues in commercial real estate to the fore, but it didn't create them…it just accelerated them. The tools of the digital revolution that allow people to escape office life to Work from Home (WFH) and interact with retailers virtually have been around for more than two decades. My team and I have been using them for over a decade, and they give us a highly effective, flexible, and mobile virtual workspace.
For me, and millions like me who can work from cafés, hotel lobbies, Airbnbs, or anywhere with a decent internet connection, offices are a relic of a late twentieth century and their demise is well overdue.
Of course, they will still exist in some form, at least for a while. Multinationals will still want a physical headquarters, some workers will want a place they can separate their work life from their home life. But as a new co-working infrastructure emerges in local communities, even these needs will be addressed. And people are waking up to the possibilities.
There is an incredible opportunity to take advantage of lifestyle arbitrage. Why pay thousands in rent and commute long hours when you can do your job after a daily morning jog on a Caribbean beach and save a whole lot of money living somewhere warm?
There are places in the world that already attract millions of people for their climate, lower costs, and quality of life. The most successful are easy to get to. For instance, Mexico's Riviera Maya. It has it all…perfect weather, world-class beaches, fine dining, and almost every activity you can imagine. That's just for vacationers.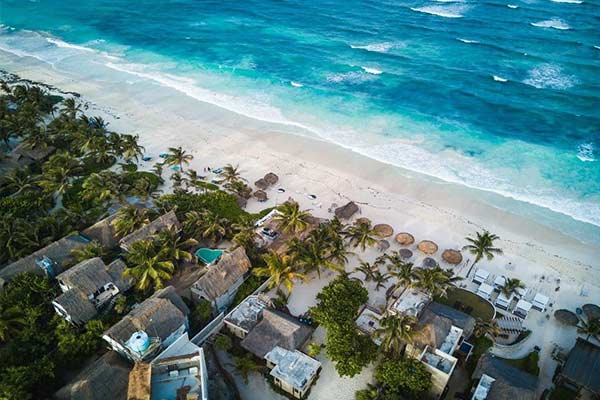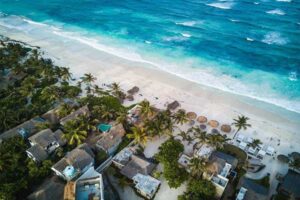 I believe there will be a surge in longer-term renters that will enhance already strong opportunities for savvy investors on the Riviera Maya and in other internationalized places on our beat like Portugal's Algarve.
We're already well on track to being in the best possible position to profit. This week, Real Estate Trend Alert members had the opportunity to lock down two-bed, two-bath condos on Tulum's emerging Golden Mile for a killer price of just $134,000.
The development is completely in tune with Tulum's market and offers everything newly mobile long-term renters will be looking for: Co-working space, swish café, children's area, events space, salon, state-of-the-art gym…all centered on an internal oasis where a palapa-style bar and pool area acts as a pivot.
I figure these condos will be worth $190,000 or more just three years after delivery—and the premium condos will appreciate even faster. And I think the rental potential is enormous, certainly double-digit yields.
If you managed to lock down a condo when the deal opened, congratulations! We're at the start of something huge.
Remember, you can only get in on these RETA-only opportunities if you're a member.
Our Gain in Ireland's Second City Just Got Sweeter
As you know, I've been spending the last few weeks at my base here in Cork, just outside Ireland's second city. And it's all good news if you got in on the opportunity I uncovered there in 2015.
In recent years, Cork has been going through something of a mini-renaissance. An estimated €1 billion is being ploughed into a mix of commercial and residential development in the city's docklands area. And now an ambitious multi-million regeneration project is set to transform the area where we had our opportunity.
To remind you, back in 2015 I recommended old terraced houses in the area at the top of St. Patrick's Hill, which lies just north of the city center.
At the time I recommend them, a two-bedroom, two-bathroom house on St Patrick's Hill listed for just €60,000. Last I checked, you can find a similar property in the area for €185,000 ($208,200 at the time). That's a huge gain in just a few years and all because we found the right neighborhood and the right play.
St Patrick's Hill is just above McCurtain Street. In the last boom, McCurtain Street was a thoroughfare clogged with traffic. Rents collapsed during the crisis and vacancies increased. Now funky little cafés, restaurants, and bars have opened, and it has started to emerge as a trendy entertainment district.
This new regeneration project will firmly establish the area as a new destination in the city center and the place to live for young professionals who want to be close to the action.
Ours was a combination of buying old and unloved at crisis pricing.
For a long time, St Patrick's Hill was a working class relic of "old" Cork, with some fine older houses and old workers "cottages." But few of those living in Cork at the time expected big things from St. Patrick's Hill, most of the young folks were looking in the suburbs.
Yet there were some genuine crisis buys to be made from buying directly from the receiver. And, for those who could see the gentrification coming, there were profits to be had.
Cork's economy remained relatively robust during the 2008/09 crisis. It's a university city with over 30,000 students in University College Cork and Cork Institute of Technology. It also has major hospitals and government offices. Beyond that, Cork's economy was buoyed by a sector that did just fine during the crisis: pharmaceuticals. While Ireland's economy was falling apart, folks around the world still took their heart medications. And Cork is a major international pharmaceuticals hub. Global operations take place here. Most of the big players, names like Pfizer and Eli Lilly, have a significant presence there. It's big business and Cork is the hub.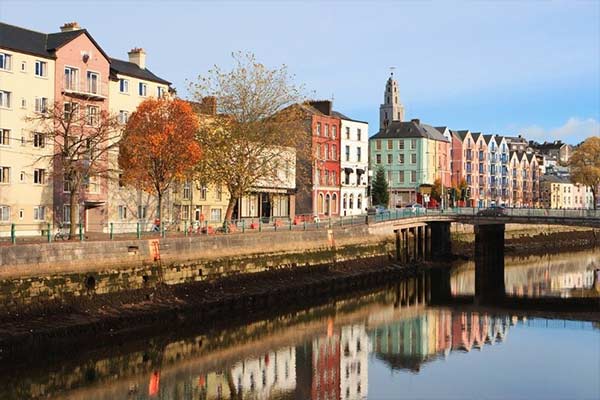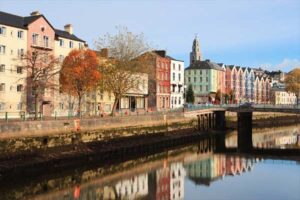 In addition, big technology players like Apple and information technology firm EMC are big employers of highly-skilled graduates in Cork. During the Irish crisis, folks still bought their iPhones.
So the employment outlook was always robust for Cork. And the city is set to grow strongly. Ireland's National Planning Framework pins Cork as the fastest growing city in Ireland, with a projected population increase of 50% to 60% by 2040. Many of those newcomers will look to live in the trendy new area around St Patrick's Hill.
Cork's great buying moment has largely passed, at least for now. But I'm still looking for opportunities, especially at streets on the edge of the dockland development. If I find any you'll be the first to know.
Bargains on Spain's Costa del Sol
Spain's Costa del Sol ("Sun Coast") has been the go-to destination for sun-seekers looking for a vacation that promises sun, sea, and sand since the 1950s. But there's so much more to this location…traditional whitewashed villages, mountain valleys, and rocky cliffs; the mega-bling of Puerto Banús; sophisticated restaurants and simple tapas bars; and top-notch golf courses.
Travel to a few notable destinations and there's no doubting you're around money. The roar of supercars and the hum of blacked-out SUVs…the popping of champagne corks… music streaming into the warm night air from the decks of luxury, 100-foot yachts.
Russian billionaires, soccer stars, Europe's royal families, industrialists, and old-money blue bloods—this is where they come to relax.
The Costa de Sol can be divided into two sections: East and west, with Malaga city at its centre. The western Costa de Sol includes all the major resorts such as Fuengirola, Torremolinos, and Benalmadena, plus of course, the ritzy celeb-magnet of Marbella.
The eastern Costa del Sol is much shorter and less developed. But you'll find some real bolt-hole bargains there.
For instance, I came across this nice, refurbished, one-bedroom townhouse in the village of Torrox on the market for just $97,500.
Torrox is just seven minutes' drive from the beach, and about 40 minutes from Malaga and the international airport.
Perched on a hill, the town's brilliant white-walled houses cling to the steep slope, and attest to the ancient Moorish influence.
Interestingly, a study done in 2008 found hailed it as "the village with the best climate of Europe." The whole area lies in the foothills of the Sierra Almijara and Tejeda mountains, giving the coastal region a temperate micro-climate with 300 days of sunshine a year.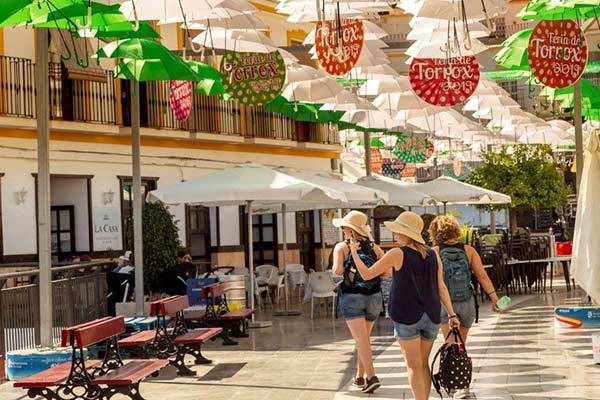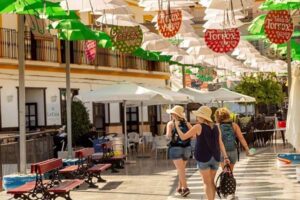 As the crisis digs into Spain, I expect to see even better deals emerging. I'll be looking for real estate that can maximize rental potential, and that means looking to Costa del Sol's more developed western side.
I'm already talking to my contact on the ground about an opportunity on homes near Marbella that we can lock down with as much as 50% off original developer's pricing. An incredible crisis discount.
I'll be bringing you the details soon…
Connect with Ronan on Instagram  or Facebook
Get Your Free Real Estate Report Now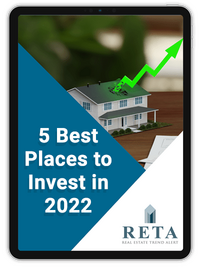 Sign up for our free daily Postcard e-letter and get a valuable free report on the The 5 Best Places to Buy Real Estate In 2022.
Related Articles
The 10 Best Places to Invest in Real Estate
Profit From Tulum's Rapid Growth
Your Questions About RETA Answered