One of the best-known places to enjoy colonial living is San Miguel de Allende, in Mexico's Colonial Highlands.
Even among colonial towns, San Miguel is famous. It's been dubbed "the most beautiful town in Mexico," and it may just be. Colorful, well-preserved colonial buildings line its streets, and fountains tinkle in quiet squares. Brightly painted doorways open onto shops that overflow with colored textiles, hanging stars, and lamps of hammered tin, and pottery or sculptures. Walk down cool stone passageways to open-air patio restaurants or to upstairs terraces where the city opens out below you.
It's no wonder that San Miguel is popular with expats as well as tourists…with properties for less than $150,000 on the edge of the town.
Thousands of expats choose to live here full or part time. Many of them are retirees, but many others run businesses: shops, restaurants, hotels and B&Bs, art galleries, and online businesses. The town also attracts those in the arts: painters, sculptors, writers—even the occasional well-known actor. And that's not even counting all the local Mexican artists and artisans who help make San Miguel a thriving, artsy place to live.
And, thanks to this eclectic community, it's a place where you can get by easily in English…while still enjoying San Miguel's Mexican charm and low cost of living.
Many of San Miguel's colonial-style buildings are homes or condos…enabling expats to live in colonial splendor, if they choose. Despite the town's popularity, it's still affordable to buy or rent here. Large properties right in the historic center will cost a pretty penny. But smaller homes and condos in the centro histórico, and properties as little as a 10- to 15-minute walk away from it, will fit most budgets.
For instance, even in centro you can find comfortable houses selling for under $400,000. If you want a walk-in-ready home, a good example is a three-bedroom, three-and-a-half-bath that was recently on offer. I found a recently remodeled three-story house offering all modern amenities with plenty of Mexican charm in 1,765 square feet of construction—plenty of space for you and some guests. The house has a rooftop terrace with panoramic views, a garden, a courtyard, and plenty of tile and stonework. It's just a minute's walk to the Jardín, the center of the historic area, and was on the market for $389,000.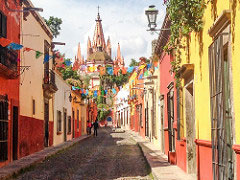 Need less space or a lower price? You can find some nice places for less that $150,000. A fully furnished, 600-square-foot condo, with one bedroom, one bath, lots of light and views, and with access to a community pool, sold recently for $145,000. It's at the edge of centro, about a 10-minute walk from the Jardín.
And in neighborhoods from five to 15 minutes from the center, houses start in the mid-$100,000s, and condos for less. How about a 1,345-square-foot house an easy walk to centro? It has two bedrooms, two bathrooms, and street parking for one car. It comes fully furnished and is on offer for $165,000.
Because it's so popular with tourists and snowbirds, San Miguel also has a wide inventory of rentals available, both short- and long-term. So if you'd prefer to rent for a month, six months, or even longer, while you look for the perfect property to buy, you can easily do so. Expect to pay at least $800 to $1,000 a month for a two-bedroom property within an easy walk of centro. Short-term vacation rentals, especially during the winter high season, will generally cost more.
Get Your Free Mexico Report Here:
Learn more about Mexico and other countries in our daily postcard e-letter. Simply enter your email address below and we'll send you a free special report – Why Millions of Americans Are Moving to Mexico.
This special guide covers real estate, retirement and more in Mexico and is yours free when you sign up for our postcards below.

Get Your Free Report Here