For almost two years now, I've been living with my wife in a beautiful beachfront condo on the Pacific Ocean. That sentence alone might lead you to believe we live an expensive lifestyle. But not so. Thanks to the savings we made in moving our lives to Salinas, I have been able to retire this year at the ripe old age of 57. Here, I am happier, healthier, wealthier, and enjoying life to the fullest.
Just three years ago, I would not have believed it possible. In spite of a family income of six figures, we were still not able to put much toward retirement. We were living in a great waterfront condo in Maryland, but at a cost. Our monthly expenses were over $6,000. Our HOA fees alone were almost $900. On top of that, property taxes were about $5,000 a year. We were happy living there, but I was resigned to working until I was 65, at least.
Then we started looking into Ecuador as an option. My wife had already retired from real estate, and my job was portable. So after some due diligence, we decided to go see for ourselves.
The rest, as they say, is history. We fell in love with the seaside resort town of Salinas, and purchased a 2,000-square-foot beachfront condo in a modern building. We sold the place in Maryland and bought a smaller home for cash (no mortgage) to store some of our furniture and as Plan B, just in case Ecuador was not all we hoped it would be.
What a difference it has made in our lives. Our monthly expenses dropped from more than $6,000 to less than $2,000. Our property taxes went from $5,000 a year to an almost laughable $270. HOA fees are $169 instead of $900.
We sold our cars when we moved, and with cheap buses and cabs available in our new home, and most things in walking distance anyway, we don't need the expense of a car or car insurance anymore. I love to cook, and the fresh produce, seafood, and meat here makes it even more fun. But when we do feel the urge to dine out, it costs us less than $20 for the two of us, instead of $50 or more.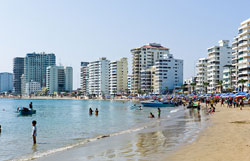 Although we started living more cheaply, we also started living better. The great climate, fresh air, fresh food, and walking two to six miles a day has greatly improved our health.
Instead of spending my days dealing with other people's network problems, I can now spend time doing the things I enjoy. I can take time to write more, spend more time studying Spanish, practice playing the musical instruments we brought with us, and spend quality time with my wife and family.
We look forward to exploring Ecuador, and possibly even applying for citizenship. With Ecuador as such an inexpensive base, we will have time, health, and opportunity now to travel to other places around South America and the world.
Get Your Free Ecuador Report Here:
Learn more about Ecuador and other countries in our daily postcard e-letter.
Simply enter your email address below and we'll send you a FREE REPORT – Ecuador: Live Like Royalty on Your Social Security.
This special guide covers real estate, retirement and more in Ecuador and is yours free when you sign up for our postcards below.
Get Your Free Report Here