As a child, I dreamed of living on a farm. I wasn't much interested in tractors and combine harvesters, but the thought of a life that revolved around animals thrilled me. Alas, my parents both grew up on farms in the Midwest and had no interest in running one of their own.
After moving to Minnesota as an adult, and seeing firsthand just how much work goes into a real farm, I understood my parents' position. But still l had visions of horses, ducks, rabbits, and cats running through my head. Sadly, any suitable properties for just such a menagerie, in a desirable area, were far out of my price point.
What I was missing was perspective. I was stuck in a U.S.-centric mind-set where the world outside of my country was more or less an abstract idea. Sure, other countries were great for vacations, but living there? Who does that?
As it turns out, I do.
Thanks to a perfect storm of job dissatisfaction, a worsening U.S. economy, and a desire to be free from snow, my husband and I came to Ecuador in 2011. And that is where I finally got my farm.
It didn't happen right away though. We wanted to be sure we didn't rush into buying property and so we took time to scout out a fair bit of the country before we bought anything. Cotacachi caught our eye right away. The small-town atmosphere, friendly people, and year-round spring-like weather captivated us. And in the end, this is where we felt at home.
We rented an apartment at first, to be sure this was the right place for us. But by the start of our second year here we were living in our very own home. It was a newly built two-story house with three bedrooms, vaulted ceilings, and a spacious kitchen. It still wasn't a farm, but we have plenty of room for dogs and cats and we're close to restaurants, stores, and other expats. Most importantly, we have access to high-speed internet, which allows my sons to attend a U.S.-based online school, and allows me to work from home as a freelance writer.
Then two years ago, my husband fell in love with a piece of riverfront property in a cloud forest on the back side of Mount Cotacachi. Before I knew it, we were the proud owners of 75 acres in the rural Intag Valley.
Now, I wasn't willing to move there on a full-time basis, because there's no internet service or cell phone reception on our land. But it was a great place for a hobby farm. And thanks to Ecuador's affordability, we were able to have the farm and keep our house in Cotacachi with no financial hardship. In fact, both properties together cost less than a 2,000-square-foot house in most U.S. middle class neighborhoods.
So today, I have my farm and my animals, but without needing to give up the conveniences of modern living. My four horses spend most of their time chowing down in lush pastures with an occasional stop at the river for a drink. On weekends, we ride them out on the mountain trails for a bit of exercise, and to enjoy the spectacular views. My ducks waddle around the yard keeping it free of flies and, much to my dismay, hibiscus blossoms. They lay large, rich eggs full of healthy vitamins which we turn into delicious omelets. And our beehives are full of hardworking insects who make the most delicious wildflower honey.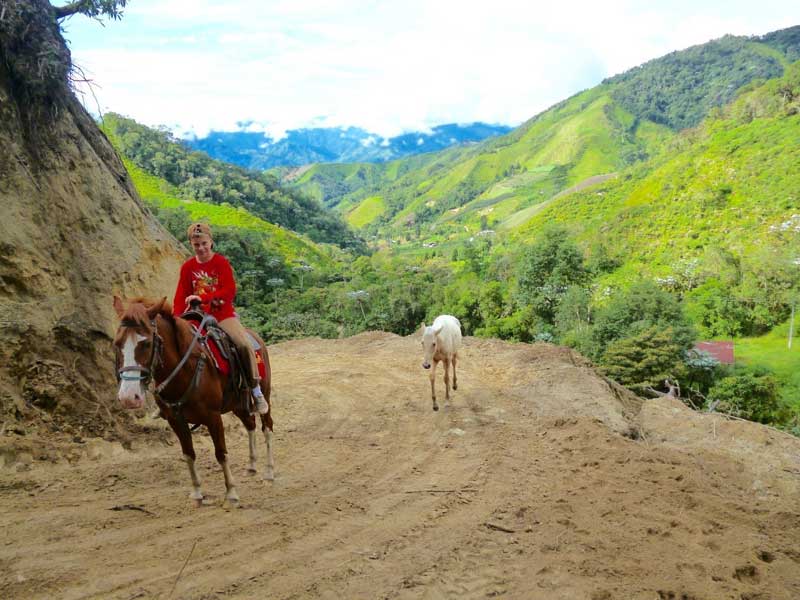 In addition, we've planted avocado, guaba (guava), and coffee trees which will start producing in the next year or two. It might sound like a lot of work and it is, but it's enjoyable. And we've got plenty of help, with laborers charging just $15 (plus lunch) for a full day's work.
So even though I'm far from wealthy, I live the lifestyle I want. I've got my farm full of animals and I also have a beautiful house in town, where I can write and relax after a few days at the farm.
I'm not alone in living a two-house lifestyle. I know of several expats who have a place on the coast and one in the mountains because they just can't decide which environment they like better. Others have a small-town or country house and a city place. Thanks to Ecuador's affordability, we really do have it all.
Get Your Free Roving Real Estate Investor Report Now

Sign up for the FREE Roving Real Estate Investor e-letter and get a valuable report (free for a limited time) on The 5 Best Places in the World to Own a Home From $150,000.
Related Articles
Enjoying Ecuador's Beautiful Beach Town for Under $1,800 a Month
Rent for $100 a Month in Ecuador
Opportunities Exist for Savvy Real Estate Buyers in Popular Ecuador