Conventional wisdom says that you have to get the travel bug out of your system early; that once you have children you have to abandon your overseas dreams—or at least shelve them until the kids grow up and leave the nest.
But it's just not true…and an increasing number of American families are proving it. Folks from all over the U.S. are bucking tradition and traveling the world with their kids—for a summer, a year, and longer.
These folks say the benefits are great…adventure, warm weather, lower costs and a truly global education for their children with the world as their classroom.
Wendy DeChambeau who moved to Ecuador with her husband David, says of her two boys: "They've found a love for languages that they might never have developed in small-town U.S.A. where we previously lived."
Elizabeth Ballard Slagle has seen her son, William, adapt and grow overseas. They moved to the mountain town of Boquete, Panama, six years ago, when William was nine. "Children will grow where they are planted, despite their parents' anxieties. When you trust your kids, and allow them to struggle and succeed, they will trust themselves, stretch themselves, and succeed."
Some folks jet south to Central American destinations where they put down roots for a year or so. Others slow-travel their way around the globe, spending time in the cobbled towns of Old-World Europe, or exploring the markets and beach destinations of Southeast Asia.
Colleen Mariotti was one of many people to fall foul of the false belief that her chance to travel was over once she'd had children. "I had internalized some of the less positive myths of motherhood—things like, 'you better travel before you have kids.'"
But Colleen and her husband Ron began to realize that working constantly and never getting to spend time together as a family was the real hardship. So they decided to try out a roving lifestyle with their two sons and daughter. That was a year ago. "Since then we have spent every day together exploring Europe. Each day is precious. We don't know exactly how it is all going to come together each day but we decide, as a family, what we want from this adventure."
There's no one way to take a family year out and slow-travel the globe. But there are common concerns that every family has when they embark on a new adventure overseas. What will they do to support themselves? How will they educate the children? The truth is, there is no one-size-fits-all way to do it…but here's the place to start…
Paying Your Family's Way Overseas
Years ago, following the typical career path meant sitting at the same desk or standing at an assembly line day in, day out, until retirement. That's changed in recent years with employees today enjoying greater freedom and flexibility than their predecessors did—with some companies even allowing employees to take a sabbatical of a year or more before returning to the same role.
If, however, you're not fortunate enough to work in a company that allows sabbaticals, or if you can't afford to stop working while enjoying your adventure overseas, you're not out of options. The Internet has revolutionized how people work—meaning that increasingly people are able to work remotely. It's easier than ever to source independent work through job-and-project networks like Elance.com or Odesk.com.
Utah-native Rachel Denning has been traveling with her husband, Greg, and their six children since April 2011, to places like Nicaragua, Guatemala, and Costa Rica— and they've been funding their travels from their online businesses.
Like many, they were greatly affected by the economic crash of 2008, in which they lost their independent income from stocks and real estate. Rachel admits that the family was tempted to stay in the rat race, and live on the income that could provide, but ultimately they decided to take a leap of faith.
"We listened to what our hearts were yelling," Rachel says. "We didn't know for sure if we could make it happen. But we knew we had to try. So we took the road less traveled.
"We've never regretted it. The entire journey from that moment has been rich, meaningful, and deliberate. That's what matters most. We did figure it out—I run my own website, DiscoverShareInspire.com, and Greg provides life and health coaching through his own site, GregDenning.com."
Through those sites, the Dennings earn money in a number of ways, including through sales of a book they wrote, consultancy, and paid travel-writing gigs.
The Internet has also enabled Emily and Chris Shea to fund a nomadic life abroad. They moved overseas with their two children, Henrik, 4 and Petra, 2, in 2013 and have lived in a Costa Rican mountain town and Nicaragua's colonial gem, Granada so far. They're now planning a stint in Ecuador. Emily credits working online with giving them the physical and financial freedom to do it.
"When we first thought up this marvelous idea of 'living on vacation,' we knew we had to figure out an online income. My husband started an e-commerce software development company (with a friend in the business) and basically taught himself the ropes. He was able to take a salary within a year of starting the business, and that's been our primary way to fund our new life—which, as it happens, is much more affordable than living in the States.
"As for myself, I wanted to use this chance to follow my passion for writing. I began a blog (named TravelMother.com) about traveling with children. This has brought me enough attention to get paid writing gigs and enough know-how to work on my own e-books about living abroad with youngsters. Life has never been better."
And other families have discovered a niche in the market in their new country and set about opening up businesses. Sometimes it can be as simple as noticing what service or amenity your new hometown lacks. That was the case for Colette Holmes, who lives in the beach town of Tamarindo, Costa Rica, with her husband Nick and daughter Harper (3),
She and her husband saw two big gaps in the market: First, there were no flower shops in Tamarindo—surprising, given the growing wedding industry in the town. And so, last year, the shop Colette's was born.
Secondly, "in the States, there are a lot of nice handmade cards, really nice jewelry, and little things like that that are made by locals. I found that Tamarindo was lacking that. There are tons of tourist shops but they all stock the same thing. Some of the things are lovely but they're made in Thailand or Bali—they're not Costa Rican. We figure if we can do a bit of both, if we can do the flowers and the more unique souvenirs, we can grow a good business here." And they have.
For ideas on freelancing or information on setting  up your own business overseas, sign up for IL's free daily  e-letter, Fund Your Life Overseas here.
Education on the Move
For any parent, ensuring that your child is getting the best quality of education possible is a major priority. For many parents overseas—especially those who have chosen to travel rather than to stay in one destination—homeschooling is the logical choice. Lessons can be arranged at times to suit both you and your child; you have greater control over what your child learns; and, thanks to the Internet, your child can study the same curriculum he or she would at home.
IL's Costa Rica Editor, Jason Holland, who moved abroad with his young family two-and-a-half years ago, currently homeschools the oldest of his two sons (the youngest is just two).
"We chose to homeschool our seven-year-old because we wanted to stay flexible and be able to travel when we wanted…not to mention give our son extra help in certain areas when he needs it, something a teacher with 20 kids can't always do. We didn't want to be tied down to a school schedule. With all the resources available to homeschool these days, it's been very do-able."
That was exactly the experience that Angela Smith Kirkman and her husband Jason had. When the couple decided to move overseas for two years, living in 12 different countries on five continents, they homeschooled their children—Cruz, who was 3 at the time of the move, Bella, who was 8, and, Cyrus, who was 10. And, despite being a qualified teacher with 10 years' experience, Jason was initially skeptical about how well the children would learn while homeschooled on the road.
"For the most part, my husband found that his initial concerns about whether he could keep the kids at their grade levels were unfounded," Angela explains. "When we returned, they were both far above their levels and had no problem integrating back into their classes. Even with only four hours a day, the one-on-one teaching (or one-on-three, in our case), gives students a lot more individualized attention."
You'll find plenty of online resources for homeschooling.
See Time4Learning.com for preschool through 12th grade curriculums, and Homeschool. CalvertEducation.com and KeystoneSchoolOnline.com for middle school and high school curriculums.
One important note: Homeschooling is not legal in all countries, including Germany, Greece, and Brazil, and is restricted in other countries, like Spain, outside of certain circumstances, such as physical or intellectual disabilities, so check with your chosen country's embassy or department of education before making the move.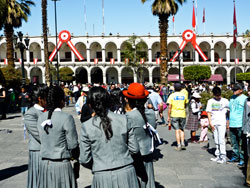 If you're staying put in one place over a longer period, consider an international school. There are more than 4,000 spread across the world, which teach children of expat parents an internationalized curriculum or a version of the national curriculum. International schools usually provide a good quality of education, give your children an introduction to other expat children like them, and cater to a variety of languages and needs, but can be expensive. (See here for a searchable list of 3,000 in 165 different countries.)
One of the perks of schooling your child in an international school is that you expose them to a range of different cultures and experiences at one time, as former international school attendee Sydney Weinberg can attest. "Kids who attend international schools generally have interesting reasons for being there, and the friends I made were no different. Their parents were diplomats, international business executives, and even missionaries, and most had lived in multiple countries and spoke several languages.
"The experience taught me to relish travel, cultural diversity, and unusual challenges."
Enrolling your child in the same school as the local children is another option. Things to consider include: Can your child speak the local language; is the curriculum similar to the one left behind; is the quality what you are used to back home? If you answered yes to these questions, a local school could be a good fit for your child and help him or her integrate quickly.
Even if your children are not yet fluent in the local language, you may find the local schools to be very accommodating to your needs, as Dan Askins discovered when he moved with his wife Susan and their two daughters Katherine, 12, and Elizabeth, 14, to Murcia, Spain.
"The teachers, for the most part, have embraced the challenge of educating two English-speaking Americans," he says. "They readily agreed to provide tests in English, and the school is providing Spanish lessons in lieu of some classes."
Making New Friends…and Staying in Touch With Old Ones
For most expat families, moving away from friends and families can, at once, feel like an exhilarating and terrifying decision. While difficult at times, the decision can bring some unexpected rewards.
Colette Holmes, in Tamarindo, Costa Rica, says that living outside of the U.S. has forced her to step out of her comfort zone. "You become extra-friendly living overseas. More so than I think I would in the States, I strike up conversations with anyone with a child hoping that they live here. It makes you break barriers down."
These days, she and her family have a strong and close-knit group of friends. But what of friends and family at home? How did they handle it?
"We got such great support from our families," Colette says. "It was really nice. But there were some friends who were weird about it. I told them why we were moving— which was that we wanted to try new things—but I tried not to get into any arguments. Some people have such strong opinions about how you should raise your children. To me, those really aren't friends. You might be better off without them."
For those friends and family you do want to keep in touch with, though, modern technology makes it easier than ever: Skype, Facebook, Viber, FaceTime, email, instant messenger and more are all great resources.
By the way, if you're concerned about whether your children will fit in or not, rest assured: in many cultures overseas, children are revered, as Heather Van Deest, who lives in Thailand with her husband, Ross Tague, and their two sons (ages 3 and 5) can attest.
"In Thailand, as in much of Southeast Asia, there's a big focus on youth. Thais love children and as a result, I feel comfortable raising my kids here. When I take my children out and about, I don't have the same concern I might have back in the U.S., where people sometimes frown upon children's behavior in public. The Thai people are always friendly and accepting and love doting on children."
Tips and Tricks From Parents Overseas
How you and your family approach your new adventure overseas will depend on your individual needs and wants— but you can set yourself up for success by familiarizing yourself ahead of time with some of the challenges and pleasures you'll likely encounter and by connecting with expats already on the ground.
Jennifer Poe-Faugere moved from Saratoga Springs, New York to Bordeaux, France with her husband and three daughters (ages 6, 10, and 13) in October 2011.
"Plan ahead," she says. "Understand there will be joys and pitfalls. There are many blogs written by expats all over the world. Chances are you will find one in or near the area in which you will be moving. Read about education experiences, family experiences, and how to navigate as a family.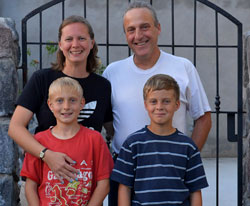 "Be adaptable—expect the unexpected and know that others before you have also experienced the same things. Finally, get connected. Find an expat or international group for meeting others. Additionally, it's good to enroll the kids in activities. It's a great way to meet locals and also further help children to assimilate into a new culture."
Julia Simens, educator, consultant, and author of Emotional Resilience and the Expat Child, agrees that formulating the right approach early on can have a great impact on your move. Julia, who has helped more than 8,000 families move successfully overseas in the past—and who has moved with her own family all over the world, to five different continents five times—says that ensuring that Mom and Dad are on the same page from the beginning will help your child to feel excited about the move.
Her biggest piece of advice is that you should strive to give your child as much control over the change as possible—even in the smallest ways.
"One way to help a child feel like they have a little say or a little control in their life is to give them their backpack space for their 'own' move. Encourage them to put any special items they feel they must have in their carryon backpack. (If you know they will need their iPad for plane time, then pack it in your carryon.) Let them pack what they feel they need or want in their own backpack for the new home or new bedroom they will soon have."
While it may not make sense to you what your child packs, to your child any item may be important to help them settle emotionally, she says. "My son, was determined to keep an old pair of sneakers that he had almost outgrown. Only after talking to him and trying to understand what these old, smelly shoes meant, did I finally understand what they were to him. They were a whole "lifetime" of memories—shoes he ran on cross country. They reminded him of friends, teammates, and successes."
Some useful sites to check out for more practical info include expat Rachel Denning's website DiscoverShareInspire.com or ExpatChild.com. Facebook also has a wealth of groups for expat parents all over the world.
Try Before You Buy?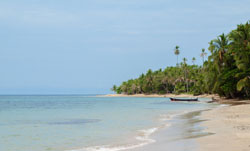 And remember, you don't need to sell everything you own and give up your entire life to try out living overseas. If you're not sure you want to commit yourself to living overseas with your family for an extended period of time, consider trying out life abroad short-term. That way, you can "dip your toes" into life overseas, as Jenny Finn and her family found. Jenny, her husband Andy, and their children Andrew (12) and Lizzie (10) spent four months at sea, employed as part of the Semester at Sea study abroad program. (See here for more details.)
The opportunity let them experience 10 different countries overseas, spending about a week in each, and they were able to pick up back home where they left off.
"The kids would do it again in a heartbeat," Jenny says. They met some great friends within the shipboard community and got to experience the diversity of the world. They have memories of riding rickshaws in India, eating a bug in Cambodia, and dancing and singing in South Africa.
"We had no problems transitioning back into life and at the same time we were all definitely changed in the best ways by the experience."