La Quinta Avenida (Fifth Avenue) is the heart of life in Playa del Carmen, Mexico. This street is Playa (as locals call the town) in a nutshell: cosmopolitan, chic yet casual, and lively from early morning to late at night, with expats and visitors from the U.S., Canada, Europe, other parts of Mexico, and all of Latin America.
What used to be a tiny town, a ferry stop for tourists heading to Cozumel, has boomed. The talk around town is that it's the fastest-growing city in Mexico. But the town's guiding spirit of "fun in the sun" remains strong.
That's what attracted Scottie and Jim Watson, 72 and 70, who have lived in Playa for six years. The couple met and married in town, and they live in a modern condo building just off the beach and a quick walk to Quinta Avenida. The pool is right outside their sliding glass doors.
After a 35-year career working with the casinos in Las Vegas, Jim first retired to Ambergris Caye, in nearby Belize but found that Playa fitted his lifestyle better; the restaurant and social scene was a major attraction.
For Minneapolis-native Scottie, the great weather was high on the list. "I worked in the travel industry so I was also very conscious of airfares. There are cheap and plentiful flights into nearby Cancun. I want people to come and see me.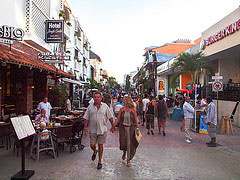 "It was about having an adventure in my life. When I moved down, I didn't know a single person. I was widowed. I sold my house and didn't have a back-up plan, which horrified people."
But making friends was not a problem in Playa. The couple is involved in a dinner club, a book club, play bridge, and go to minor league baseball games in Cancun. Scottie does watercolors and sketches. And Jim works at a golf tournament every year.
"Everything is within walking distance, which keeps us healthy," says Jim. "All of our friends are very active. We walk the beach, swim in the ocean, swim laps in the pool. We have a catamaran, too. Everyone is well-dosed with vitamin D."
"Our new thing is to get off shore and use a swimming noodle to float south about an hour and then walk back," says Scottie. "And snorkeling—we have one of the best reefs right off our beach."
Scottie notes they have warm weather year-round, with average temperatures in the high 80s F during summer and lower 80s F during winter, tempered by sea breezes.
They enjoy some luxuries, too.
"We indulge ourselves. We have a cleaning lady, which I wouldn't have in the States," says Scottie. "And foods that are good for you, like fruits and vegetables, are cheap. We love to cook and have people over. We like to grill."
"It's less expensive to exist down here," says Jim, who says they pay $200 a year in tax on their condo. "Instead of paying $6,000 to $8,000 in property taxes, you travel."
If you want to buy here, you'll find a two-bedroom condo next to the beach, listed at $199,000 or farther west to the "suburban" part of Playa, and you can have a two-bedroom townhouse for $95,000.
"It's easy living here," says Scottie. "Life is pleasant."
Get Your Mexico Report Here:
Learn more about Mexico and other countries in our daily postcard e-letter. Simply enter your email address below and we'll send you a free special report – Why Millions of Americans Are Moving to Mexico.
This special guide covers real estate, retirement and more in Mexico and is yours free when you sign up for our postcards below.
Get Your Free Report Here