The work from home trend has reached its tipping point…
It started three weeks ago when Jack Dorsey, the CEO of Twitter, announced that his employees can work from home "forever." Mark Zuckerberg made a similar statement to Facebook. So too did the software companies Box and Zillow, and the computer manufacturer, Dell.
Business after business are now deciding that offices are optional, commutes are unnecessary, and working from anywhere is a totally acceptable alternative.
What we're seeing right now is the hyper-acceleration of a trend that's been gaining ground for decades. Before the current pandemic took hold, it was estimated that 3.4% of the U.S. population worked remotely. According to a study by Global Workplace Analytics, from 2015 to 2020 remote working grew 44%, and over the previous 10 years it grew 91%.
This is just in the United States…and it's before companies worldwide sent all their employees to work from home.
Three months ago, if someone had suggested to every CEO, government department, school, and university that they send everyone to work from home, they would have been considered crazy. Now it seems the entire world is managing their work and lives online. They're setting up home offices, buying portable equipment, and streamlining their remote-working processes.
More importantly, they're thinking about the possibilities that have just opened up to them. Why would they ever go back to an office when they could live next to a white-sand beach in the Caribbean…or a hill town in Europe? They can live better for less, in a destination they love, and never have to take a commute or sit for hours under a florescent light again.
This crisis is the great trend accelerator of our lifetime. And, as a real estate investor, this is a truly remarkable opportunity to profit.
People who like to travel will still want to. And now many more can. I expect a growth in slow travel. And as I've been saying, this is very nice for us…
It means we have the option to rent our property for a month to three months at a time, which means less administration and less headaches than short-term. A handsome income on a stunning home in an amazing location, which we can use too.
On the Riviera Maya, I've been writing about the growing number of mobile professionals flooding in for years now. They have come in the wake of the juggernaut Path of Progress, using their mobility to work from a Caribbean paradise, where they can spend less and live more.
And we're about the see a massive new wave…
The growing market of longer-term stays is going to explode. And with the opportunity we have in Tulum today, we're set to benefit enormously.
To remind you, I'm bringing RETA members 11 premium luxury condos at incredible RETA-only pricing of $214,600 in the closest master-planned community to Tulum beach…in Gran Tulum.
Every detail of the master-planned community is in keeping with Tulum's natural beauty and Maya heritage.
The condo-buildings are to be low-rise, just three levels, and the buildings are to be tiered in style. This will keep buildings tucked discreetly amidst the verdant surroundings. The idea is to create the feel of an ancient Maya city, with lots of lush space and natural pathways.
For mobile workers looking for a base in paradise…where they can set up a quiet home office in the morning…and enjoy everything Tulum has to office in the afternoon…this is ideal.
I figure these condos we can buy today for $214,600 will be worth more than $300,000 within 18 months of delivery and they offer us exceptional rental potential.
In terms of short-term rental potential, I'd say that with one of our condos you'd be able to charge $100-a-night, $300 in peak season, wityh an average rate of $160-a-night sounding reasonable.
Say you buy one of our condos for $214,600 and rent for 200 nights a year at average of $160-a-night, bringing you $32,000. That's an occupancy rate of 54%. It's a gross yield of 14.9%.
But looking at the explosion in remote work over the past few months, these figures start to look conservative…
Like I say, a massive transformation of how people work is already underway. The number of remote workers was rapidly growing before the crisis. Now, the number of companies pioneering remote employment and practices is shooting up…
By owning in a Caribbean paradise—a place where remote workers want to be—and using this crisis buying moment to lock-in RETA-only pricing, we positioned ourselves to benefit enormously from this trend.
Connect with Ronan on Instagram  or Facebook 
Get Your Free Real Estate Report Now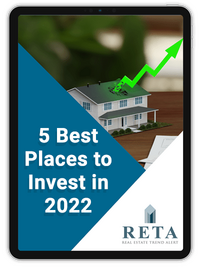 Sign up for our free daily Postcard e-letter and get a valuable free report on the The 5 Best Places to Buy Real Estate In 2022.
Related Articles
The 10 Best Places to Invest in Real Estate
Here's How to Profit From the Remote Working Trend