I asked…and boy did you guys answer!
On Saturday, I put one simple question to you: Where do you plan to visit when travel is back on the table? And for the rest of the weekend, I was flooded with your responses.
It turns out you haven't been sitting on your hands. Like me, you've been using this lockdown to plan ahead.
As you know, in these strange times, we need to go with the flow. My original plan was to leave for a two-week honeymoon to Japan. Instead, I found myself deep in conversation with a dead pufferfish on a deserted beach…
View this post on Instagram
Japan will have to wait until next spring. I consider myself blessed to be riding out this time here. You can see more photos and videos of what life is like in lockdown in a resort on my Instagram or Facebook. More about my travel plans later…
From Iceland to Costa Rica…Russia to Belize…you guys are going to get around. So, this week I'm going to spend time focusing on opportunities in some of the places you plan to visit.
Before I do, let me give you a taste of where your fellow readers are going. Who knows, it might inspire your own travel plans…
Heather says: Hi, I'm new to your RETA newsletter. Just dipping my toes. When we can travel again, Iceland is first (just for fun). I'm curious about having a second home in Portugal, Thailand, or Malaysia, so they are also on my trip list. I saw you mention Chiang Mai—I love that city; been there several times.
Sharon says: Hi, Ronan, frustrated current "cyber-traveler" here.
My trip to Paris in May was scuttled (that's been a frequent destination, one of my favorite places on the planet), so hopefully will get to reschedule for spring 2021 after things sort out. But it competes with the other heart-grabbers: the Amalfi Coast/Capri in Italy. I've been bouncing back and forth between France and Italy now for several years, as both countries call to me, and I truly loved the time spent by the sea in 2019, in the towns of Positano and Anacapri. "La dolce far niente," sigh… Pass me that aperol spritz, per favore. Cin, salud, salute.
Penny says: I want to travel to Costa Rica and Panama and to Southern Europe. Spain, Italy, Portugal. I'm looking for my new home and investment opportunities—as soon I can sell my house in the States.
Robert says: When the planes fly again, it will be Ecuador for us. We love the culture and laidback easy life it has to offer. Beach life in particular. I may never get rich in Ecuador, but for my purposes, it suits me just fine. Many affordable opportunities to own right on the beach or hillside with 180-degree views of the Pacific. In the right places, my future home still has the potential to become a decent rental during the high months when we're not there. Yes, there is glut of ocean-view property right now, but it's affordable, and I'm in it for the long run. So short-term profits aren't as important. Thanks for the opportunity to express myself.
John says: My wife and I have visited Portugal in the past, with an eye toward retirement. We will hit the Algarve next. Interested in intel.
Loryn says: Hi Ronan, My first trip will be through Baja, then on to other spots in Mexico as I slowly make my way to San Miguel de Allende. There I'll have the excitement of overseeing the final construction on the condo I purchased through RETA in Barrio Santo. After getting the condo ready to be my base and a vacation rental, I plan to go to Italy, Greece, and Portugal in one trip. Cheers.
As for me, this is normally the time of year I look to Europe. First stop, Ireland.
I can't wait to get back…smell the freshly-cut grass on a long, summer evening. En route back I'm hoping for a three-day stopover in Iceland. It's been on my list for ages.
The sooner I get back to Ireland the more time I'll have in Europe before making my way back to Playa del Carmen for The Gathering in October. There's a lot to squeeze in between now and then. So many places…I reminded you about how much I liked Slovenia on Saturday.
From Ireland, Portugal will be my next stop. I'm anxious to buy a home there and set up a spring and fall base. In particular, I'll be house hunting in the Algarve. I'll share my reports as I go and keep you up to date on my social media (Instagram and Facebook). And, I'll scout up north on behalf of Real Estate Trend Alert members, in particular in the Porto and Coimbra areas. The historic university town of Coimbra has some of the most inexpensive real estate you can find. I'm talking condos and homes for less than $50,000.
For vacation, I plan to go to the Amalfi Coast. I've wanted to go back the last few summers. But room rates for waterfront hotels had climbed into the stratosphere. I'll be there when the hotels reopen. Helping Italy reopen…and helping myself to a good deal.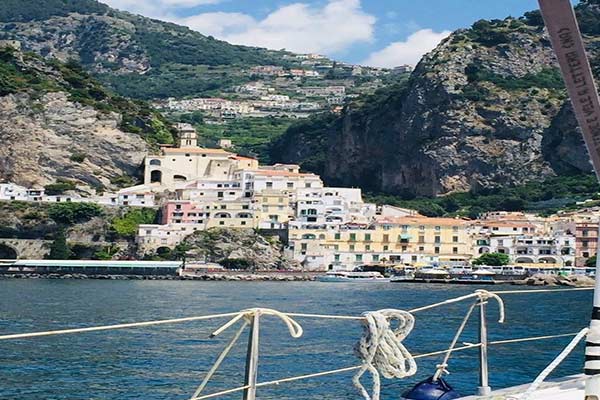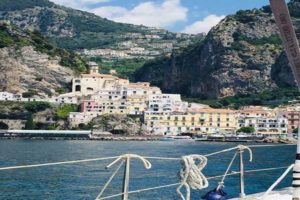 The Amalfi Coast real estate is about as blue chip as it comes. I'm not expecting crazy fire-sale deals, but I am expecting to see a 30% fall. I'm figuring on a 30% fall in value in the blue chip city destinations like Florence and Venice too. These are places where we will be able to buy and make stellar rental yields as tourism rebounds.On the last week of June I'm going on a golf trip to Scotland with friends. It's a bucket list trip—that's how I justify the high green fees. From our St Andrews base we're going to play five of the great links courses, including the Old Course and Carnoustie. I'm also going to get back to the Greek island of Ios…maybe I'll take a ferry from Italy. The logistics of getting there from either my base in Ireland or Portugal are challenging. For sure I'll fit in a Spain trip…but haven't decided where yet.
I'm also planning a trip to southern Italy to follow the trail of free, and almost free, homes. In truth, Italy's free homes are a nice hook but a bad buy. Why pay €1 for an ordinary home that will take €30,000 to renovate when you could pay €30,000 for nicer, already renovated home. Go off the beaten track and you can buy grandeur for almost nothing. For example, two hours and 15 minutes east of Rome and 15 minutes from the glistening Adriatic, in the town of Pollutri, you can own a 4,000-square-feet historic apartment, with sea and mountain views from the terrace, for €49,000. Buy with €19,000 down and your Italian mortgage could be as little as €119 per month.
Of course, no one knows when we'll be back traveling again. I'm hopeful that before we know it we'll see green shoots of recovery. Signs of hope…and soon after that we'll be back.
In the meantime, I won't just be daydreaming about travel…
We've got a lot of work to do. We want to be out ahead of the opportunities this crisis will create. In many ways, I think we already are.
I see this crisis as a giant trend accelerator. It will get us to where we were going a lot faster…offering new ways and places of living, working…and investing.
Stay tuned…
Wishing you good real estate investing!
Get Your Free Real Estate Report Now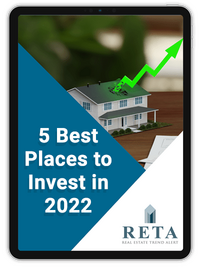 Sign up for our free daily Postcard e-letter and get a valuable free report on the The 5 Best Places to Buy Real Estate In 2022.
Related Articles
The 10 Best Places to Invest in Real Estate
Where are you Going When the Planes Fly Again?
A Historic Home for Only $31 Per Square Foot