Over the past year, our RETA-only launches have stepped up a gear.
They've been coming at a faster rate, sometimes right on top of each other, and they often sell out within the space of hours…
It's easy to miss them…
That's the drawback of having a mass of deals in the pipeline. But it's a complaint I'm happy we have. The fact that we can command RETA-only discounts at such frequency is proof that our buying power is growing stronger and our network wider.
However, if you have missed out on a RETA deal that appealed to you, there is sometimes a backdoor route to locking in your desired condo.
Members of our group who have reserved sometimes find their circumstances have changed, and a condo just might become available. If it does, whoever is on the waitlists gets first choice.
That's why I've compiled a Current Deals section on the RETA website.
It's a chance for you to look over some of our most recent opportunities and inquire about availability for any deal that meets your criteria.
For instance, one of the hottest deals we've had recently was in San Miguel de Allende, my favorite colonial town in Latin America.
To remind you, we have the chance to buy from a RETA-only price of $166,300. The retail price is $211,966…
So we're getting a RETA-only discount of $45,666…
Last year, readers of Travel and Leisure voted San Miguel "The Best City in the World," and readers of Condé Nast Traveler voted it "The World's Best Small City" for 2020.
Its entire historic center is a declared UNESCO World Heritage site. That means it's considered so historically and culturally significant to the world that it's protected by international treaties.
Yet, what makes it so special is that it's not a stuffy museum. It's a living, breathing city. A perfect-weather escape in Mexico's Colonial Highlands that's drawn artists, poets, and expats for decades.
Even with modern conveniences, fancy boutiques, fine art galleries, fine dining restaurants, hip cafes, and organic and gourmet food shops…San Miguel has remained authentically Mexican.
You can still do your shopping at the traditional markets and fill your bag with fresh fruits and veggies…enjoy tacos from the little stands that open up on streets all over town…buy unique indigenous art handcrafted by local artisans…and there's always some sort of fiesta taking place.
As my researcher Jason Holland, who lives in San Miguel, puts it, there's a nice balance between the old and new, the modern and traditional, and you can enjoy both in this charming colonial city.
Below he shares some of his favorite spots in town for doing just that.
Read on…
Finding the "Real" San Miguel de Allende
By Jason Holland
I was at one of my favorite places last Saturday night. Luna Rooftop Tapas Bar at the Rosewood hotel in San Miguel de Allende, where I live.
It's a well-known spot. Frequently listed as one of the world's best rooftop bars. A must-visit for national and international tourists. There's usually about a 30-minute wait on weekends.
The tapas and craft cocktails are a bit pricey (at least for Mexico—it's much less than you'd pay for a similar place in the U.S.). But my wife and I like to splurge every once in a while. Besides, it's worth it for what I consider to be the best view in town. If you come, be sure to visit at sunset to watch the sun sink over the distant mountains.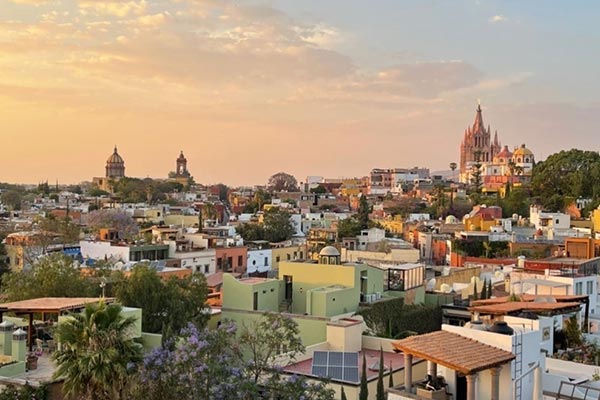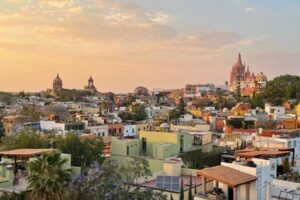 High-end rooftop lounges and restaurants are a mainstay in San Miguel. Club music pumping. Fine dining. That sort of thing. But there are plenty of more low-key spots for a good meal too.
After a few drinks at Luna, my wife and I headed to El Manantial, our favorite spot in town for seafood. Opened in 1920, this cozy little place has had a makeover since then but definitely retains a rustic charm. Tuna tostadas, ceviche, fish tacos—everything on the menu is a couple of bucks. And they do a great margarita. We usually just order a bunch of stuff to share. It's in the historic centro but at the top of a hill; so you might consider taking a taxi to get there.
San Miguel has what has to be one of the most charming Starbucks locations in the world. It's in a restored colonial building, on a corner of the Jardin, the main town square. It has a large courtyard with a fountain—shared with a few art galleries and interior décor shops. So you can do a little window shopping with your latte.
But I prefer to go to the locally owned Geek & Coffee across town and find a spot under one of the shade trees. The café is set well back from the road, on the grounds of a former textile factory turned arts complex packed with galleries. It's quiet, peaceful.
Perhaps what I like most about this town is that there is a nice balance between all these cool places to go and things to do…and traditional local culture. Street markets, festivals, arts and crafts…it's all on offer.
Mariachis stroll the Jardin in the evenings and Mexican tourists have them perform classic songs…and, if they've had a few drinks, often join in. I've seen the mariachis soundtrack more than a few marriage proposals with their romantic ballads. With the surrounding centuries-old colonial buildings as the background, I still find it to be a magical experience.
And the local food is delicious. Conventional wisdom is to not eat street food in Mexico. But I politely disagree. I get tacos—about 75 cents each—at a little stand that sets up in the late afternoon/early evening just up the street from the main plaza.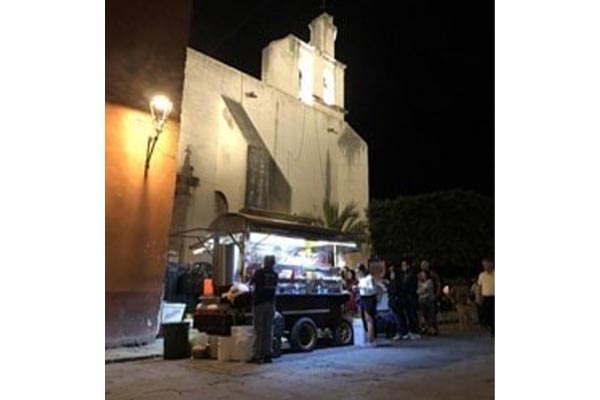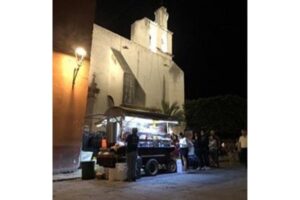 My usual order is four tacos al pastor (marinated pork roasted on a spit and shaved off "fresh" for each order, with a sprinkling of chopped onions and cilantro…and hot sauce, of course). You get your plate and have a seat on the curb and people watch.
If I'm passing by and the aroma of sizzling meat hits my nose, I can't resist. There's always time for tacos.
Ronan says: Jason is one of thousands of expats who calls San Miguel home. Today, it's estimated that 15% of San Miguel's population is made up of expats.
As Jason shows, the large number of foreigners hasn't had a negative impact on the character and charm of the town. Quite the opposite. They have contributed to preserving the historic buildings and are central to San Miguel's artistic traditions.
Depending on why you want to buy real estate in San Miguel de Allende, the vibrant and growing community of expats could be your friendly neighbors, or rent-paying tenants… But if it's purely return on investment you're looking for, there's an even bigger market force to pay.
RETA members can find out more in my full deal report, right here.
Your Daily Dream Home
Sarnico, Bergamo, Italy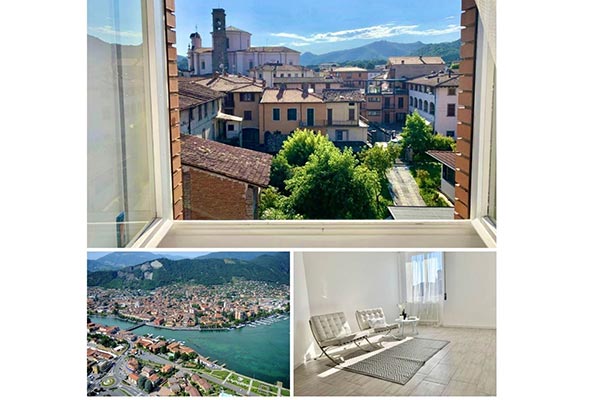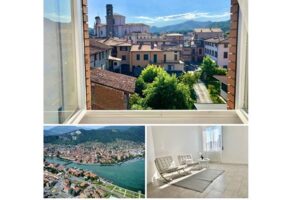 This dream Italian home is in the resort town of Sarnico on the shores of Lake Iseo. The one-bed, one-bath apartment was recently renovated and is made up of an open-plan kitchen/living room. It's on the third floor of a building with an elevator and has sweeping views of the town below. There's plenty to keep you busy here…there's a weekly market in the main square and nearby you'll find golf courses, skiing in the winter, and vineyards.⁠⁠⁠⁠
Remember, we don't make money from any listing shared here in the Your Daily Dream Home section. We have no dog in the fight. We're just sharing cool properties we've found.
I haven't visited this property or done due diligence on it. If you're interested in the listing, you should hire an attorney and do your own due diligence.
Get Your Free Real Estate Report Now
Sign up for our free daily Postcard e-letter and get a valuable free report on the The 5 Best Places to Buy Real Estate In 2023.
Related Articles
You Need to Pay Attention to This Algarve Beach Town