On a hill overlooking the slow-moving Mondego River, the historic Portuguese city of Coimbra is positioned to explode as a tourism destination. After just 48 hours walking its cobbled lanes, the ground-floor opportunity here is clear to me, and it's yet another opportunity for real estate investors in Portugal…
More than any country in Western Europe, I've been drilling down into Portugal. Out of the last few years I've spent many months scouting here.
On each visit I've found opportunities. It began with the crisis of 2008/09, which hit Portugal hard and—after a few years of no movement in the market—gave clever real estate investors the chance to snap up bank fire sales and double their money around the Algarve on the south coast.
Those bank fire sales are rarer these days, but as Portugal has recovered from the crisis, opportunities on the Algarve are still strong and opportunities elsewhere in the country have emerged…
A decade ago you'd have struggled to convince most real estate investors to invest in Portugal, at least outside of the Algarve. There were many good reasons for this, among them rent controls.
Take the example of one owner of a large building with 30 apartments and commercial spaces in one of Lisbon's downtown plazas. He was getting a total of $4,200 a month in rent thanks to these rent controls—in a European capital city in the 21st century. The tenant in one of his commercial spaces was paying just $4.40 per square meter (about 10 square feet); the market rate was $88 to $110 per square meter. Without the controls, his rental income would have been more than $44,000 a month.
Then, in 2012, those rent controls were abolished. At the stroke of a pen the rules of the game changed. With rent controls gone, many landlords saw a rapid rise in income, with some rents rising eightfold, from $66 a month to $550. Buildings that were viewed as worthless wrecks now have huge potential as boutique hotels or fancy apartment blocks.
This has triggered a building frenzy in prime central parts of Lisbon and Porto, and I expect Coimbra could follow in time.
A big driver of profits is tourism, which is on a tear in Portugal. Numbers have risen for eight years, and it's growing at more than double the European average. Trouble in Turkey and terrorism in North Africa have seen more north Europeans vacationing in Portugal instead. But there's much more to it. There's been a rise in the number of folks coming from the U.S. For example, Portuguese airline TAP Air went from serving three North American destinations to nine by the end of 2019.
I expect tourism to continue to grow as Portugal grows up as a country and sells itself around the world. Portugal's got a little bit of everything: Atlantic beaches, great golf, history and culture, amazing food, stunning mountains…and low costs.
The south gets around 300 sunny days a year, which is a major attraction for northern Europeans in the winter months. It's right on the doorstep of 300 million-plus people who can get to Portugal on short, cheap flights. City breaks are a big thing in Europe. They're short vacations, often weekends, in cities. Marketed heavily by no-frills airlines, they're a major driver of the tourist industry.
And Europe's major cities—Venice, Rome, Paris, Barcelona—are maxed out. They can't cope with the growing tide of visitors that's putting a strain on infrastructure and resources. And visitors face spending half their time waiting in lines.
All this will drive tourism in Portugal.
When you look at Portugal as an investment opportunity you need to remember how young this modern iteration of the country is; until 1974 it was a hopelessly run dictatorship. It's just now finding its feet as modern country, and it's doing so fast. I see untapped potential and it's exciting.
Portugal is an extremely attractive place for mobile people. It's safe, secure, and has good transport and infrastructure. The education system is good, and the cost of living is incredibly low.
Portugal has been successfully attracting these mobile people, businesses, and money. The authorities have been smart about this with their Golden Visa and non-habitual resident regime. The Golden Visa is a fast track visa program for investors from outside the European Union.
One way to get a Golden Visa is to invest €500,000 (around $550,000) in real estate, or €350,000 (about $385,000) if the home is more than 30 years old or located in an area of urban renovation. That €350,000 value can include the purchase price of the home and the remodel budget.
In return, investors get residence in Portugal with the right to free travel in the 26 countries that make up Europe's Schengen Zone. The Golden Visa can lead to permanent residence after five years and eventually a second passport.
I've been traveling to Portugal since 2002, for family vacations and golf. (The Algarve is one of the best golf destinations in the world.) So, when the 2008/09 crisis hit Portugal hard and things began to unravel, I knew exactly where to focus on the Algarve.
And members of my Real Estate Trend Alert group have had stellar opportunities there. Now I'm finding opportunities in Porto…in the university town of Coimbra… I'm digging deeper into all corners of the country.
And there's a kicker: Portuguese banks are lending to North Americans as much as 80% at interest rates as low as 1.5%. This has created opportunities to use leverage to double our money with profitable plays.
I have found killer opportunities right across Portugal…let me tell you about one of the most recent…
Bargains in the "Oxford of Portugal"
"Seven years ago, this plaza was a filthy, falling down mess. Even the famous university clock tower was a wreck," my local guide said as he proudly pointed out restored buildings.
Today it's a totally different story…Coimbra has long been a strategic place. Once the capital of Portugal, it's halfway between Lisbon and Porto. The city's university is ancient, founded in 1290, and Coimbra is often called "the Oxford of Portugal" or sometimes "the City of Students."
Now, it's not exactly Oxford. Coimbra is starting from a low base. Like many of Portugal's towns and cities, much has fallen into disrepair. But prices are insanely cheap at as little as $55 a square foot for prime real estate in the city center…and major trends are set to drive those up.
First, as we know, Portugal's tourism is on a tear and Coimbra has a lot to offer visitors. It's a major historic center located on the main routes between Lisbon and Porto. It's an hour south of Porto with plenty of trains and a good road connecting it; likewise to Lisbon and the international airport there, just an hour and 45 minutes away. (It's also less than an hour north of Fatima, which attracts Catholic pilgrims from right across the world.)
It's not just tourism though…the university has 42,000 students from across the world. The population of Coimbra is only 150,000…this is a true university town.
The world's middle and upper classes have exploded and will continue to do so. Among the countries with the most explosive growth are former Portuguese colonies like Brazil, Macau, Angola, and parts of India. One of the big things these newly moneyed folks invest in is an international education for their kids. Coimbra is a huge draw, in particular for Brazilians.
Meantime, while all this is happening, hardly anything has yet been done with the old town just below the ancient university campus. It's ripe for gentrification, and it feels like almost no one has yet caught on to the opportunity.
Only a handful of buildings in Coimbra's old town are even listed for sale. Where buildings are listed, brokers don't return calls or answer emails. Just the type of infuriating situation I love because it will deter the less committed.
Everything here looks and feels like Lisbon did 15 years ago, and Porto five years ago. No one sees any value in these old buildings. They sit abandoned.
The opportunity to buy big prime buildings on the main squares of Lisbon has passed. In Porto the window is closing. But in Coimbra you can still buy big buildings fronting onto prime squares for very little. Perfect for hotels, apartments, and high-end retail.
Construction costs in Portugal run at about $110 per square foot. To fully renovate a historic building in poor shape will cost about the same. Amazingly, in the historic heart of Coimbra you can buy big properties in good condition, albeit not trendy nor modern, for $55 a square foot. That's insane…50% of construction or renovation costs.
Up the road in Porto the price range in historic districts runs from $330 to $880 per square foot. In Lisbon prices can go as high as $1,650 per square foot.
To be clear, this is very much a ground-floor opportunity, and I expect it to take time for things to take off in Coimbra. But everything stacks up to suggest that it will.
I see two opportunities in Coimbra…
Buy a big apartment or historic building. Some here can be as big as 8,000 square feet. Selectively rent to wealthy international students during the college term. Then rent short-term during the summer.
On top of tourism, Coimbra is emerging as a major wedding destination. People who studied here want to get married here.
It's also important to understand that the Portuguese diaspora is a major driver of the tourism market across the country, but particularly in Coimbra.
Locals joke that Portugal's second city is Paris.
Locals here joke that Portugal's second city is Paris. More Portuguese live there than in any city outside Lisbon. The diaspora returns to Coimbra in big family groups from across the world, making a perfect market for big short-term rental units that can accommodate large groups.
The second opportunity I see is to buy a prime historic building fronting a city square. I'm working on hunting down off-market deals through my contacts—deals that aren't publicly listed. There are various reasons why that might be; they could be post-foreclosure on a bank's books, or the seller simply hasn't bothered listing. Whatever the case it could mean a major bargain, and you could position yourself for profit.
Portugal's doing a good job attracting foreigners. I expect more and more retirees and mobile people to take advantage of advantageous tax resident rules and things like the Golden Visa. I'm considering buying a property in Portugal myself, for personal use a few months a year.
Portugal came third in 2019's Global Peace Index. It definitely feels overwhelmingly peaceful, safe, and easygoing. In fact, safety is high on the list for the growing number of expats you meet there. They also talk about the low cost of living, mild climate, culture, history, and the ease of getting around the rest of Europe.
Get Your Free Real Estate Report Now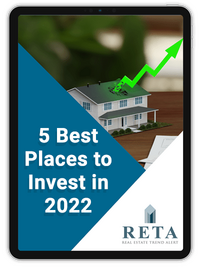 Sign up for our free daily Postcard e-letter and get a valuable free report on the The 5 Best Places to Buy Real Estate In 2022.
Related Articles
Portugal Visa and Residency Information
An Overview of Traditions and Culture in Portugal
The 12 Historic Towns of Portugal
Upcoming Conferences
Live Better, Spend Less, Retire Sooner
IL's Retire Overseas Bootcamp
October 21-23, 2022 in Atlanta, GA

In safe, warm, welcoming communities abroad, as little as $1,700 a month can bankroll a good life... this fall, our experts will show you where—and how.
Early Bird DISCOUNT—Save $100 When You Register by Sep. 29
Details Here IL's Retire Overseas Bootcamp
---
Registration Now Open for the Best of Europe Private Screening

In the Right Spots in Europe, You Can Retire in Style—in an Historic, Sun-Drenched Locale—for as Little as $2,300 a Month or Less—Especially Now With the Dollar and Euro at Parity for the First Time in Two Decades.
And We'll Show You How, October 1-2, During the Special All-Online Best of Europe Private Screening.
---
The Income Revolution Forum
What if You Had the Freedom to Enjoy the Good Life Anywhere in the World You Wanted to Be...and Get Paid While You're There?
We'll show you how—with hands-on guidance—you could beat inflation...secure your retirement...ditch your commute...and turn a skill you already have into a portable side income of $300, $600, even $3,000 or more a month.